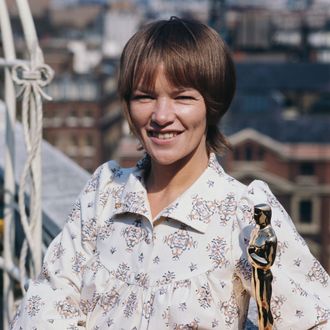 Glenda Jackson with her Academy Award for Best Actress for her role in
Women in Love
, May 1971.
Photo: Mike Lawn/Getty Images
Glenda Jackson, one of the most celebrated actresses of all time and recipient of the Triple Crown of Acting, among multiple other honors, has died at age 87. "Glenda Jackson, two-time Academy Award-winning actress and politician, died peacefully at her home in Blackheath, London, this morning after a brief illness with her family at her side," her agent, Lionel Larner, said in a statement, according to The Guardian.
Jackson was born in 1936 in Cheshire, England, and attended the Royal Academy of Dramatic Art. She made her film debut in 1963 in This Sporting Life and joined the Royal Shakespeare Company in 1964. She earned acclaim for her performance in Marat/Sade in both London and New York, for which she won her first Tony Award nomination. She reprised the role in the film version of the play in 1967.
As one of the most awarded actresses of early 1970s film and television, she received Academy Award nominations for Best Actress in '70, '71, '73, and '75. She won in both '70 and '73, for Women in Love and A Touch of Class, respectively. In 1972, she won two Emmy Awards for her portrayal of Queen Elizabeth I in the U.K. series Elizabeth R, a miniseries following Elizabeth's life and broadcast in the U.S. on PBS.
In 1991, Jackson gave up acting to run for Parliament as a member of the Labour Party. She won her seat in 1992 and was an MP for more than 20 years. A socialist, she was a notable critic of Margaret Thatcher and Thatcherism, even critiquing the prime minister in Parliament soon after Thatcher's death and angering members of the Conservative Party. Jackson resigned in 2015 and took up acting again.
Later in life, Jackson starred in multiple notable theatrical productions — including Broadway shows of Three Tall Women in 2018, for which she won her first Tony (completing the Triple Crown of Acting after four prior nominations), and a 2019 version of King Lear, in which she played King Lear.