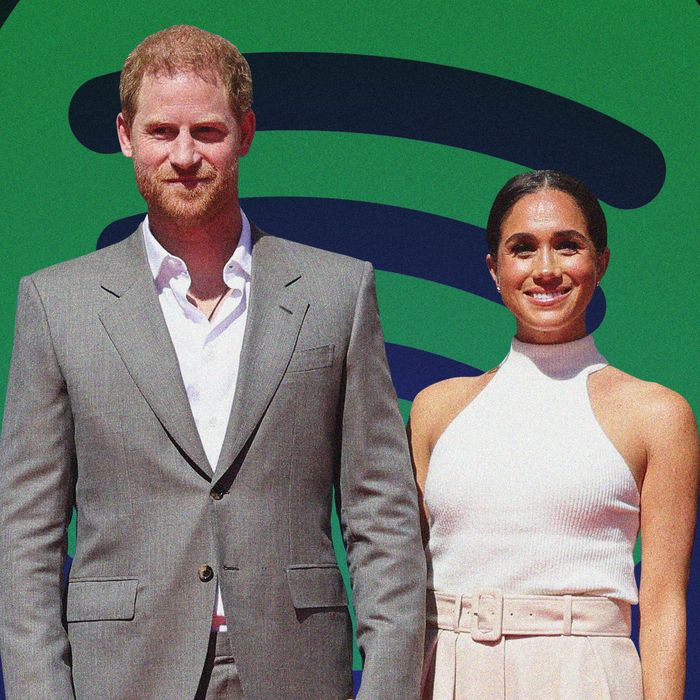 Photo-Illustration: Vulture. Photo: Chris Jackson/Getty Images
We do love a good disaster, and the very public dissolution of Spotify's business relationship with Meghan Markle and Prince Harry certainly delivered. The Wall Street Journal has been killing on this particular beat: After breaking the news that Spotify will not be renewing its reportedly $20 million-plus deal with the duo's podcast shingle Archewell Audio, the paper published a larger follow-up that painted a picture of the royals as two people who neglected to do very much to fulfill the several lucrative media contracts that have also made them very rich. The Spotify breakup might have gotten the bulk of the attention in this press, but as the Journal reports, the situation appears to be more widespread: Their Netflix deal is now also said to be in peril.
There are oodles of fascinating details to this story, and the part I'm still trying to wrap my head around is the bonkers Bill Simmons subplot. "I wish I had been involved in the 'Meghan and Harry leave Spotify' negotiations," said the podcast host and Spotify executive on a recent episode of his eponymous show. "Fucking grifters." Simmons had lobbed the sentiment right into the middle of a discussion about Bradley Beal's trade value, almost as a non sequitur, and as one would expect with any criticism regarding the royals, Simmons's quote drove an avalanche of headlines, which additionally resulted in a British tabloid hounding the dude in a nondescript downtown L.A. parking lot. Incredibly, "fucking grifters" wasn't even the most damning put-down to come out of the entire affair. Earlier this week, Semafor's Max Tani got this zinger out of UTA head honcho Jeremy Zimmer at the Cannes Lions advertising festival: "Turns out Meghan Markle was not a great audio talent, or necessarily any kind of talent. And, you know, just because you're famous doesn't make you great at something." Well then.
Listen, I don't have any desire to defend the royals. Based on existing reporting, corroborated by what I've heard myself from insiders, the gripes about Archewell are more warranted than not. But as scintillating as the floodgates opening up has been, the dirty laundry tends to flow in one direction. And it's worth pointing out, at least with respect to the Spotify deal, it generally takes two to disaster tango. The Swedish audio-streaming platform is at least equally responsible for its own mess.
The Archewell stuff is a spectacle, but the couple's lack of productivity doesn't appear to be all that atypical when it comes to the audio-streaming platform's celebrity deals. First announced in late 2020, the Archewell deal was Spotify's coup de grâce in an era when the company was burning through gobs of money to secure a bevy of megadeals with high-profile celebrity talent that possess little to no experience behind the mic — a barnstorming initiative that didn't end up resulting in very much for the most part. Beyond Meghan and Harry, the deal roster also included Jordan Peele, whose Monkeypaw Productions only ended up making one so-so fiction podcast; Ava DuVernay, whose Array studio pulled out of its first-look deal a year later without making anything; and Kim Kardashian, who made one true-crime/criminal-justice-reform project that largely came and went without much fanfare.
Of course, Spotify's celebrity contract era was equally capstoned by Higher Ground, the Obamas' production company, whose deals reportedly served as the template for Meghan and Harry's budding media career after stepping away from their royal duties. First signed in 2019, the Higher Ground deal was actually productive, resulting in two shows hosted by the Obamas — The Michelle Obama Podcast and Renegades: Born in the USA — plus three other projects: The Sum of Us, The Big Hit Show, and Tell Them, I Am. But as Vanity Fair's Joe Pompeo reported last year, the relationship was not a smooth one, with the team at Higher Ground being "frustrated with Spotify at times, finding it difficult to get additional shows off the ground." Much of this was apparently rooted in a misalignment: Spotify wanted the Obamas to host more, while the Obamas wanted to wield Higher Ground as, you know, an actual production company that develops projects beyond the direct Obama brand.
I find the Higher Ground situation pretty illustrative of Spotify's capacity for creative development, at least through the recently concluded podcast-boom era. Which is to say, they seemed to be lacking. Consider this section of the Journal's larger report on the Meghan and Harry story, which listed out several ideas Harry kicked around for his own project:
He explored a podcast on veterans but couldn't find a compelling way to tackle the subject in podcast form. He tossed around subjects such as misinformation and his point of view as someone new to living in America, and at one point considered co-hosting a show with comedian Hasan Minhaj.
There are two ways to read this anecdote. The first is to view Harry as someone who isn't terribly good at coming up with executable show ideas — which, well, is probably true. An earlier Bloomberg report dished on another Harry podcast idea that was a tad bit zanier, an interview show in which he gets to unpack childhood traumas with notable guests like Donald Trump, Vladimir Putin, and Mark Zuckerberg. Honestly? Not a bad concept, though definitely not an executable one.
But the second way to think about this anecdote is to view it as a window into creative development. Kicking around dumb-as-hell ideas? That's part of the job for any company in the creative business. Also part of the job: managing talent and guiding them toward workable outcomes. That, of course, is what Spotify failed to do with Meghan and Harry beyond producing Archetypes. Kudos to Netflix, by the way, for squeezing more product out of Archewell.
The Archewell Audio saga would just be a wacky curiosity in Spotify lore if it didn't feel so stark when juxtaposed against the roiling state of the podcast industry. Let's not forget: Spotify was the principal entity that sparked the speculative investment boom in podcasting — of which the megacelebrity-deal era, also instigated by Spotify, served as a pillar. Thus, the company's Hollywood misadventures hold at least some responsibility for the systemic consequences of the industry downturn. The money that went into the Archewell Audio deal, along with all the other ones that didn't produce much, could've gone into other bets, possibly better-managed ones, which may have gone some way to mitigate the layoffs that hit podcast workers at the company particularly hard. "In hindsight, I was too ambitious in investing ahead of our revenue growth," said Spotify CEO Daniel Ek when announcing staff cuts earlier this year. "I take full accountability for the moves that got us here today."
He's not the one out of a job, though, unlike other former Spotify executives. Several of the major content execs who oversaw the platform's celebrity-deal era are now out the door. Among them: chief content officer Dawn Ostroff, who once got the Hollywood Reporter cover treatment; Courtney Holt, a veteran executive who was deeply involved in the podcast push at the company; and Max Cutler, who came in through the Parcast acquisition and was most recently positioned as head of creator partnerships.
Perhaps it's plausible to view what's happening in this Archewell press cycle as a kind of purge. It's pretty clear that podcasting at Spotify is entering a new era. Indeed, the fact that Bill Simmons felt empowered enough to talk shit about the former royals speaks to his ascendant stature in the company's executive ranks; an earlier Semafor report from February suggests as much. An optimist might view this situation and see a potentially more productive future, one in which the podcast money levers at Spotify are being controlled by someone who has actually been podcasting for well over a decade.
Then again, the company did recently announce another celebrity deal in time for Cannes: former Daily Show host Trevor Noah. It's almost certainly nowhere near the scale of the Archewell or Higher Ground deals, and Noah does have some marginal audio experience chipping in on the cobbled-together The Daily Show: Ears Edition podcast. Still, it does feel contiguous with Spotify's prior assumption that simply being famous is enough to become a good podcaster. But who knows: Maybe this will be the time Spotify can actually make a celebrity work.