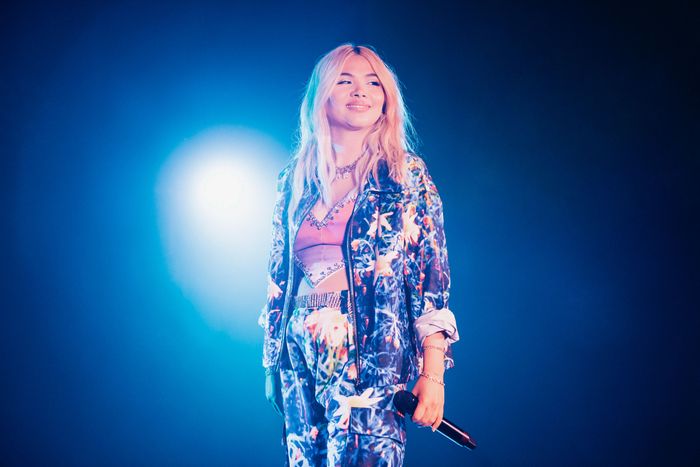 Photo: Kristy Sparow/Getty Images
Hayley Kiyoko had been recording music for more than a decade when, in 2017, she finally felt ready to share her truth. "What is something you've never told anyone else?" asked her co-writer Lily Mae Young at the time. "Well," Kiyoko responded, "I've never told any of my writing partners this, but I'm gay." There was no big lightbulb moment, careful plan, or emotional lead-up, "it was just this organic conversation where I was given the space to be truthful," she tells Vulture. "Up until that point, no one had asked me."
The result of that session was "Girls Like Girls," Kiyoko's breakout single, which elevated her to a new level of stardom and led to her fans playfully referring to her as "Lesbian Jesus." "Everything changed," she says. "I was terrified of sharing who I truly was and who I loved, and the power and confidence I was able to gain through singing she/her pronouns — I felt free to be myself."
Six years later, the 32-year-old singer is revisiting that moment with her debut novel, Girls Like Girls. Based on the single and its accompanying music video — also inspired by the singer's own life, the clip depicts two teenage friends falling for each other over a summer — Girls Like Girls is a sapphic coming-of-age tale that follows 17-year-old Coley as she grapples with the loss of her mother and a strained relationship with her father, all while questioning whether the new friendship with her classmate Sonya may be something more. Tender and full of teenage angst, the book rose to the top of the New York Times best-seller list in the Young Adult Hardcover category. Kiyoko recently spoke with Vulture about adapting her breakout song and music video into a book, her recent Panorama tour, and the importance of maintaining hope.
Girls Like Girls is a continuation of the story you started telling in 2017 with the "Girls Like Girls" music video. What was it like building that out into a novel?
It was a very long process. The origin of the music video was my personal experience of falling in love with my best friend in high school. That ended in heartbreak, but I wanted the video to end in hope. When I had the opportunity to write the novel, I was navigating these fictional characters and having to figure out how to take the characters from the video and tell my personal story through the setup I had created, which I had no idea I wanted to expand at the time. That was the biggest challenge, but the most rewarding thing was that I was able to tell my story through Coley and have Sonya represent a girl I fell in love with and navigate their relationship and identity and self-worth.
What was it like revisiting those memories?
It was very healing and therapeutic for me. You know, I'd fallen in love with my best friend and got my heart broken. When Coley and Sonya go to have that first kiss — all these things are real experiences that I had. And so to be able to draw from such an almost traumatic time in my life and utilize that in a positive way of healing, to hopefully make others feel confident in their experience and for them to not feel alone, was a really gratifying experience.
Do you still keep in touch with any people who might recognize themselves in your book?
It's been funny because my high-school friends, who are still my best friends today, they've been reading the book. I'd be like, Oh, so-and-so is this person. I wasn't out in high school, so a lot of my close friends didn't even know things that were happening because I hadn't felt comfortable enough to share it with them. So it's been cool to kind of go down memory lane and rehash that and share that with my best friends.
Do you look back on that time differently now?
You know, what's interesting about society is that we start off free and then the world starts to shut you down and filters you, and you start filtering yourself. A lot of internal dialogue from Coley is from my journal. It's funny because I was just so scared to even be truthful in my journal because if I was truthful there, then I had to be truthful to myself. When I wrote "Girls Like Girls" and was able to be comfortable and free in my music, I was finally able to be free and honest with myself. Even though I knew who I was, I hadn't been able to put that in writing.
So you went through your old journals for the book?
Absolutely. I went on a whole deep dive. That moment when Coley goes to get her jacket and gets denied, I have that whole memory verbatim. The drama and the energy and the passion of that heartbreak in that moment were so real. I'm very grateful that I was journaling so I was able to really reflect upon that time in my life.
The adults in the book, in particular Coley's dad and her co-worker Kendrick, don't really call attention to her sexuality when she decides to confide in them. There's no big traumatic "coming out" to them, and later, Coley sees Kendrick and his boyfriend as an example of a gay couple who aren't in hiding. Was that dynamic intentional?
I feel like a lot of queer people have one person or one experience they remember forever where someone just normalized them and made them feel like they were human, that their sexuality wasn't this flaw. And it was really important for me, even through such a small character as Kendrick in the book, to include that and the community quality of the people at the restaurant just kind of giving her that comfort that she is normal. Her feelings are valid, and there is a space for her to thrive, eventually, in her life.
That hopeful tone persists throughout the book, and it feels like such a conscious contrast from the current reality in which queer books are being banned and anti-LGBTQ+ laws are being passed. How have you been feeling during this time?
It's a really challenging time for a lot of people, especially the queer community when it comes to their safety and ability to just exist. The "Girls Like Girls" music video was a support system for so many people, and my goal with this novel was for someone living in Texas or Florida to have this. If the book ends up getting banned or something happens, they can download the audiobook and listen to it and feel comforted and seen and validated as a person, even if they're living under an unsafe roof or they don't have the community support they need. That was my goal with the music video — to ignite hope for queer futures — and that's been my goal for the book, to be allowed a tangible item to escape to for support.
Are there any plans to eventually adapt Girls Like Girls into a movie? 
That was my focus for a very long time. I've been trying to direct a feature for seven or so years. That's why I kind of pivoted to the novel because it just didn't happen. I've learned a lot in the industry as to why queer projects are really challenging to get green-lit and made. So doing this novel was me being able to share the story and hopefully help people in the meantime. Eventually, maybe I'll be able to make a feature and create my visual world that I've dreamed of making.
You just wrapped your Panorama tour earlier this month. Prior to that, it had been four years since you were last on the road. What was it like getting back out there?
I was severely depressed on my last headlining tour. So to be able to talk about my mental health and have my physical health back, I had this moment standing onstage where I was like, Wow, I can't believe I'm singing the songs off my Panorama album. When I wrote this album, I didn't know if I was ever going to be able to tour again; I didn't know if I was ever going to be able to dance again due to my health issues. It was all very unknown for me. And so to be able to know that four years of fighting and showing up for myself led to being able to be onstage performing again, sharing these experiences with people that make me feel so seen and supported, it just felt like this massive hug. Times get really dark, and there can be a lot of challenges and hiccups along the way, but it's worth fighting for because you have moments like this where you're like, I got through that, and I'm gonna keep going.
After your Nashville stop in May, you shared on Instagram that you'd been advised by local law enforcement that bringing out drag queens during your show "could result in legal action." What was running through your mind during that interaction? 
I mean, it was a very intense day. I've always had a safe space at my shows, and I've never had an undercover cop there. It was very challenging to navigate because I feel very responsible to keep my community and people safe. But also there's a fine line of the government trying to silence us. So where is that line? And how do you navigate that as an artist and an activist? I'm so proud that we were able to continue on with the show and just go for it and that everyone was able to stay safe in the process.
You've described Panorama as a big-picture view of where you were at in your life and owning that. You recently released the single "Greenlight." What direction do you feel you're headed in now?
I'm just following my heart. I mean, "Greenlight" was inspired by my realization of needing ease and support in my life and not having to fight for approval. I needed to manifest that ease to help me get to where I needed to be. And then "somewhere between the sand and the stardust" is a song that was unfortunately inspired by a friend who took his own life last year. I've been trying to process that and navigate that grief, and I realized how challenging that was. I wrote the song to hopefully help others find peace in really challenging moments. It's basically saying, I wish I could have been there and I wish this is not how it went, but I also forgive you for the decision that you made, that you needed to have peace. That's kind of the sentiment of the song. I'm just hoping it can help bring peace to those who are navigating losing loved ones, and I hope it just provides some healing and some grace for complicated ends.
How do you remain hopeful or find ways to ground yourself in the chaos?
I think storytelling is extremely hopeful and helpful. Being able to read a book and know that someone else is struggling and that they were able to get to the other side is helpful. Art, music, any form of expression ignites hope because it makes you feel seen and less alone. Art is imperative right now, especially during this extremely challenging time for our community.
Does that sense of urgency affect the way you see your role as an artist or influence what you want people to take from your art?
My goal with this novel was for people, of any age, to be able to pick up this book and go down memory lane. Maybe they can heal from heartbreak they didn't have closure from, or maybe if someone is reading this who isn't supported by their family, they can find escapism and fantasy. I think the main goal for me as an artist is to ignite hope because it's crazy that it's 2023 and we're still fighting to exist and to thrive and to be safe. My hope is that this book is able to help someone continue to believe in a brighter future.
This interview has been edited and condensed.