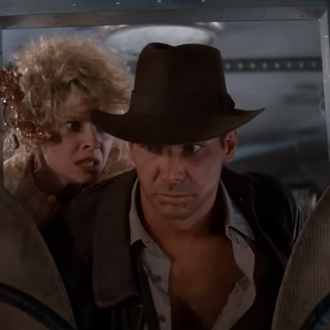 It's almost time to see Harrison Ford wear leather as Indiana Jones with Phoebe Waller-Bridge in the final film of the franchise. But before we try to figure out what the hell a Dial of Destiny is, we need to turn it back to where it all started. While the Indiana Jones films have had a home on Paramount+ for a while now, they're making their way to the house of mouse. Now, you can watch every Indiana Jones film leading up to Dial of Destiny on Disney+, giving you about a month before the new film comes to theaters on June 30. However, Disney+ isn't the only place to experience the franchise. Pluto TV has added all four of the Indiana Jones films as a part of their Popcorn Summer Movies series, all for free. For the superfan and the physical-media collector, Paramount is releasing a 4K Ultra HD film collection on June 8. Even if you don't have Disney+ or are cutting down your DVD collection, here are a few ways you can watch and stream every Indiana Jones film.
Indiana Jones and the Raiders of the Lost Ark
To kick off your rewatch, the first Indiana Jones film is available on Paramount+, Pluto TV and now on Disney+. It'll give you a good starting place to remember how Jones got started kicking Nazis' asses. The movie is also where you'll meet Marion Ravenwood, Jones's love interest who returns for Dial of Destiny. Actually, if you wanted to, you can make your rewatch a double feature and watch it alongside Tár — Todd Field will thank you for it.
Indiana Jones and the Temple of Doom
The second film, Temple of Doom, introduces us to the angel that is Ke Huy Quan in his first film as the character Short Round, who helps Jones by who drives the 1936 Auburn Boat Tail Speedster in his escape. The film is available on Fubo TV, Paramount+, Pluto TV, and Disney+. Try not to cry when you see Quan and Ford together.
Indiana Jones and the Last Crusade
Ah, the first time we see a baby Indy. River Phoenix briefly stars in a flashback to teenage Indiana Jones; Ford said of the actors who auditioned, Phoenix looked the most like him at that age. Adding to the stars returning for the final film, you'll meet Sallah (played by John Rhys-Davies), a professional excavator living in Cairo. The movie is available on Fubo TV, Paramount+, Pluto TV, and Disney+.
Indiana Jones and the Kingdom of the Crystal Skull
The most recent edition to the franchise stars Ford; Lydia Tár Cate Blanchett as the film's villain, the Soviet agent Irina Spalko; and, um, Shia LaBeouf (who plays Jones's son). While LaBeouf will not be in the final film, the last installment will reveal what happens to his character, says director James Mangold. Kingdom of the Crystal Skull is available on Paramount+, Pluto TV, and Disney+.
The Adventures of Young Indiana Jones
Starring Corey Carrier and Patrick Flanery as Young Indiana Jones, the '90s series followed Jones's childhood and teenage years where he meets historical figures like Ernest Hemingway and Theodore Roosevelt. Featuring cameos from Catherine Zeta-Jones, Daniel Craig, Denis O'Hare, and Keith David, the series is a great "Oh my God, they were in this?" as you gear up for the next Indy film. The three-season series is currently only available to purchase individual episodes on Amazon, but it will make its streaming debut alongside its film counterparts on Disney+.