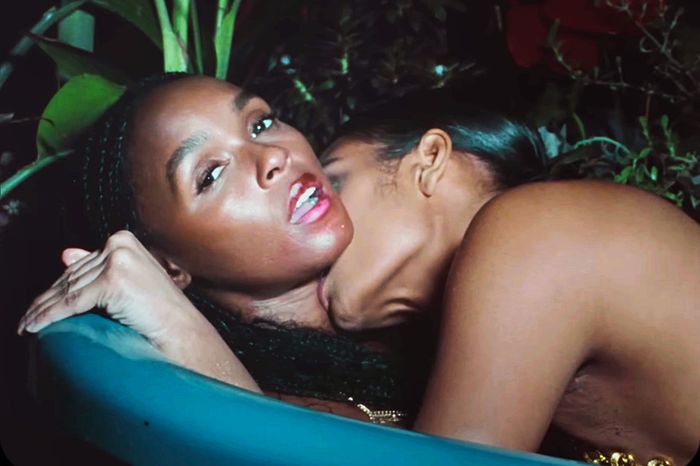 Janelle Monáe doesn't make albums. She builds worlds. At the outset, you're swept up in a whirlwind of quirky characters and unique topography, and briefed on the overarching social order that connects them. Monáe is a formidable actor, dancer, and singer-songwriter with a sci-fi heart. Her music has often used robotics allegories to unpack present-day trauma, weaponizing extraordinary machines to extract truths about the human condition, just as Yoshiyuki Tomino's Mobile Suit Gundam, Alex Garland's Ex Machina, and Isaac Asimov's I, Robot play with house ethics and morality beneath the glint of precious metals. Early Monáe works like 2010's The ArchAndroid and 2013's The Electric Lady were part of an enveloping narrative about an android rising up against systemic oppression that dovetailed with intensifying calls for equal rights in the real world. To tell a story of Black people in the future is to express your faith in our making it out of what's ailing us in the present. (Clashes over representation in fantasy and science-fiction realms have this at the core: Why can't you see us there?) The tribulations of Cindi Mayweather, the artist's artificial avatar, communicated to the listener that to live is to fight for a fairer future; the slick, smart, slippery funk, soul, and rock vehicles employed to spread the message also promised that beautiful music will always endure.
The more Monáe shared about life outside of art, coming out as pansexual and nonbinary over the last five years, the more the music seemed to deepen in scope. It hadn't just been an allegory for the everlasting menace of racism, it was also a celebration of Black queer femme resistance. 2018's Dirty Computer relayed this in its balance of techno-fascist horror, sapphic romance, and pointed rebukes of misogyny. But songs like "Screwed" and "Django Jane" were anxious to get out of the practice of communicating through parable and speak directly from artist to audience. Janelle Monáe's fourth album, The Age of Pleasure, is both a break with the narrative structure of the first three and a personal initiative the artist worked out amid the upheaval of 2020. When concert and club calendars cleared that spring, Monáe hosted the traveling dance party Everyday People at her Wondaland West creative facility in Los Angeles. The lively music and people that it brought to her doorstep inform the new songs as much as Monáe's urge to shake loose from the thematic conventions that have defined her work. "I used to consider myself a futurist," she told Rolling Stone this year. "I know what that means, to obsess about the next thing. A present tourist is what I'm calling myself right now." Living in the moment means centering the people and experiences she values the most, and The Age of Pleasure is, chiefly, a catalogue of these sources of joy.
Where the android albums developed and refined a fictional world, The Age of Pleasure is a claiming and cataloguing of terrestrial space. It's a buffet of big-band grooves and carefree party scenes and an itinerary of several hot spots in the interconnected, intercontinental creative dialogue of the Black diaspora. Funk, rap, jazz, and soul music melt into dancehall, reggae, and dub. "Water Slide" marries the propulsive bass of East Coast hip-hop and the syncopation of reggae; a line pulled from dancehall icon Barrington Levy's "Here I Come," sampled in the rapper Shyne's 2000 hit "Bad Boyz," teases out that New York–Caribbean idea exchange. The rich musical history of Nigeria is honored in songs with Afrobeat vets Seun Kuti and Egypt 80 and Afrobeats star CKay. "Know Better," the CKay collab, works in the unforgettable saxophone lick from the Lafayette Afro Rock Band's "Darkest Light," invoking the Jay-Z and Public Enemy classics that also made use of it while the vocalists update the '70s funk group's melding of American and African dance music aesthetics for a new generation. Abandoning perfectionism and escaping the weight of other people's expectations are the core tenets of Monáe's Pleasure principle, as expressed in interviews that revealed a distaste for the air of respectability politics some people got from the monochrome suits of the android era. But there's a musicology lesson in the margins here, recalling the funk-rock–indie-pop fusion of "Violet Stars Happy Hunting!!!" or the smooth-jazz and quiet-storm jam "Dorothy Dandridge Eyes." The effortlessness of Pleasure's experimentation is a reminder that Monáe's Dungeon Family card is still valid.
While it's easy to see the new album's pervasive sensuality as a step away from the more overtly political and philosophical concerns peppering the back catalogue, the effervescent sexual openness and celebration of queerness in "Champagne Shit" (which uses another bit of the Barrington Levy hit) and the single "Lipstick Lover" are served over reggae and dancehall tracks, casually counterbalancing a fraught history of homophobia. "Only Have Eyes 42" subverts expectations, nodding to both doo-wop and lovers' rock as it beckons you toward a chorus about the perks of a threesome: "You're the one, you're the one / Double the fun, triple the time for love." "Water Slide" sets lyrics about self-love and same-sex attraction — "All the girls wanna play in it / Boys wanna lay in it / But I'mma spend the day in it / And take a real cute photo" — to percussion evoking the rhythms in Rastafarian Nyabinghi ceremonies. You begin to see what Prince saw in Monáe, what made Grace Jones take enough of a shine to the younger artist to join her at the premiere of Glass Onion: A Knives Out Mystery last fall and guest on Pleasure's "Ooh La La": Monáe is a student of music who loves bringing people together and pushing their buttons.
The Age of Pleasure is a breezy endeavor, a humid oasis in the dry heat of a smoky season for humanity that may rub some people the wrong way (the kind who melt down at the sight of someone else freely and peacefully relishing their bodily agency and sexual liberation). It was a grave miscalculation to expect an avowed futurist to treasure mid-20th-century social mores and a profound misunderstanding of what's happening in her older work to ever get stuck in any fixed idea of who Janelle Monáe is and can be. Her brain seems bigger than the box people put her in. "I'm a new, updated version of myself," she told Angie Martinez in a recent interview. "I've updated my code." "I could go from sci-fi to jazz to hip-hop," she mused with Los Angeles radio host Big Boy. Monáe likens herself to legendary changeling David Bowie in the "Haute" interlude, surveying "a thousand versions" of herself in "Phenomenal" She's embracing change. Pleasure stages a daring pivot away from the chase sequences, cinematic set pieces, and songs about hiding from hunting and hounding this artist excels at, and retreats to beaches and bedrooms. What we lose in narrative heft and allegorical depth is recouped in aqueous grooves. Janelle Monáe is trying to get out of her head. She's letting go of her and our anxiety. She's terraforming herself.
Correction: An earlier version of this story incorrectly listed where the radio host Big Boy is located. It's since been updated.