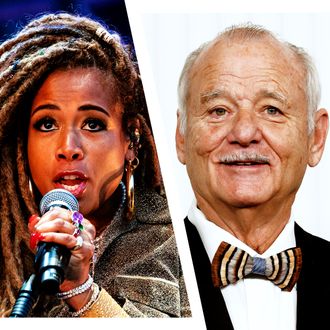 Photo-Illustration: Vulture. Photos: Lorne Thomson/Redferns, Frazer Harrison/Getty Images
Well, okay then! The U.S. Sun — which happens to be the same outlet that reported the news of Taylor Swift and Matty Healy's short-lived relationship — has casually debuted yet another unexpected celebrity couple. According to the Sun, "Milkshake" singer Kelis is dating Ghostbusters actor Bill Murray. While this kinda feels like something we might be hallucinating due to the wildfire smoke blanketing New York, 72-year-old Murray has reportedly attended several of 43-year-old Kelis's recent performances, including a show in London last weekend. (He's there to film a Ghostbusters sequel.) Citing unnamed sources, the Sun claims that the pair were at the same hotel and have been "getting close for a while" since first meeting in the U.S. "Whatever it is that has brought them together, and however unlikely it seems, they are both single and are having fun despite the fairly big age gap," a source reportedly told the outlet.
The Sun's report suggests that the two could have bonded over a shared experience of bereavement, given that both of their past partners recently passed away. Kelis's second husband, Mike Mora, died in March 2022. She has accused her first husband, Nas, of physically and mentally abusing her during their five-year marriage. Nas has denied the allegations. Murray's second ex-wife, Jennifer Butler, died in January 2021. Per the Los Angeles Times, she accused him in 2008 divorce papers of hitting her, cheating, and being addicted to drugs. Murray has also faced multiple other allegations of inappropriate behavior toward co-stars, including physical altercations and verbal abuse. More recently, he reached a $100,000 settlement for allegedly straddling and kissing a female crew member through a mask on set of Being Mortal. He has described the incident, which halted the production, as a "difference of opinion." Neither Kelis nor Murray has publicly responded to the Sun's report to confirm or deny their alleged relationship. Are baby-boomers and Gen X-ers now in on the trend of soft-launching romances? Guess we'll find out.