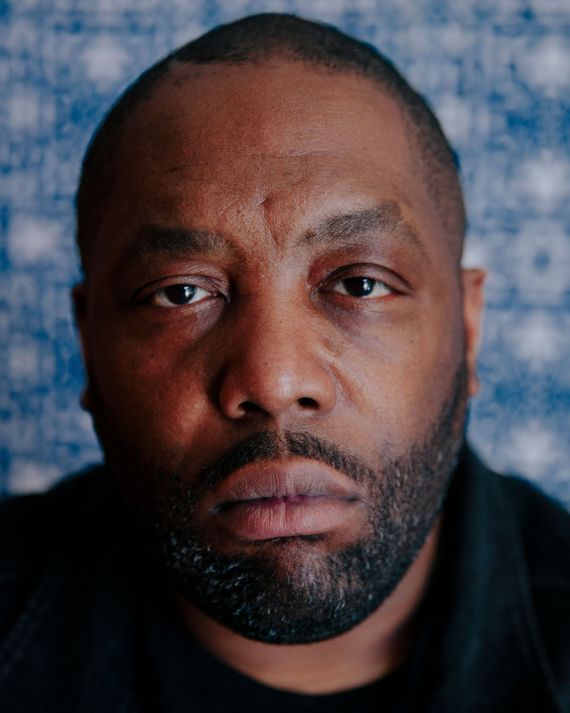 Killer Mike is a fascinating character, a rapper whose nonlinear career path took him from incredible work with OutKast to the mixtape grind and then into arenas and music festivals alongside El-P, his partner in Run the Jewels. He is also a product of the Black entrepreneurial spirit of Atlanta in all its complex permutations: the trapper, the musician, the mom-and-pop business owner, the voice in local and national politics. In 2016, Mike endorsed Bernie Sanders for president, and in 2020, in the heat of the George Floyd protests, came under fire for a press conference with rapper T.I. and Atlanta's then-mayor, Keisha Lance Bottoms, during which he implored protesters "not to burn your own house down for anger with an enemy." Where Killer Mike's fans see a truth teller, his critics see a capitalist in activist's clothes and question his ideas and intentions: How his advocacy for gun ownership plays into the NRA's agenda and whether his meetings with Georgia governor Brian Kemp and football star and chaotic 2022 Republican Senate candidate Herschel Walker were fruitful endeavors. But the 48-year-old rapper has no problem clapping back.
This month's Michael (out June 16) is his first solo album since 2012's El-P-produced R.A.P. Music, and it's a window into the circumstances informing his musical and political sensibilities, a family history, an Atlanta hip-hop primer, and a snapshot of lives that were altered forever during the crack era. "Scientists and Engineers" with Future and Andre 3000 is a jaw-dropping Dungeon Family reunion; "Motherless" reckons painfully with the loss of a parent and the toughness and yearning that come with it. Michael owns its namesake's strengths and flaws and the generational movements that make him possible, so I spoke to Killer Mike over Zoom in mid-May to dive into the rap history he's been a part of and the ways Michael builds on the street narratives and social consciousness introduced in his 2003 debut, Monster, but also to pick his brain about politics and backlash. He's an effective orator, and what he doesn't say is just as illuminating as what he does.
I was surprised to hear you'd made a solo album. For the past decade, you and El were focused on Run the Jewels. I think Michael is telling not just your story but a wider one about the resilience of the South and the Dungeon Family. What made you itch to talk about it 11 years after R.A.P. Music?
I am one half of Run the Jewels, and Run the Jewels is an X-Men-like universe. There's — God bless the dead — our confidant, Gangsta Boo. There's Zack de la Rocha. There's Josh Homme. There's Mavis Staples. Like uncanny X-Men, El and I are people who didn't necessarily fit the mold of the greater rap scene, but we created this wild, unique thing on our own and formed this amazing hybrid group together. But every character has an origin story. And many people knew El's origin by way of Company Flow, by what he'd been able to do with the Weathermen, and what him and Camu — God bless the dead — were able to do. It was very established, but I still was somewhat of a mystery because I'd always been presented by proxy to someone else. OutKast gave me an opportunity to change my life. I'm forever grateful. But I was still an attachment. There was never a moment where people got a chance to see the whole of Michael. They saw bits and pieces in the music.
I just needed people to know that the character Killer Mike was created by a 9-year-old boy named Michael. And that boy grew up in a distinctly southern Black city where his enemies and heroes looked like him. Doesn't mean poverty wasn't around him, doesn't mean violence or crime wasn't around him. But it means that Black millionaires who didn't sing and dance for a living were around him. It meant the Black educated and elite who taught him were his teachers. It meant he went to schools named for Frederick Douglass. It meant that he grew up hearing gospel and funk and soul and he grew up experiencing the harshness of the drug era and the opportunities that opened up after. I wanted people to know that the character in Run the Jewels is a whole human being and a man who feels like there's something that needs to be said. I think I told the best story of a young man in Atlanta.
You mentioned the X-Men. I've heard that you grew up on comics. Who were your legends?
I have two great fathers, biological and non-biological. So when people see me taking pictures of Hot Wheels and listening to rock music and shit, that's my non-bio dad, Tony. Big Mike is my bio dad. We would go to the West End together. You know how your dad would creep off and go buy a Playboy or something? He'd let me peruse the comics section. I fell in love with the X-Men and Batman and later Spawn. I'm not a read-every-comic guy. Comics are like rap or skateboarding or BMX: something adventurous for boys. There's stories of glory. Comics make you a better reader.
Losing Gangsta Boo in January was my first clue that 2023 was going to try us as much as 2022 did. Could you speak to your friendship with her and her legacy?
I love Lola with all my heart and soul. She was good to me and for me. She was good to my wife. She was good for my wife. Run the Jewels was better for having known her and having her make dope art with us. I'm worse off without her. I miss her terribly. It is difficult to even talk about her now. I pray that the people of Memphis can hold her name high. Man, as a 15-year-old girl, she changed the world as a member of Three 6 Mafia. Oftentimes my wife and I just play her music and just smile and shed a tear and keep going. So I hope that we continue to give her her flowers as she was one of the most underappreciated and overlooked, absolute lyrical fucking monsters the South has ever produced.
Working with OutKast in the early 2000s, you were able to see firsthand the country start to really open up for southern hip-hop. What was that experience like?
We knew that New York, because the media was out there, was its own animal. We knew that L.A. also had made their way. But at one time, the South was just considered the third coast. They was like, All y'all together, which I think was a great unifier regionally and helped us to travel. Miami is subtly different from Atlanta and subtly different from Houston and subtly different from Memphis and subtly different from New Orleans and Baton Rouge. But you get this big gumbo of funk and soul and gospel. We all understand each other's sound. OutKast and Goodie Mob opened doors for a more soul- and funk-based sound out of the Curtis Mayfield school. Dungeon Family provided an alternative to what was predominantly dance based, what we call booty music. I think that that was the first phase of the flower opening up. Then, when you get to the New South Movement in the early 2000s, you get different sounds like the crunk movement that Bone Crusher was helping to usher in. You had room for other people with T.I. bringing trap music into the fold. Elliott Wilson and I were talking yesterday, and he thinks it starts in 2005, but I think from 2003 forward, the South was becoming a dominator. Even before 2000. So when people say, "Man, y'all almost in a 20-year run," shit, I give us 25.
Monster turned 20 this year, and it feels like a signpost for the direction rap music was headed during the aughts, a blend of rowdiness and articulation. I hadn't listened to "Akshon" and "A.D.I.D.A.S." in a minute, but in 2002, 2003, I would've told you the Dungeon Family had cracked the code and figured out how to tie all the threads of Black music together.
I walked into my friend and business partner T.I.'s trap-music museum, where they give you a timeline of trap music. It says "2003: Killer Mike makes the first attempt at making a conscious trap album." I was a rapper, but I also was a kid that trapped in front of your house. And I went to Morehouse. So I was a hybrid of sorts presenting what was important to me. People kind of get it now, but there are a lot of talented kids in Atlanta that aren't getting their credit that are dope, whether it was Two-9 and Curtis Williams or Kenny Mason and J.I.D. now. I'm very proud to be a part of that. Dungeon Family has cracked the code. Unfortunately, every record deal doesn't go through the roof. But when you look at the perfect hybrid of cool and funk and soul and trapping and conscious, you got to think about Cool Breeze.
I was about to ask whether Cool Breeze is in the museum.
If he's not, I'm going to call Tip today and make sure he gets in. Cool Breeze is that guy. He's pre–trap trap music, you know what I'm saying? He predated Tip and DJ Toomp. He was a cue that trap music ain't got to be badly mixed, redundant, slow, stereotypical. It can be slick, cool. It can even be sexy, for lack of a better word.
Something I think Michael communicates well is how many lives and how much infrastructure got smashed coming into the '80s, and the terrible choices it forced people to make. The image in "Something for Junkies" of the woman remembering what it felt like to party before addiction set in got me thinking about how we're living in a sequel to the fruits of the mistakes of that decade.
Talking to the little homies on the block, sometimes I say, "Man, all y'all are junkies, y'all just like your grandparents. Y'all like to do pills and party. Your grandparents did coke and party." The problem was they didn't know there was bad news around the corner. So I try to let the little homies know if you don't prepare for tomorrow, a fast will come after the feast. I say that with no judgment. I tell people all the time: Forgive your parents, grandparents, aunts, and uncles for what addiction did to them because they didn't know. It was just fun.
The "Don't Let the Devil" video is based on parties my mom would throw in the '80s. They drank and smoked pot and danced, but eventually that moved onto freebasing. The story in "Something for Junkies" where I talk about my aunt, is a true story. She told me, "Nigga, your dope ain't no better than nobody else's. The reason I come to you is because you treat us like human beings." And that never left me. I needed to say that. Rap has made more money off crack cocaine than we ever made off crack cocaine. The greatest legacy of the drug era is the ammunition it provided artists, what it gave Ice Cube, what it gave Ice-T, what it gave Schoolly D, what it gave KRS-One, what it gave Nas, what it gave Jermaine Dupri, what it gave OutKast, what it gave Goodie Mob. [Sings.] "One to the two, the three, the four …" These kids that would've been thrown by the wayside in that era received artistic ammunition to create something that makes millions and billions of dollars now.
I also think on a certain level the album is this journey from the "I said what I said" energy on the front end to you reflecting on arguing too much in the back end.
No, that's not what I'm saying on the back end. I meant what I said. I meant exactly what the fuck I said.
Let me pull the line that struck me … In "High and Holy," you said, "I apologize if I ever spoke distasteful." In "Motherless," you agree you can be argumentative. I'm saying you were reflecting, not retracting.
"Talk'n That Shit" stands as what the fuck I said. I was saying I shouldn't speak distastefully in front of my elders. I'm a Southerner, and sometimes you get mad and cuss at the table in front of aunts or uncles, so I was apologizing for the times in my youth that I let my ego get in the way of my manners in front of old people. I'm not thinking about shit.
"Talk'n That Shit" starts in on people who care too much about your business in the first verse, but then you offer a good reason to talk about you in the verse with the Brokeback Mountain line. 
First of all, it's a talk-shit record. "Oh, so you use Twitter as a way to talk shit to me? I don't give a fuck by what you're saying. I'm going to use this record to show you I can rap over three different DJ Paul beats." Let me tell whoever sees this interview: Black folks be fooling y'all. Black folks get in front of these cameras like he doing right now and they say, "Hey, man, we're progressives …" Black folks talk crazy shit behind closed doors. Behind closed doors, you better believe Barack Obama saying, "Nigga, what is you talking about?" So the song is taking all the plantation face off and getting back to the basics of when you hear a Black person from the Boulé or an educated Black elite say, "Negro, is you out of your mind?" I'm talking that shit, but I just stopped dressing it up. I'm talking directly to Black folks. That ain't for nobody else. That record is letting Black folks know that I don't give a fuck what you think about me. I love you because you Black. What you think about me doesn't matter as much as you working locally, because instead of criticizing a rapper, if you work locally, you really can change the world.
And at the end of days, man, I'd rather die Dick Gregory than die silent. I'd rather die someone who had the courage to tell the truth to my people than someone who didn't. So "Talk'n That Shit" is for Black folks. It is for our space. Am I going to discuss this record on CNN and MSNBC? No. Am I discussing this record with you because you Black? Yep. Will we talk about it in a room full of white folks? No. White people who hear this record, understand that you experience this record as voyeurs. So although I value you, I appreciate your appreciation of the art, this record and these conversations that are on this record are from a Black perspective. I hope you feeling it affects you. And if it doesn't, man, too bad.
I don't want to make it seem like this is a conversation about what white people might make of that song. I just feel like the Brokeback verse opens you up to questions of what you're about.
I don't have a Brokeback verse. I don't have a Brokeback verse.
You rhyme "woke ass" with "Brokeback" in a verse, and it undercuts what you're trying to get across in the rest of the song. People —
So help them understand. Help them understand, Black man. It's not my job.
That's what I'm here for, one of the many reasons I'm here. I need to find out whether you meant well.
You know I meant well.
I don't know.
You got Langston Hughes on your shirt. You brilliant. I trust you. I'm not letting you convince me you're dumb. I know you brilliant, brother.
We are living in an era where so many people are starting down strange pathways —
I don't care what era we living in. We ain't going to let them do it. I know you ain't going to let them do it. I trust you.
Here's what I'm saying: That trust doesn't exist anymore, and this is not about you personally. The trust for people with platforms is not where it was. We watched people with valuable platforms say ridiculous things and detonate money. We've seen Ye. We've seen a lot. 
I'm not comparable to anything you just said. So I don't accept that.
I'm not trying to compare you to Ye. I'm explaining why I have to ask you about what I'm asking you about.
I understand the reasons. What I'm telling you is I trust you to be intelligent, Black man. Like my grandma would say, "Nigga, you got good sense. So I trust you." What we got in the second verse, I told everybody,
Get their goddamn guns. If I'm in New York, and I'm you, hyperlocally, I'm going to start advocating to be able —
The laws are tighter here. 
Let's say I'm a Black man in New York. I live in a time where my life is under threat from the state. My life is under threat from criminals. And I live in a state, in a city, where essentially the right to protect myself is outlawed. Now, I know white friends in New York who have have AR-15s and shotguns because as long as you can get it in your house, it's legal. But they ain't worried about getting stopped before they get it in their house, right? After we done went through you know whatever you going to do to the first verse of "Talk'n That Shit," let's get to the second verse: Black self-defense. Negroes, the state is not going to protect your Black ass. So you better take your Black ass to a firing range. You better take your Black ass to a political rally. You better fight for your rights. By the time we get to the third verse, what am I talking about? Black classism. Within the Black community, we feel like if we're educated, we're somehow elite and we ain't gotta worry about the other 90 percent. I'm saying on the third verse, "No, man, I speak on the behalf of the poor, the downtrodden, the working-class southern Black man." I don't give a fuck who the president is, if the president ain't for me. I said, "I'm a bad nigga. I'm Stagger Lee, poor house man, Spike Lee."
I like the Spike Lee–Stagger Lee line.
As a Black man, you are the media. You are responsible to teach people how to think right. As a Black man, I could get caught up on wokeisms. I could get caught up on what the fuck Kanye said. I could get caught up on if this one line offended somebody. Or I could introduce the world to who Stagger Lee is. I asked my granddaddy about N.W.A. one time, "Poppy, why they mad about N.W.A.?" He said, "Shit, I don't know. They act like they ain't never heard Stagger Lee before." I got to run my chubby ass to the library, find a record with Stagger Lee on it, and hear about a nigga who was a stone-cold man who wore a Stetson hat.
Do you think it's possible for America to have a healthier gun culture?
I don't care if it's possible for America to have a healthy gun culture because I don't know what a healthy gun culture is. I care that Black people take advantage of every right that the U.S. Constitution promised before we have to give it back or give it up.
So if our states allow the sale of ARs, it's game on?
Black people, you should have five guns and knowledge of how to use them. You should have a revolver. You should have a semi-automatic pistol. You should have a long gun like a shotgun. You should have a bolt-action rifle. And you should have a military-style rifle. You should go shooting at least once or twice a month as a family. You should train and take a Stop the Bleed class together so you know what to do in case of an accident. You should know that if the world breaks down around you, there is no government that is going to save you. The only thing you will have is your ability to grow food, to find fresh water, to kill or slaughter or have animals as protein, and to defend yourself through firearms.
Short of societal breakdown, we have to talk about the people who are not using all the guns that are available to everyone in a way that is helpful to society. Yes, it's legal to have a wealth of arms right now. Should we be tightening up what's out there for sale? 
No. I don't believe a new law should be passed. I believe any law affects Black people worst and first. I've given you a statement about what I feel like Black people should do. There ain't nothing else to say. I'm never going to change my stance on it. What we got next?
I just feel like the story of the last month has been —
I don't have any comments on any of those stories.
[Laughs]
I'm willing to talk about this: I, Michael Render, am responsible for a tribe of people. My responsibility is land ownership and fishing and hunting and self-defense. I was taught by my grandfather, who was born in 1922, and that was reinforced by my father, who was born in 1959. It is being reinforced to my daughter by me, who was born in 1975. In my household, that will never change.
We have a problem that we didn't have in the '50s and in the '70s, which is that the rate of mass shootings is skyrocketing.
I don't have the ability to talk about those things because I have not done the studies. I don't know the data. What I do know is if a coyote gets at my wife's eight-pound dog, I have a couple of guns that'll take care of that coyote. What I do know is should anyone choose to intrude on my wife's space and try to kick in our door, certainly their mother's going to pay for a funeral. That's what I know.
I saw your monogrammed Archangel Michael chain in the "Run" video and thought, This guy definitely appreciates the warrior iconography of the faith. Was there thought process there or did the religious chain with your name just perfectly encapsulate what the album is getting at?
I think that people have to understand that I'm first and foremost an artist. The things that I talk about in terms of what people would perceive as warrior stuff, it's just being a Southern man. I mean, shit, I'm in better shape than I was three years ago, but I'm not going to fight no MMA fight. I'm taking my boxing classes like every other man to lose a little weight, throw a sharper punch. I think that every warrior is balanced by an artist. Rap is pugilistic poetry, right? But it is also The Iliad. It can even be Don Quixote fighting windmills. I believe that boys and men have to exercise a warrior spirit mentally, physically, and spiritually. For me, Michael is an internal struggle between the light and the dark, the pure, humble nature and the ego that'll get big and inflated.
But that chain — and I'm glad you noticed it because I paid a lot of money for it — is based on a 15-year-old Michael's imagination. Michael is a lover of Renaissance art. I'm a lover of sculpture. That chain is an exact replica of a sculpture that sits in front of the Church of St. Michael in Berlin. I've done that before with the Winged Victory of Samothrace. So the jewelry that you see me wear usually does not have diamonds, because I don't know the real value of diamonds. Gold is money anywhere you go in the world, is what I've learned. With a $50,000 chain around my neck, I know how much money I got. I saw my idols do that, not just my rapper idols. My father bought a beautiful Franco. So that's why people see me wear gold. But the ornaments that you see me wear are pieces of art that I can't figure out how to steal. Lord knows, if I could figure out how to steal the Winged Victory of Samothrace out the fucking Louvre, that shit would be in my backyard right now.
That's funny considering how a lot of art gets in museums in the first place.
That's what the fuck I'm saying! Now help the audience understand what the fuck going on. I'm glad you noticed the chain because the chain has meaning. I'm named for this angel because my father was. I love this beautiful sculpture, so I had my own made.
Being in a rap duo that plays a lot of festivals, you're probably a lot of people's first rap show. Do you think about what you want folks who are new to the culture to take away when they see you?
Yes. Again, if you white, this record is an amazing opportunity to be a voyeur into Black southern culture and musicianship and hip-hop. It is a beautiful thing. I got a friend, he's a white guy out of Kentucky. He grew up on a farm. He had one Black friend. They would listen to N.W.A. together. He's a rich guy now. Has amazing cars and shit. We drink moonshine together. But rap music brought us together, so he better understood culturally who we were. He's one of the coolest, most well-adjusted white guys I've ever met in my life.
But I understood the importance of having a friend or a guide to take you culturally into different things. I didn't know anything about Korean culture. And so my Korean friends took me to K-town, taught me about the food, told me about the culture, and helped me understand the difference between North and South Korea in terms of mentality and thinking. People that go outside our culture are diplomats and ambassadors of sorts. This album is a Ta-Nehisi Coates moment. You remember when all the white folks woke up like, "Oh, shit. This Ta-Nehisi Coates guy wrote some shit." Think about this now. He's writing a book, a brilliant, beautiful book to his Black son to help guide him through this terrible, at times tumultuous thing called life, and white academia and plain white folks who want to understand culturally, they attach themselves to it and they got it. This album is by a Black man from the Deep South and a Black community, a Black city. It's for Black folks in the spirit of a returning or a church homecoming. It's the Color Purple moment when Shug Avery got back to church, hugged her daddy, and said, "See that, daddy, sinners have souls too."
The Weathermen was a collective of northeast underground hip-hop artists, including El-P, Cage, Aesop Rock, Camu Tao, Cannibal Ox's Vast Aire, the Juggaknots' Breeze Brewin, and others.
From "Something for Junkies": "She took a hit, she zoned out, came back, took a spit / looked at me and said 'All of y'all got the same shit' / She said 'Michael, you say you love me, I know you mean it / Cause you still treat your junkie auntie like a human being"
"You see, your words ain't worth no money, I ain't spoke back, bitch / All of you niggas hang together on some Brokeback shit"
Killer Mike is a proponent of being involved "hyper-locally," which "means, Have you attended a community meeting this month? Do you know who your city council person is? If you do, have you communicated with them? If you stay hyperlocal, you can start to create local change."