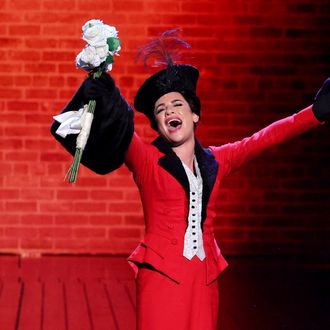 Let her march her band out!
Photo: Getty Images for Tony Awards Pro
If I had a nickel for every time Lea Michele performed "Don't Rain on My Parade" at the Tony Awards during a year when she was ineligible to be nominated for a Tony Award … I'd have two nickels, which isn't a lot. But it's weird that it happened twice, right? At the 2023 Tony Awards, Michele performed the number as a representative of Funny Girl, which she currently stars in on Broadway. But, it's worth noting, she also performed the number 13 years ago as a representative of the television show Glee. Neither time was she eligible for a Tony. Both times she sang the same song, despite singing other songs both on Glee and in Funny Girl. There are some key differences, however. In the 2010 version, for example, she walks through the aisles and sings at Beyoncé and Jay-Z while they look vaguely uncomfortable.
Then in 2023, she doesn't do that. What a difference 13 years makes.
Choose for yourself which you prefer: the Lea in white or the Lea in red, the Lea who sings at Beyoncé or the Lea who sings at cast members, the Lea who is young and spry or the Lea who is the post-meme. Tough choice, but a necessary one.