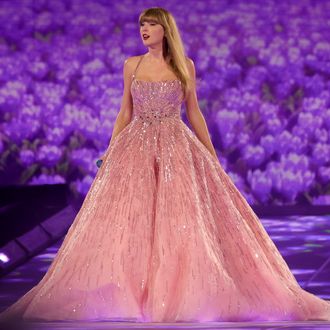 Photo: Kevin Mazur/TAS23/Getty Images
Have people learned nothing from listening to "Better Than Revenge"? A temporary employee who reportedly stole ten copies of Speak Now (Taylor's Version) from a warehouse in France was arrested and sentenced to eight months in prison, reports Charts in France. He allegedly tried to sell the ten copies online for 25 euros each, but once he sold two, he raised the prices to 50 euros, a.k.a. applied platinum pricing à la Ticketmaster. Eventually, an MPO France human-resources manager reported him to the police, who arrested him at his home. The man was sentenced to eight months in prison, as he had apparently been convicted 24 times before. Only eight of the vinyls have been recovered, with two records still roaming the streets of France.
This is only the second time someone has tried to steal Swift's record, as she was not given the opportunity to purchase her masters back in 2019 when her albums with Big Red Machine were sold in a deal with Ithaca Holdings. In case you haven't heard, Swift is halfway through re-recording her first six records, with Speak Now (Taylor's Verison) legally coming out on July 7. She's taking them back faster than you can say sabotage.