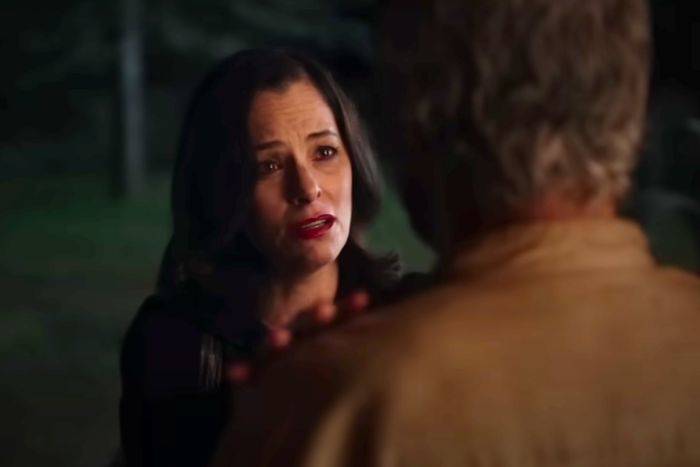 Carey personally approved
Beau Is Afraid
's use of "Always Be My Baby" after Ari Aster wrote a letter to her, according to producer Lars Knudsen.
Photo: A24
This piece was originally published in April. We are recirculating it now that Beau Is Afraid is available on digital. Spoilers ahead for many plot details of Beau Is Afraid.
Before watching Beau Is Afraid, Ari Aster's three-hour Freudian epic, I thought there were only two kinds of needle drops. Either it was the kind that fit a scene so well, the song felt tailor-made to it (Aerosmith's "Sweet Emotion" in Dazed and Confused), or it was the kind that took you out of the moment entirely ("Angel of the Morning" during an otherwise scary sequence in It: Chapter Two). With Beau Is Afraid, Aster has introduced me to a secret, third option: a needle drop so incongruous and absurd given everything else happening onscreen that it's actually somehow … perfect.
Beau Is Afraid's needle drop arrives in the third act, once you've started to feel like you've seen it all — suicide by paint-chugging, an elaborately executed play-within-a-play, a completely nude homicidal maniac. And then comes a sex scene. It's a surprising turn of events, given the main character's whole deal. But it's not just that. This scene is underscored by a song that would take anyone 10,000 tries to guess correctly with the movie playing on mute. That song is Mariah Carey's 1996 chart-topper "Always Be My Baby."
Aster had a rough first draft of Beau Is Afraid ten years ago, and "the Mariah song was in the draft already all the way back then," says Aster's producing partner Lars Knudsen. (The two have worked together on all three of Aster's feature films, and co-founded their production company, Square Peg, in 2021.) "It's a very idiosyncratic scene. It's emotional, it's strange, it's provocative, and when you add Mariah Carey on top of that it just becomes something else entirely."
Some background: Beau (Joaquin Phoenix) is an agoraphobic mama's boy who sets out on a surreal quest to make it back to his mother's house in time for her funeral. When he finally arrives after a series of highly surreal obstacles, he sees that the service has already ended — and that his childhood crush has just arrived, too. Elaine (Parker Posey) is everything Beau is not: self-possessed, assertive, maybe a little pushy. She takes charge, leading Beau straight up to his mother's bedroom, where she instructs him to undress.
Panic grips Beau. From the time he was a child, Beau's mother Mona (played by Zoe Lister-Jones in the character's younger years) burdened her son with the knowledge that his father died as Beau was conceived (literally the second he ejaculated). She explains this fate also befell his father's father, and his father before him. So Beau is a virgin grappling with the idea that sleeping with the girl of his dreams might literally kill him. Elaine, unbothered, straddles him, reaches for her phone, and queues up a banger.
The iconic opening of "Always Be My Baby" — doo doo doop dum — elicited an audible gasp when I saw the film in theaters. It's a song that calls to mind prom dances and mixtapes, a sonic reminder of Beau's forever state of arrested development. Sensing Beau's tension and trying to get him to relax, Elaine at one point stops the song and plays it again from the beginning. Mariah is mid-do do doop when Beau, terrified, barrels toward his first orgasm. "I really felt that," Elaine says afterward as Beau, still alive, processes the supposed generational curse he's escaped. "That was a lot. You just blasted through that thing."
Elaine goes to work on her own orgasm, climaxes, and then goes quiet. Beau looks up at her and realizes she's dead, frozen stiff mid-straddle, as "Always Be My Baby" keeps playing in the background.
Though Aster always knew he needed this song, getting "Always Be My Baby" into the movie posed some obstacles. Beyond the task of getting Carey to sign off on it, Knudsen also needed to make sure they had the budget to license it. Knudsen declined to name the song's official price tag, but he did say that it clocked into the hundreds of thousands — a number that required A24 to raise the film's music budget, and cut a few other, less critical songs from the film.
For a brief time, Knudsen says, he and Aster considered alternatives. They looked for pop songs from the '80s and '90s, hoping to find something instantly recognizable that would still play as a surprise in the moment. (Knudsen wouldn't say which others they considered.) "Ari listened to a hundred of other songs to try to find a replacement," Knudsen says. But he rehearsed and shot the scene with Carey's song, and the cast and crew grew increasingly attached to it. "It just became a thing where we were like, 'We're kind of fucked now if we can't get it,' because there was no alternative."
Aster wrote a letter to Carey, pleading his case and describing "the alchemy of the song with the scene," Knudsen says. "He was trying to give her the history that he had lived with for ten years, and basically begging her to let us use it." Carey watched a clip of the scene with the song — on her phone, according to Knudsen — approved it, and later attended the film's premiere after-party.
Like the rest of Beau Is Afraid, the sex scene is an exercise in dark humor. Knudsen says Aster wants audiences to dive into the "layers" of meaning in the film's use of the song themselves, but he acknowledges that there's something intentionally bleak about a middle-aged man who's been smothered by his mother losing his virginity to a song called "Always Be My Baby." "The first time I saw it with an audience, I knew we made the right choice," he says. "There was not one single song that could do what that song did. It was definitely money well spent."