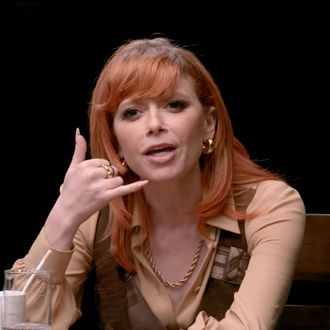 Kevin Feige, do your thing.
Photo: The Hollywood Reporter
You know what Marvel movies really need more of? Kvetching. Luckily, The Hollywood Reporter's Comedy Actress Roundtable this year has a plan to remedy this clear and difficult issue. While discussing how male auteurs are treated in Hollywood, Natasha Lyonne (Poker Face) brought up a counterexample to the franchising of the male TV auteur: Larry David. "I would say the exception might be Larry David," she said. "It might be that Larry David is actually not getting a lot of calls from Marvel and stuff. Or maybe he is, and he's just like, 'No thanks.'" Later in the talk, Lyonne and Ayo Edebiri (The Bear) worked together to create an offer he can't refuse. "It's really just us running around trying to catch him," Lyonne said, motioning to all of the ladies at the table. Edebiri added, "I feel like his Marvel movie is, like, he's just a guy whose life just keeps getting destroyed by all the superheroes flying around." Even Jenna Ortega (Wednesday) chimed in with "he's really annoyed," which does seem likely given the Larry David of it all. "It's very Rick Moranis in Ghostbusters, his Marvel movie," Lyonne said. To all this, we say, "Yes please!" Edebiri is already playing a role in Marvel's upcoming Thunderbolts, so if she could sneak this idea into Kevin Feige's ear, we might have a new movie on our hands.