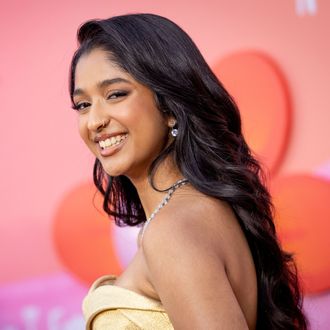 Taylor Swift, call her.
Photo: Emma McIntyre/WireImage
No matter how much Devi Vishwakumar grew up during the four seasons of Never Have I Ever, she's always going to be a lovable hot mess. Throughout the series, one of her high-school goals was to lose her virginity — whether it be to Paxton Hall-Yoshida (Darren Barnet) or Ben Gross (Jaren Lewison). When asked if Devi's completion of one of the things on her high-school checklist had changed how she played the role, series star Maitreyi Ramakrishnan (who pays Devi) said that, despite hitting the milestone, "Devi's insecurities were still there … Our anger is still there. All of that is pretty much the same. The only thing that really shifted, that was directly related to her virginity, was she has a very rocky road in communication with Ben. She's still a hot mess — that doesn't change anything."
When asked if she saw Devi as the story's antihero, Ramakrishnan referenced music's self-proclaimed antihero. "Kind of. Play Taylor Swift's 'Anti-Hero'?" she joked. "Devi's not, like, killing anyone Deadpool style, and that's who I think of when I think of an antihero. But she is the antihero of the story — for sure. Because you are rooting for her, but she makes questionable choices."
Support Devi's right to wrongs on June 8, when it the final season of Never Have I Ever premieres on Netflix.