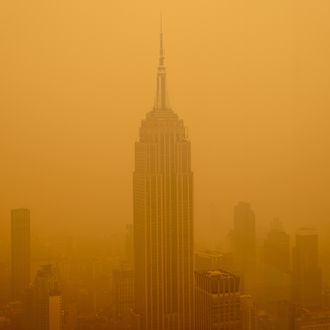 Denis Villeneuve, we love your work.
Photo: David Dee Delgado/Getty Images
New York has disappeared in a cloud of smoke. Poof! There are currently massive wildfires throughout Quebec, Canada, and, yesterday, June 6, the winds began bringing that smoke down through into NYC, and, starting yesterday morning, June 7, it seemed like the whole city was engulfed in orange (which, hot tip, goes really well with blue, if you're planning any outfits). The French-Canadian smoke is bad for your health and the air quality is officially among the worst in the world, according to CBS News. I know the French like smoking, but this is ridiculous! But, as the world burns, we're lucky (you know, relatively) that Elon Musk has yet to run Twitter completely into the ground. (We said yet.) People across the five boroughs and beyond are posting with the lavender orange haze as inspiration for meme fodder. The climate apocalypse is coming, and you're memeing? Well, of course.