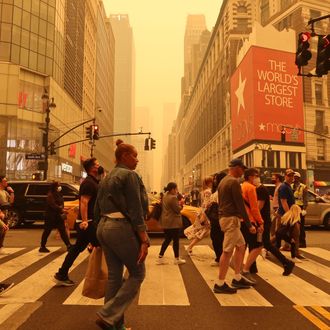 Not a 2013 Instagram filter.
Photo: Gary Hershorn/Getty Images
When your city turns bright orange, sometimes you have no choice but to stay in, turn on some TV, and wait for the color grading to go back to normal. As such, there are a bevy of events getting canceled in New York right now. Theater is a big one, starting with Jodie Comer stopping her show Prima Facie partway through yesterday, June 7, because she couldn't breathe well enough. Since then, Hamilton and Camelot on Broadway have canceled shows, according to the New York Times, and Hamlet in Central Park, as part of Shakespeare in the Park, canceled its final dress rehearsal. Additionally, the White Sox versus Yankees game at Yankee Stadium and the Liberty versus Lynx game at the Barclays Center have both been postponed, with the Yankees game rescheduled for the next day, June 8, and the Liberty game to be rescheduled at a later date, according to the teams' respective Twitter accounts. In the music category, BRIC Celebrates Brooklyn! canceled its opening-night concert with Taj Mahal and Corinne Bailey Rae due to the air quality. "The health of our staff and the communities we serve is the number one priority for BRIC and we can't, in good conscience, risk the wellbeing of our friends and neighbors who may have high risk health issues," BRIC president Wes Jackson said in a statement. This Pride Month, we just might have to remove orange from the flag, because orange is supposed to represent healing, and there's nothing less healing for gay people than canceling live theater.