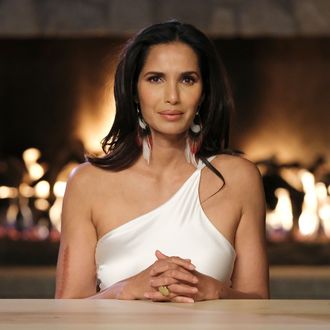 Queen of Quickfires.
Photo: David Moir/Bravo via Getty Images
Padma Lakshmi, goddess among men, incredible coat wearer, and remarkable tea drinker, is leaving Top Chef. If you hear a "NOOOOOOOOO" in the distance, it's probably the collective mourning currently happening at the Vulture offices. Lakshmi announced her departure on social media, saying, "After much soul searching, I have made the difficult decision to leave Top Chef." During Pride Month? Padma, how could you? "Having completed a glorious 20th season as host and executive producer, I am extremely proud to have been part of building such a successful show and of the impact it has had in the worlds of television and food," Lakshmi continued. "After 17 years, many of the cast and crew are like family to me and I will miss working alongside them dearly. I feel it's time to move on and need to make space for Taste the Nation, my books and other creative pursuits." As we dry our tears, we will try to let our love for Lakshmi override our sadness at her departure, but we make no promises.
"Padma Lakshmi leaves behind an incredible legacy on Bravo's Top Chef," a spokesperson for NBCUniversal told Vulture. "Her impact on the Emmy, James Beard and Critics' Choice Award-winning series is undeniable. We are grateful to Padma for being a consummate host, judge and executive producer, and for bringing her ingenuity and exceptional palate to each episode where she ate every bite of food on the series for over 17 years and 19 seasons.  She will always be part of the Top Chef and the NBCUniversal family and has a seat at the judges' table anytime." Hey Padmaaaaa, you see how they said anytime? What if anytime was "very often, perhaps even every episode" next season? Just spitballing here.
This post has been updated.