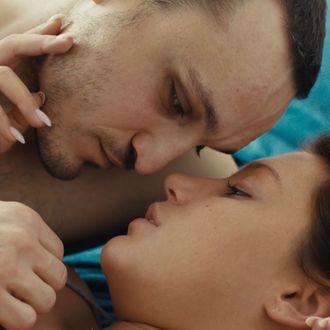 Franz Rogowski and Adèle Exarchopoulos in
Passages
.
Photo: Mubi
Among those who traveled to Sundance this January, or chose to attend remotely, Ira Sachs's Passages was heralded as a clear standout. (Richard Brody claimed it "would be among the best of any year in which [it was] released.") The movie follows a film director played by Franz Rogowski, whose relationship with his husband (Ben Whishaw) is thrown into tumult when he not only sleeps with a woman (Adèle Exarchopoulos) — c'mon, it's 2023 — but falls for her as well. In the words of Cameron Scheetz, Passages sees Sachs, the indie-film auteur behind Love Is Strange and Little Men, "in sicko mode" — the resulting love triangle is "sexy, messy, frequently hilarious."
At Park City, Passages garnered praise for the authenticity of its performances, especially Rogowski's oft-infuriating turn at the center and the intimacy of Sachs's direction. Much of the chatter highlighted what K. Austin Collins called the film's "admirably forward" sex scenes, "filled with pleasure and, more pressingly, genuine knowingness." In other words, a perfect date-night movie, whether you're a long-term couple, a new throuple, or something in between.
As a special Pride Month treat, Vulture is proud to present the trailer for Passages, which opens in the U.S. August 4.