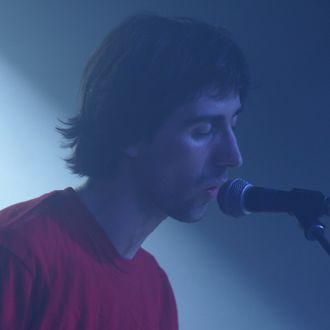 PC Music founder A.G. Cook.
Photo: Steve Rogers/2015 Steve Rogers Photography
PC Music, the record label founded a decade ago by A.G. Cook, will not be releasing new music after this year. "After a decade of activity, 2023 will be PC Music's final year of new releases," reads a statement from the label on its website and Cook's Instagram. "Following that, the label will be dedicated to archival projects and special reissues. We have an undisclosed number of new albums and singles coming very soon. For now, 10 x 10 minutes of content from the past, present & future. Personal Computer Music forever." Accompanying the statement on PC Music's website is a playlist of 100 minutes' worth of songs from the label, featuring tracks from Cook, EASYFUN, Ö, GRRL, Kane West, umru, Datalord, caro♡, BOPPLES, and Dux Content.
PC Music, which was founded in London by Cook in 2013, helped define the genres of internet pop and hyperpop during its highly productive lifetime. Cook's sound, which initially polarized music critics, would later shape the music of the decade with its themes of playful excess and ironic consumerism. The experimental label first gained traction with singles like "Hey QT," a collaboration between Cook, performance artist Hyd, and the late SOPHIE. The label would go on to build a massive roster of collaborators, including Charli XCX, Carly Rae Jepsen, Caroline Polachek, Kero Kero Bonito, Hannah Diamond, and Danny L Harle. Listen to the tenth-anniversary playlist below.