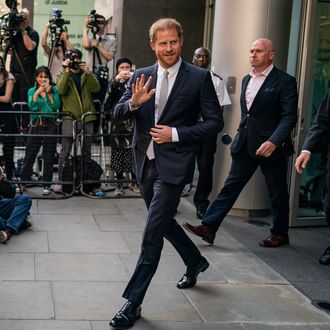 Harry at court.
Photo: Aaron Chown/PA Images via Getty Images
Prince Harry is making the case that tabloids are a royal pain. He testified in London's High Court this week as part of a phone-hacking lawsuit against Mirror Group Newspapers, one of three British publishers currently facing legal action from the Duke of Sussex. "I genuinely feel that in every relationship that I've ever had be that with friends, girlfriends, with family or with the army, there's always been a third party involved, namely the tabloid press," Harry wrote in a 55-page witness statement for the privacy trial. "Having seen me grow up from a baby (being born into this contractual relationship without any choice) and scrutinised my every move, the tabloids have known the challenges and mental health struggles that I have had to deal with throughout my childhood and adult life and for them to then play on that and use it to their own advantage I think is, well, criminal."
Harry has publicly blamed paparazzi for the car crash that killed his mother, Princess Diana. He has also cited the press's treatment of his wife, Meghan Markle, as a reason the pair stepped down as working royals and moved to the U.S. In his witness statement, Harry said that media companies that have "hijacked journalistic privileges for their own personal gain and agenda" pose a danger to everyone, not just celebrities. "I believe it doesn't matter whether you're a public figure at this point," he said. "Whoever you are, if you are of interest to the press at that time, wherever you are, whatever you're doing — if you're in private or if you're in public — you are a target. You become a victim of their system. They claim to hold public figures to account, but refuse to hold themselves accountable." Harry's testimony this week marks the first time that a senior royal has given evidence in court in more than 140 years. Below, all the context you need to understand this historic trial, which began on May 10.
Who is Prince Harry suing and why?
The defendant in this particular case is Mirror Group Newspapers, which owns the Daily Mirror, Sunday Mirror, and Sunday People. Harry alleges that these tabloids published information that could have only been obtained by hacking his phone or other illegal methods. According to the BBC, 33 articles published about the prince between 1996 and 2010 — when he was in his teens and 20s — are being considered as evidence in the trial. His legal team has suggested that intercepted voice-mails were the basis for some of these reports, which include news about his travel plans, his long-distance relationship with ex-girlfriend Chelsy Davy, and a disagreement with Prince William. Per the New York Times, Harry claimed that the voice-mail notification symbol on his phone sometimes disappeared and that friends had asked him about messages they sent that he never heard. He also described generally experiencing paranoia and depression because of tabloid reports.
Harry's complaint is part of a broader legal action against MGN: Reuters reports that more than 100 people are suing the publisher for allegedly breaking the law to get private information. Harry was selected as one of four "representative" cases to go to trial along with Coronation Street stars Michael Turner and Nikki Sanderson and comedian Paul Whitehouse's ex-wife, Fiona Wightman. If you're thinking that British tabloids taking heat for unlawful information-gathering sounds a little familiar, you're right: In 2011, a phone-hacking scandal involving several Rupert Murdoch–owned papers led to the resignation of multiple media execs and the shutdown of the popular tabloid News of the World.
How did Mirror Group Newspapers respond?
MGN has denied hacking Harry's phone. However, the publisher did admit at the beginning of the trial in May that it once paid a private investigator £75 (around $95) to unlawfully gather information on Harry at a London nightclub in 2004. MGN apologized and said Harry deserves compensation for that incident but did not elaborate on said compensation. "Where historical wrongdoing has taken place, we have made admissions, take full responsibility and apologize unreservedly, but we will vigorously defend against allegations of wrongdoing where our journalists acted lawfully," an MGN spokesperson said, per Sky News.
So what about the private details from Harry's life? According to defense lawyer Andrew Green, some of the stories that Harry believes contain illegally collected information actually represent cooperation from sources within the palace. He said reporters could have relied on tips, friends, aides, other press reports, or official statements from Buckingham Palace. Regardless, MGN has argued that the case should not be allowed to continue because too much time has passed — according to the Times, privacy claims in Britain must generally be made within six years.
What's next on Prince Harry's legal to-do list?
CNN reports that Harry is done with cross-examination in the MGN case after two days in the witness box. According to People, the trial is expected to end later this month. But that doesn't necessarily mean he's about to have a ton of Spare time. Harry is part of privacy lawsuits filed on similar claims of unlawful information-gathering against two other tabloid publishers, which both deny wrongdoing. Per CBS, he sued Murdoch's News Group Newspapers, which publishes the Sun, in 2019. NGN has argued that he brought the suit too late. According to the Associated Press, there will be a hearing in July to learn more about the prince's claim that he did not file his suit sooner because a "secret agreement" prevented royals from taking legal action against NGN. Harry has said he didn't know about the agreement until 2012, while lawyers for the publisher have denied such an agreement exists. A judgment is expected later this year.
Harry is also suing Associated Newspapers, Ltd., which publishes the Daily Mail and Mail, and he joined Elton John and other celebrities in March to appear at court for a preliminary hearing. He filed a separate libel suit against Associated Newspapers over reports that he had tried to cover up his attempts to get the government to provide him with security. Per the AP, a judge still needs to decide if that case should go to trial. All told, we wouldn't be surprised if the ginger actor whom Sky News hired to dramatically perform Harry's testimony stays booked and busy for a bit.