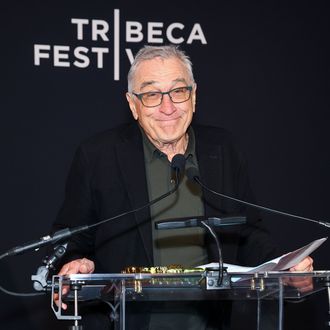 Robert De Niro receiving the key to the city.
Photo: Arturo Holmes/Getty Images for Tribeca Festival
Tribeca Festival heard about the Robert De Niro versus Al Pacino hottie debate and decided we, the public, needed evidence to finally settle the score. At Tribeca Festival's private opening reception on June 7, the festival, co-founded by De Niro, announced De Niro Con, a three-day event for fans to binge the acclaimed actor's movies, experience re-creations of iconic film sets, and listen to smart people talk in panel discussions. There will also be music performances, special guest appearances, and more. The official reason for the event, explained Tribeca co-founder Jane Rosenthal, is not to make audiences analyze the actor's sexiness for three days. The real reason is to celebrate De Niro's 80th birthday. "He's already got a gold watch, so we decided to celebrate him and his enduring legacy with a fun-filled fan event as well as pay tribute to his unwavering dedication to his films, art, and the city he loves," she said. At the reception, an ebullient De Niro also received the key to the city from an event-hopping Mayor Eric Adams, who fit a half-hour appearance into his schedule amid the wildfire-smoke crisis. Frequent collaborator Martin Scorsese happily crashed the event to make a speech, describing De Niro as a "visionary."
"It's amazing he did all of this without having the keys until now, so there's more to come!," Scorsese joked. De Niro Con will run from September 29 to October 1 with a full lineup due later this summer. At the end of the reception, Scorsese and De Niro gave each other kisses on the cheek. We know whom they'd pick in the debate.