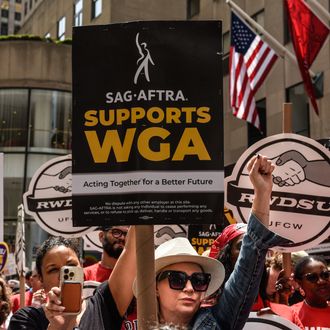 SAG-AFTRA has been supporting the WGA throughout its strike. Now, it's the actors' turn.
Photo: Stephanie Keith/Bloomberg
The SAG-AFTRA strike-authorization votes are in, and the vote is 97.91 percent yes. The actors union made the announcement on Monday night that it has authorized a strike if need be. SAG-AFTRA released a statement that " nearly" 65,000 members voted with a "voting percentage of 47.69% of eligible voters." "The strike authorization votes have been tabulated and the membership joined their elected leadership and negotiating committee in favor of strength and solidarity. I'm proud of all of you who voted as well as those who were vocally supportive, even if unable to vote. Everyone played a part in this achievement," said SAG-AFTRA president Fran Drescher on the voting results. "Together we lock elbows and in unity we build a new contract that honors our contributions in this remarkable industry, reflects the new digital and streaming business model and brings ALL our concerns for protections and benefits into the now! Bravo SAG-AFTRA, we are in it to win it."
This does not mean the actors will be striking alongside the WGA writers, at least not anytime soon. This authorization vote means that a majority of members have given permission to their union to use the threat of a strike as leverage power in their negotiations, which begin on Wednesday, June 7. Their contract with the AMPTP expires on June 30, giving them about four weeks to come up with an agreement.
The two unions have been incredibly supportive of each other throughout this process. When WGA first announced it was going on strike, SAG-AFTRA expressed its sympathy and encouraged its members to support writers on the picket lines, as long as it didn't conflict with the work schedule (to avoid any penalties). Plenty of actors have also shown their support for writers and have joined the picket lines, brought food to writers, and spoken out against the AMPTP. "SAG-AFTRA joined WGA on the first day of bargaining with the studios back in March. Members of SAG-AFTRA have been out on our picket lines every day since May 2. We believe SAG-AFTRA members should share in the value their work creates," wrote WGA West on Twitter in support of the actors.
During the voting period, SAG-AFTRA encouraged its members to vote yes for a strike authorization. "It is CRUCIAL that SAG-AFTRA members show the AMPTP that we are ready to fight for a fair contract if necessary," it tweeted a few hours before the vote closed on Monday evening.
SAG-AFTRA has gone on strike several times against specific sections of the industry. It went on strike back in 2000, before SAG (Screen Actors Guild) merged with AFTRA (American Federation of Television and Radio Artists), and boycotted commercials. In 2016–17, voice-over artists with SAG-AFTRA boycotted video-game companies over residuals in gaming for 360 days, becoming the longest strike in the union's history. Get ready on your marks, actors. It's time for their biggest role yet.