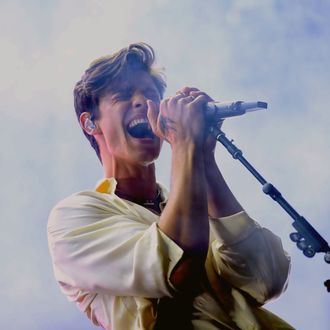 Singing through the smoke.
Photo: Hutton Supancic/Getty Images for SXSW
A Shawn Mendes has emerged from the smoke. The singer-songwriter dropped the smoldering surprise single "What the Hell Are We Dying For?" today — and it's even more directly inspired by New York's wildfire smoke than that cover photo would have you believe. Mendes revealed on Instagram that he wrote the entire song just yesterday (that is, June 8) in upstate New York, where he and some friends presumably decamped to protect those precious vocal cords. "Smoke in the air, the city's burnin' down," Mendes opens, painting a pretty clear picture. But this isn't just a song about climate anxiety. Mendes also seems to be singing about the smoke clearing around his relationship with Camila Cabello, after the couple reportedly broke up yet again. As he growls in the second verse, "I try to let you go, then I choke, I change my mind." (His voice does sound a bit smokey here, for the better.) Or to make things more clear: "If you're not mine and I'm not yours / What the hell are we dying for?"
But Mendes isn't just blowing smoke. He'll be donating to the Canadian Red Cross as well, he added on Instagram. It's the least he can do as a Canadian.