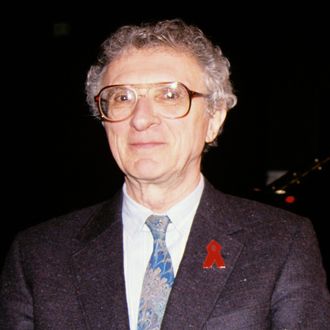 Photo: Walter McBride/Corbis via Getty Images
"Sunrise, sunset. Sunrise, sunset / Swiftly fly the years / One season following another / Laden with happiness and tears," Sheldon Harnick wrote for the 1964 musical Fiddler on the Roof. The lyricist for classic musicals like Fiddler, She Loves Me, and Fiorello! died at 99 on June 23 of natural causes in his Upper West Side apartment, according to the New York Times.
Harnick is best known for his collaborations with composer Jerry Bock. "From the time we first met, we got along famously," Harnick told the Roundabout Theatre Company in 2016. The two had met in the late 1950s, and their first collaboration was on the musical The Body Beautiful, which was not successful but did introduce them to producer Hal Prince. The duo's next project was Fiorello! It was wildly successful, winning both a Tony Award for Best Musical — tied with The Sound of Music (the only time a tie has ever happened in that category) — and a Pulitzer Prize for Drama, one of just ten musicals to win that award. Harnick and Bock went on to write enduring classics like She Loves Me (1963), Fiddler (considered one of the great triumphs of the medium), and The Apple Tree (1966). The two had a falling-out due to behind-the-scenes drama regarding the director of their musical The Rothschilds (1970). They had reunited personally by the time Bock died in 2010, though they'd never create a new musical together again.
Harnick's wife since 1965, Margery Gray, survives him along with his daughter, son, and four grandchildren. Harnick won a Lifetime Achievement Tony in 2016. At the time, when Vulture told him how well deserved the award was, he responded, "Thank you very much. I tend to agree with you."