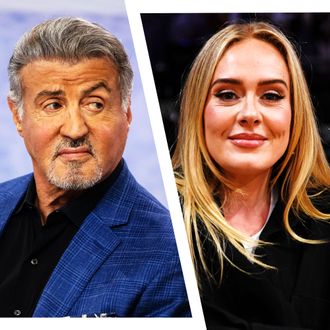 Sylvester Stallone and Adele.
Photo-Illustration: Vulture. Photos: Getty Images
A house is not a home without a statue of Rocky Balboa. According to Adele, anyway. In a new interview with The Wall Street Journal, the big brain behind the Rocky franchise, Sylvester Stallone, said that Adele wouldn't buy his house if he took custody of the statue that overlooks the pool of the property he'd sold to Adele. Although he wanted to keep it, apparently Adele told him that taking the statue away forever was simply out of the question. "'That's a no deal,'" Adele told Stallone, according to the actor. "'That's gonna blow the whole deal.'" He gave in — Stallone got $58 million. Adele got the house and the statue of his distinctive character. Per the actor, the house is being gut-renovated, but the statue stays, of course. "I like what she's doing. She's making it gorgeous," he said. Too bad coming to an agreement isn't always this easy. Take the Rocky copyright battle. Stallone, who created the films, has "zero ownership" of the movies, he told Variety in 2019. "I really would like have at least a little WHAT's LEFT of my RIGHTS back," Stallone wrote on Instagram last year. Maybe Adele should've let him keep the statue.