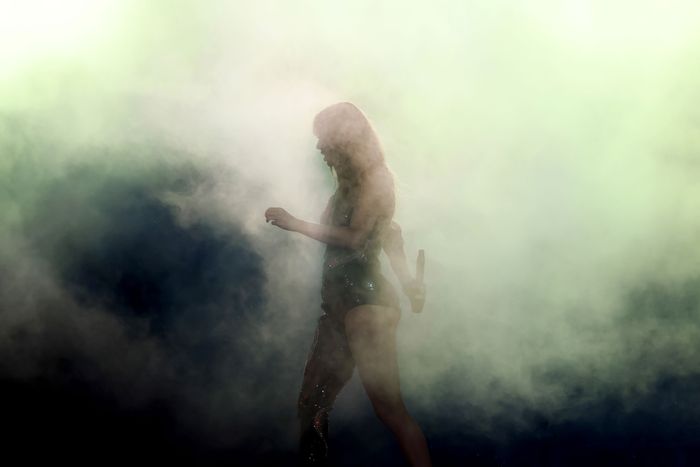 Taylor Swift onstage during an Eras Tour stop.
Photo: John Shearer/TAS23/Getty Images
Do you feel that? A strange sensation in the air. Could it be the first whiff of another Taylor Swift backlash?
Swift-wise, this summer is starting to give off similar vibes to the summer of 2015, and not just because the singer is once again on a massive world tour. Eight years ago, the same people who'd proclaimed their undying allegiance to Swift for Red and 1989 slowly started to sour on her. That was when Swift's "squad" of largely thin, white models led critics to interrogate her feminist bonafides, which were further thrown into question once she got into a spat with Nicki Minaj about the VMAs. That micro-backlash set the stage for Swift's wider cancellation the following year amid the Kanye West/"Famous" firestorm — an experience that later prompted her to record Reputation, a concept album about how it feels to have thousands of bloggers suddenly hate your guts.
Afterward, Swift successfully pulled off the second woke rebrand of her career. (The first was at the start of the 1989 era, when she came out as a feminist.) She aligned herself with progressive social causes and campaigned against Republican Senate candidates, then released a documentary to make sure people got it. When she picked fights with boldfaced names, it was in a battle over the rights to her masters, with enemies like former label head Scott Borchetta and pop Svengali Scooter Braun, rich white men who were intersectionally aboveboard. Furthermore, as Max Read once put it about Alison Roman, Swift lucked out when her original antagonist, Ye, was subsequently "reassessed by the ratings agencies of the public unconscious." The culture doesn't always know how to handle a strong woman, but it can get onboard with a wronged woman. By the time the pandemic hit, Swift had wrested back control of her image, reclaiming the mantle of righteousness that had eluded her in 2015-16.
Much has shifted in the media's relationship to Swift since 2015, and in Swift's relationship with her own fame. But contra Red, not everything has changed: This summer, it's her association with another skinny white celebrity that's once again raising eyebrows. In April, news broke that Swift had split up with longtime boyfriend Joe Alwyn. Weeks later, tabloids reported that she had started dating Matty Healy, lead singer of the 1975. (Neither Swift nor Healey has confirmed anything, but by all accounts they are indeed together.)
As a public figure, Healy is everything Alwyn was not. While Alwyn was strapping and Aryan enough to be convincingly cast as a Nazi, Healy has the Victorian-street-urchin vibe previously employed by the likes of Pete Doherty. Outside his association with Swift, Alwyn was largely unknown; Healy's band has a large fan base of its own. And crucially, while Alwyn seemed to live in fear of ever uttering a memorable quote, Healy is, to steal a phrase from the Onion, "intensely public." He has spoken openly about his past heroin addiction, and is not shy about making grand political pronouncements he maybe only half-believes. If you couldn't tell from the fact that he is a grown man who goes by "Matty," he can also be a bit of an edgelord. As for his music, it may suffice to know he once rhymed "legal marijuana" with "wanna fuck Barack Obama."
Shortly after the Healy news broke, Swift's fans made some disturbing discoveries: Healy was apparently a misogynist (he had said it would be "emasculating" to be known only as Taylor Swift's boyfriend); an antisemite (he had delivered an ironic Nazi salute onstage while mocking Ye's far-right politics); and a racist (he'd appeared on a self-consciously transgressive podcast where the hosts made racist jokes about the rapper Ice Spice, while he told a story about masturbating to a porn franchise called "Ghetto Gaggers"). He had also eaten raw meat onstage, which was not politically incorrect but just kind of weird.
Online, Swifties revolted. The star's public intimacy with her fans is legendary: She offers them snippets of her diary, and drops lyrical Easter eggs only they can understand. As a result, many of them now labor under the misconception that, as The Atlantic put it, "a famous person is in a real, give-and-take relationship with millions of fans she has never met." In HuffPost, a fan gravely noted that Healy "was someone I really knew nothing about … until the couple was seen out and about and I started learning more about how problematic he is," declaring herself "pretty much done with" Swift. Others circulated a hashtag called #SpeakOutNow, accompanied by an Instagram-style text graphic imploring the singer to "reflect on the impact of your own and your associates' behavior" — an implicit plea for Swift to, if not to break up with Healy, at least disavow his comments, neither of which she did.
With Swift neglecting to deliver the performative self-flagellation fans were asking for, some of them took matters into their own hands. In a widely mocked Twitter thread, the director of a Christian women's advocacy group ruminated over the ethics of seeing Swift in concert "while she is dating a racist, Islamophobic, antisemitic overall problematic white man." (The author closed by revealing that she was still attending the show, but would "be happy and honored to hear from" fans who belonged to "a marginalized group more intimately impacted by this.")
A friend of mine noted there was something almost Freudian about all of this: Fans wanted Mom's assurance she'd never love the new stepdad more than them. Or perhaps, as Rolling Stone argued in a post headlined "We Wouldn't Be Having This Conversation If Taylor Swift Was a Man," the culprit was institutional sexism? For my part, I suspect Swift was being dinged not just for being problematic by association, but also for being obvious. If Healy was any more of a rebound, he'd be in the arms of Domantas Sabonis.
As luck would have it, Healey was in the process of being profiled by The New Yorker as the controversy broke. In the story, he brushed off the outcry over the podcast as empty virtue-signaling ("It doesn't actually matter"), which hardly calmed the storm. In contrast to her frantic attempts to reset the narrative in 2016, Swift so far has chosen to stay above the fray, referring to the matter only obliquely. During a concert stop in Boston, she told the crowd, "I've never been this happy … in all aspects of my life before." She next invited Ice Spice onto the remix of her single "Karma." For the haters, this move was taken as an "insidiously calculated" attempt at damage control, a reprise of the mid-decade critique of Swift as a white woman "using a Black woman to cover her ass," as HuffPost now blared. Ice Spice, for her part, called Swift the "sweetest person ever." (Reps for the rapper say she reached out to Swift first.)
Last weekend, Swift's Eras Tour made its way to the New York City area, playing three soldout shows in the Meadowlands. At all of them, she brought out Ice Spice, who grew up in the Bronx, to perform the "Karma" remix live, which kept the news cycle spinning anew. It seems clear there is something about a Taylor Swift world tour — and the nonstop media coverage it engenders around special guests and secret songs — that leaves her dangerously overexposed. Tours take place at the end of an album cycle, at which point the normal sine curve of hype and backlash is about to make another swing. Perhaps that's the best explanation for why an artist who has long prioritized control of her public image has suddenly decided to embrace the mess. Having lived through the whole cycle already, Swift is much less pressed about it this time around. She knows everything will even out in the end. There's a word for that — it's called karma.