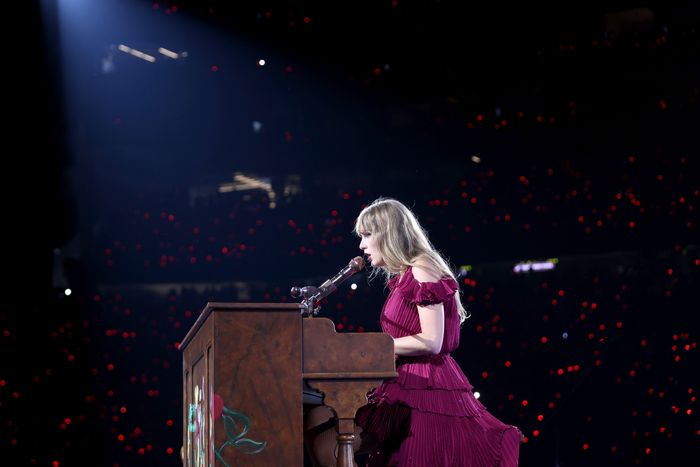 Photo: Scott Legato/TAS23/Getty Images
Any self-respecting Swiftie knows the more obscure your favorite Taylor song is the better. You need a deep cut like "False God," "I'm Only Me When I'm With You," or "Babe (Taylor's Version) (From the Vault)" to truly impress — something that proves to your fellow friendship-bracelet-wielding fanatics that you've spent the requisite amount of time and emotional energy with the whole catalogue. Of course, Swift knows this too, which is why she dedicates a portion of her record-breaking Eras Tour to playing two surprise acoustic versions of typically lesser-known tracks.
Swift has a lot of songs to choose from for these weekly moments — and with 19 shows left on the American leg of her tour, only 38 more chances to do so before she heads overseas. So how good are the odds of her playing your non-main-set-list dream song? I crunched the numbers to find out.
The Field
There are ten Taylor Swift albums. If you count every song on the longest version of each ("Bonus," "3 a.m.," "Taylor's Version," et al.) and add in every B-side, collaboration, and stray Christmas-themed track, you end up with 204 in total. Of those, 43 are already on the main Eras set list each night, which takes us down to 161 options. We can then eliminate the songs she's already chosen as surprises so far this tour, as well as "invisible string," which she removed after breaking up with its muse, former boyfriend/block of unfrosted vanilla cake Joe Alwyn.
That leaves Swift with 98 songs. Since they aren't all equally likely to be played — surely she'll use a spot on a widely beloved track like "Picture to Burn" and not, I don't know, "Crazier" from the Hannah Montana soundtrack — we need an objective, data-driven metric that takes into account each remaining song's commercial success, fan popularity, history on previous tour set lists, and suitability for a stripped-down acoustic cover.
An Objective Data-Driven Metric That Takes Into Account Each Remaining Song's Commercial Success, Fan Popularity, History on Previous Tour Set Lists, and Suitability for a Stripped-Down Acoustic Cover:
Billboard Hot 100 Chart data: The first listing on my model is a chart score, which factors in both peak position and total weeks on the Hot 100. One-hundred and ninety (!) Taylor Swift songs have spent at least one week on the Hot 100, and as of today, 69 of them remain in the running for the surprise set list. This is a good baseline for commercial success, although it typically focuses on success at the time of release. We also want to be able to measure a song's performance five, ten, or 15 years later, so I also included …
Spotify Streams and YouTube Views data: The nice thing about both of these is that you can see cumulative and current data (streams from last week on Spotify, views from yesterday on YouTube). Cumulative data alone will overrate older songs, while current data will tell you that "Karma" is a bigger hit than "You Belong With Me"; when combined they should give us a fuller picture of a song's commercial success.
Ranking of All Taylor Swift Songs: In her 2019 Tiny Desk, Taylor admitted that she loves it when people rank all her songs, and that she'd paid particularly close attention to the ascent of "All Too Well." While I don't weigh rankings very heavily compared with the other data above, I think it's helpful for my metric to know that most fans and critics agree that "Ivy" is a better track than "Come in With the Rain."
Reputation Tour B-Stage?:  Throughout 2018's reputation tour, Taylor cycled through 46 different acoustic songs on the "smaller" B-stage, either because they were her personal favorites, she knew fans loved them, or maybe because they were easy for her to play acoustically. In any case, her reasons for choosing them probably still apply five years later. Since then there have been six new Taylor Swift albums, so I am giving rep-tour B-stage songs a small bonus to their overall score.
Intangibles/Unquantifiables:
The Ed Factor:  Swift has been a generous collaborator (or, if you want to be cynical about it, a ruthlessly savvy marketer) her whole career, working with country icons Tim McGraw and the Chicks; indie sad boys Bon Iver and the National; and rap stars Kendrick Lamar and Future. But for Swift, there's one duet partner who is first among equals: Ed Sheeran. She helped anoint Ed as a pop star in 2013 when Swift invited him to collaborate on "Everything Has Changed," a rather forgettable late entry on Red, and to open for that album's tour. Since then, Ed has contributed vocals to reputation's "End Game" and "Run." Taylor loves to bring out collaborators in live shows to sing duets, so all collaborations are fair game on my list — except that Ed will be headlining his own show in Toronto this weekend, which makes his appearance at Swift's Pittsburgh show (or any other show, as his tour extends through August) highly improbable. I actually do formally quantify this one: My metric penalizes the three Ed songs accordingly.
Local Color: Whenever possible, Taylor likes to play songs that reference the city she's in, or feature beloved local artists. For example, in her three nights at Metlife Stadium in May, she played "Maroon," ("And I chose you / the one I was dancing with / in New York") "Holy Ground," ("Back to a first-glance feeling on New York time") "False God," ("Staring out the window like I'm not your favorite town / I'm New York City"), and of course, "Welcome to New York." She also brought out her producer, co-writer, and "friend for life" Jack Antonoff for "Getaway Car," considered by many experts to be one of the most stirring depictions of West Side Highway standstill traffic. Sadly, this is not super helpful because she does not mention Pittsburgh or most upcoming cities in any of her songs. As for collaborators, I couldn't find anyone from Pittsburgh, but looking ahead, the National are all originally from the Cincinnati area (although she's already played "coney island"), OneRepublic frontman and co-writer of "I Know Places" Ryan Tedder grew up an hour outside of Denver, and pretty much every pop star she's ever worked with probably has a house in L.A. None of these affects today's model, but feel free to make adjustments to your home city's show as you see fit.
Numerology/Patterns: Yes, we all know Swift loves to plant Easter eggs in her work for fans to frantically decipher. She's also obsessed with numerology, has four songs with numeric titles ("the 1," "seven," "Fifteen," and "22"), and considers 13 her lucky number. So there must be some code or pattern that she's left us with the sequence of surprise songs so far, and … look, I've spent more time staring at the colored dots on this USA Today graphic than I care to admit. She's only played songs from Lover on odd-numbered days. She plays the two songs in alphabetical order about two-thirds of the time. If you add 13 to the number of vowels in the first verse of each song she's played … no, I'm sorry, I have nothing. Let me know in the comments if you've cracked any codes I've missed.
The Results:
98. "The Outside" (0.705 percent chance): This cut off her 2006 self-titled debut album implausibly depicts teenaged Taylor as a pariah who is never invited to the cool sleepover birthday parties. It has earned the ignominious honor of being my model's least-favorite pick for her surprise set list. This seems like a good call to me, as she has not played this song live since her October 18, 2008 show at Chattanooga's McKenzie Arena.
97. "Highway Don't Care" (0.74 percent)
96. "I'd Lie" (0.8 percent)
95. "I Heart?" (0.81 percent)
94. "We Were Happy" (0.82 percent)
93. "Beautiful Eyes" (0.82 percent)
92. "Stay Beautiful" (0.87 percent)
91. "Don't You" (0.895 percent)
90. "Beautiful Ghosts" (0.905 percent)
89. "Run" (0.955 percent)
88. "A Perfectly Good Heart" (0.965 percent)
87. "Mary's Song" (Oh My Oh My) (0.97 percent)
86. "That's When" (0.99 percent)
85. "Girl At Home" (0.995 percent)
84. "Bye Bye Baby" (1.04 percent)
83. "Dancing With Our Hands Tied" (1.105 percent)
82. "I Wish You Would" (1.205 percent)
81. "Tell Me Why" (1.28 percent)
80. "Christmases When You Were Mine" (1.285 percent)
79. "King of My Heart" (1.335 percent)
78. "The Lakes" (1.44 percent)
77. "This Is Why We Can't Have Nice Things" (1.46 percent)
76. "Tied Together With a Smile" (1.51 percent)
75. "About Me" (1.545 percent)
74. "It's Time to Go" (1.56 percent)
73. "Everything Has Changed" (1.635 percent)
72. "Dress" (1.64 percent)
71. "I Did Something Bad" (1.655 percent)
70. "End Game" (1.665 percent)
69. New Year's Day (1.695 percent): As part of her 2016-17 Kardashian-induced exile from public society, Swift did almost no press for reputation. Two of the rare exceptions were a performance on Fallon, and a stunt for Good Morning America where she invited 100 fans to hear her play a song in the living room of her Rhode Island summer home. She played this tear-jerking love song both times, with no band backing up her solo piano and vocals. The model isn't impressed with its online performance, but I'd be truly shocked if she makes it through the rest of the tour without playing this one.
68. "So It Goes …" (1.895 percent)
67. "Closure" (1.955 percent)
66. "I Know Places" (1.985 percent)
65. "You Are in Love" (2.045 percent)
64. "Forever Winter" (2.1 percent)
63. "Superman" (2.19 percent)
62. "Carolina" (2.215 percent)
61. "Sweeter Than Fiction" (2.255 percent)
60. "Better Than Revenge" (2.26 percent): I don't care what my model says, in the year 2023, Taylor Swift will not sing this iconic slut-shaming anthem about a girl who's "better known for the things that she does on the mattress." That's a bit of a bummer but luckily she has many other great songs to choose from.
59. "Right Where You Left Me" (2.285 percent)
58. "It's Nice to Have a Friend" (2.29 percent)
57. "Starlight" (2.35 percent)
56. "Last Kiss" (2.35 percent)
55. "Superstar" (2.375 percent)
54. "Innocent" (2.41 percent)
53. "I'm Only Me When I'm With You "(2.41 percent)
52. "Only the Young" (2.45 percent)
51. "Stay Stay Stay" (2.465 percent)
50. "Christmas Tree Farm" (2.465 percent)
49. "Come in With the Rain" (2.485 percent)
48. "Crazier" (2.54 percent)
47. "The Moment I Knew" (2.615 percent)
46. "Hoax" (2.62 percent)
45. "You All Over Me" (2.65 percent)
44. "Epiphany" (2.775 percent)
43. "If This Was a Movie" (2.805 percent)
42. "The Very First Night" (2.825 percent)
41. "Never Grow Up" (2.825 percent)
40. "The Last Time" (2.83 percent)
39. "Soon You'll Get Better" (2.83 percent)
38. "Dear John" (2.86 percent)
37. "Dear Reader" (2.9 percent)
36. "Peace" (2.91 percent)
35. "Untouchable" (2.95 percent)
34. "Long Live" (2.96 percent) One of the few songs that Swift has admitted is explicitly autobiographical, writing on her website that it's "about my band, and my producer, and all the people who have helped us build this brick by brick, [and] the fans, the people who I feel are all in this together [with me]." But the vague lyrics and dramatic, effusive nostalgia allow every high-school senior to relate, whether they have toured as an international pop star or not. My hunch is she'll save this one for the last night of the North American leg of the tour and play it with a heart-wrenching montage of backstage pictures of her and her band and crew on the big screen.
33. "Eyes Open" (2.99 percent)
32. "Ivy" (3.005 percent)
31. "Glitch" (3.01 percent)
30. "Dorothea" (3.045 percent)
29. "Happiness" (3.065 percent)
28. "Long Story Short" (3.075 percent)
27. "All of the Girls You Loved Before" (3.21 percent)
26. "Babe" (3.235 percent)
25. "Safe And Sound" (3.26 percent)
24. "Daylight" (3.305 percent)
23. "Evermore" (3.36 percent)
22. "Ronan" (3.38 percent)
21. "Message in a Bottle" (3.485 percent): It's nuts to me that after their outrageous run with "22," "We Are Never Getting Back Together," and "I Knew You Were Trouble," Taylor and Max Martin wrote a fourth song for Red and then sat on it for a decade. It's as if George Lucas secretly made a fourth Star Wars movie in 1983, put it aside to work on the prequels, and then casually slid it onto the extras section of a DVD set next to some bloopers and director's commentary. And then the secret fourth movie was just as good as the first three if not better. Personally, I feel cheated that I never got to hear "Message in a Bottle" at all my middle-school dances.
20. "Bigger Than the Whole Sky" (3.49 percent): Marc Maron listened to this song on a hike, and was so moved (and/or dehydrated) that he passed out and smashed up his face. I don't know if Taylor listens to Maron, or if the knowledge that this song has this effect would make her more or less likely to play it in front of 70,000 fans, but it's a good song!
19. "No Body, No Crime" (3.57 percent) She brought out Phoebe Bridgers for "Nothing New" during the Red era of the main set list for all the shows that Bridgers opened. I imagine she'll do something similar with this song when Haim joins as an opening act.
18. "Afterglow" (3.575 percent)
17. "Paris" (3.58 percent)
16. "Labyrinth" (3.59 percent)
15. "London Boy" (3.7 percent): Can you imagine if she played this in Pittsburgh or some other American city? It would practically be a Third Amendment violation. This one is for Wembley or nowhere.
14. "Sweet Nothing" (3.775 percent): A lovely ballad about being sleepy and in love, featuring only piano and vocals, this song seems like it would fit perfectly in the acoustic section of the set list. Then again, it might not, both because the three-hour mark of a frenzied stadium show is probably not the best time to regale all the parents in the audience about the pleasures of having a lazy night in, and because the piano part is sneakily difficult.
13. "Change" (4.015 percent)
12. "New Romantics" (4.07 percent)
11. "Paper Rings" (4.105 percent)
10. "The Way I Loved You" (4.14 percent): The model is enamored with the streaming success that the re-recorded version of this song enjoyed, but I'm not so sure, if only because I think Taylor might not want to give Avril Lavigne's copyright team any more opportunities to belatedly realize that this song has an uncanny similarity to "Complicated."
9. "I Forgot That You Existed" (4.16 percent): A song about not caring, which was always going to be a bit of a reach for an artist who cares so intensely. But it's a fun time, and has a sparse production style that would translate very well to acoustic guitar.
8. Mr. Perfectly Fine (4.25 percent): Two years ago, we were introduced to the re-recorded Fearless with the release of this breezy "From the Vault" track. You can see why it didn't make the final cut of the original album, but it delivers a good dose of nostalgia for her early-empire snark. For fans devastated to have missed her "Forever and Always" performance in Philly, this might be the next best thing.
7: "Cornelia Street" (4.31 percent): This would be incredible. Taylor got famous writing cheerful songs about being heartbroken and rejected. This is the opposite, a devastatingly sad song about being in a perfect relationship with the love of your life and feeling miserable, because you know the hypothetical future breakup would be so crushing. Now that the breakup has transpired, it takes on a whole new meaning. She literally can't walk Cornelia Street again!
6: "Picture to Burn" (4.25 percent): One of the biggest early hits to be left off the reputation tour B-Stage set list, which is a shame because this song is hilarious. Perhaps she's still avoiding it as penance for the hastily scrubbed original line about telling her friends that the asshole ex is gay. But come on. It's been 15 years. She put "You Need to Calm Down" out as a single for Lover! She wrote an entire lesbian love triangle into folklore! She maybe even slept with Dianna Agron! She's done enough to atone for this. Burn that picture!
5: "Call It What You Want" (4.52 percent): A lo-fi love song seemingly tailor-made (and Taylor-made, lol) for an acoustic cover on a stadium tour, except that once again, it's probably too tainted by Joe. She put some particularly nauseating home footage of her playing it for him (and even telling him she loved him in between the chorus and the verse, Rodrigo style) in the 2020 Netflix documentary/propaganda vehicle Miss Americana. It seems like she's missed her moment for this, but if she had something similar to play for Matty Healy at one of the Nashville shows he attended, I think she might have broken the internet.
4: "Exile "(4.92 percent): Last year, Swift showed up onstage at a Bon Iver concert in London midway through this song, and the band had to stop playing for a full minute because the crowd was screaming so much. Personally, her returning the favor and bringing out Justin Vernon at her own show is a dream scenario — I love this song with my whole heart.
3: "ME!" (5.09 percent): Okay this song sucks. But. It would be SO FUNNY on piano. "Hooooo hoo hooooooo," she would sing soulfully, in between angsty minor chords. Though a Brendan Urie cameo would probably be cool. (I know there are people out there who care more about Panic! at the Disco than Bon Iver. These people are crazy. But Panic! is good too.)
2: "The Story of Us" (5.25 percent): This would be incredible. The song is another masterful meta-commentary on the nature of storytelling, but it's also about the awkwardness of being alone at a party (another theme she's kind of obsessed with). A bit up-tempo for this setting, but she did it acoustically on the reputation tour and people loved it.
1: "Back to December" (5.68 percent): She left this one off the reputation tour and I simply don't understand why. It's got everything. Massive streaming/charting success. Widespread critical acclaim. Slow, ballad-y verses that build to an epic one-note melody chorus. Blaming herself for the way a relationship ended (revolutionary for her in 2010)! I guess the one drawback is the one-instrument version would mean no cellos, and the cellos are (in this amateur cellist's unbiased opinion) what elevates this song from good to incredible.
My personal favorite changes constantly, but if you must know, it's "I Almost Do" right now. This will assuredly not be obscure enough for some Swifties.
For example, "Call It What You Want" peaked at 27 on the Hot 100, so I give it 84 points (I'd give 100 if it peaked at one, 99 if it peaked at two, etc.) Then, I add two points for each of the two weeks it spent on the chart, for a total of 84+2 x 2 = 88 chart points.
For example "Long Story Short" had 131,386,405 total streams as of May 15th, and 153,564 streams that day. I would do a z-score of each, and add them together for a combined score.
She's played 17 of the 46 on the Eras Tour: "Our Song", "Mine," "Red," "Mean," "Teardrops on My Guitar," "Fifteen," "Sparks Fly," "White Horse," "The Story of Us," "Sparks Fly," "Ours," "State of Grace," "Speak Now," "This Love," "Haunted," "Forever and Always," and "Should've Said No."
Outside of L.A., that is: "The Very First Night," as well as main set-list entries "invisible string" and "'tis the damn season" all reference Los Angeles.