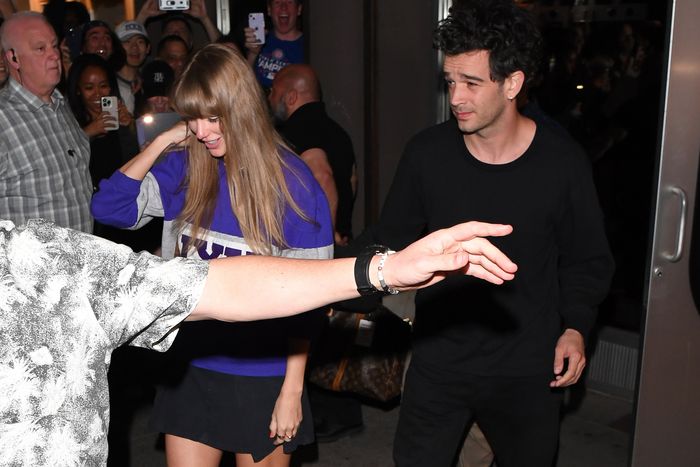 Photo: Robert Kamau/GC Images
Not even Taylor Swift herself could have masterminded this one. Eight years after they were first linked in the press, Swift and the 1975 singer Matty Healy were finally, actually dating — and have now broken up just as quickly, per a new TMZ report. Their relationship, which was first reported by The Sun on May 3, felt both impossible and inevitable. On top of their history, the two share some mutual friends (most notably Jack Antonoff, who produced both of their recent albums). And like Swift, Healy is both comfortable with his fame and interested in playing with it; he's already pulled more than one cheeky stunt to flick at their relationship. (Healy is also, as Swift has professed to love, a London boy.)
But Healy doesn't exactly have the precisely manicured public image that one would expect from Taylor Swift's Boyfriend. (Not even his track record of talking about Swift is clean.) He's made something of a brand out of controversial statements, which has recently come back to bite him amid a podcast appearance where he was part of multiple racist and sexist discussions. One of those was at the expense of Ice Spice, whom he apologized to, and who's now featured on a new Swift remix. Through it all, Healy quickly became Swift's most-discussed boyfriend in ages, with some fans criticizing their relationship and even questioning their fandom. And that was all happening against the backdrop of Swift's biggest album cycle and tour ever. It's unclear what led to the split, but a friend told TMZ on June 5 that Swift is now "single."
Like it or not, there's a lot to catch up on. Here's the complete timeline of Swift and Healy's relationship, from the early days to those important intervening years to now.
2013–14: 'Don't call it a spade if it isn't a spade'
January 7, 2013: Taylor Swift and Harry Styles split up, "Page Six" confirms. The pair had spent the first days of 2013 vacationing on the British Virgin Islands, but reportedly had "a blowup fight," which led Swift to leave by herself on January 4. She reportedly "looked glum and introspective"; meanwhile, Styles left for billionaire Richard Branson's private resort, where he reportedly spent time in the hot tub with female fans.
September 4, 2013: The 1975, Matty Healy's band, covers One Direction's "What Makes You Beautiful" for the BBC Radio 1 Live Lounge, days after releasing their self-titled debut album. Styles praises the performance and album on Twitter.
September 8, 2013: "I just don't date," Swift tells Rolling Stone in a cover story, speaking on the attention toward her romantic life. However, she continues, "It's not like I've sworn off love. My life is just not conducive to bringing other people into it right now. I'm very childlike and romantic about lots of things, but I'm realistic about this."
October 27, 2014: Swift releases her fifth album, 1989, named after her birth year — coincidentally, the same year Healy was born. A turn toward glossy, bombastic synth-pop, the album features some of her first writing and production collaborations with Jack Antonoff, best known as a member of fun., front man of Bleachers, and boyfriend of Lena Dunham.
2014–15: 'You've got pretty eyes, but I know you're wrong'
November 7, 2014: Healy wears a 1989 T-shirt at a 1975 show in Milwaukee.
November 8, 2014: A shocked Swift sees a photo of Healy wearing the shirt and reposts to her Tumblr. "WHAT," she writes repeatedly, tagging the post "#thats my favorite band though."
November 19, 2014: Swift catches the 1975's show at the Hollywood Palladium from the front row with her friends Selena Gomez and Ellie Goulding. Afterward, she swaps phone numbers with Healy backstage.
November 20, 2014: False rumors fly that Swift went to the 1975 show with Styles. One source told Entertainment Tonight that "they were very friendly towards each other." Other fans said they spotted Styles at the show with his One Direction bandmate Niall Horan. However, a friend told The Mirror that Styles didn't even go to the show.
November 21, 2014: Swift posts photos and video from the show to her Instagram. "Yeah you wanna find love, Then you know where the city is," she captions a clip of her and Gomez singing "The City."
November 22, 2014: Swift returns Healy's favor, wearing a black the 1975 tank-top shirt as she leaves a recording studio in L.A.
November 29, 2014: After Healy reveals he "exchanged numbers" with Swift, Shazam Top 20 host Angus O'Loughlin jokes about the two dating. "Let's just see what happens," Healy replies. "I mean, bloody hell, what am I going to do? Go out with Taylor Swift? She's a sensation, I wouldn't say no."
December 4, 2014: Swift treks to Terminal 5 in New York for another 1975 concert, this time with her friends Karlie Kloss and Lily Aldridge. But some fans thought this was more than friendly, after extremely grainy photos showed Swift and Kloss's faces close together, possibly making out. "Exclusive taylor and karlie making out #confirmed," a fan tweeted with the photos.
December 5, 2014: Swift earns three Grammy nominations for "Shake It Off" — and according to her publicist, that should be the news of the day, rather than the Kaylor rumors. "It's sad that on the day it's announced Taylor has three Grammy nominations for 'Shake It Off,' I have to shake off this crap," her rep tells Us Weekly, confirming Swift and Kloss did not kiss at the 1975 show. Meanwhile, outlets including Us and Just Jared are speculating about "dating rumors" after Swift's second 1975 concert in just a few weeks' time.
December 8, 2014: "As my 25th birthday present from the media, I'd like for you to stop accusing all my friends of dating me," Swift tweets, hashtagging the post #thirsty. Her birthday is December 13.
January 20, 2015: Healy says "there's no relationship or anything happening" between him and Swift. Speaking to the Australian radio station 2DayFM, he admits they "spoke occasionally" after getting each other's number, but shot down the relationship rumors. (Guess Swift never got that birthday present.) "It really didn't happen," he says of the relationship, before throwing in a little joke: "It would be amazing for me if it did."
February 25, 2015: After the BRIT Awards, Swift and Healy both attend the Universal Music after-party. Swift arrives with her friend Kloss. At one point, Swift and Healy join Radio 1 DJ Nick Grimshaw behind the booth, along with Swift's friend Goulding. Swift is also pictured with Calvin Harris, the EDM producer whom she met earlier in the night.
May 17, 2015: Any dwindling speculation about Swift and Healy's relationship is dashed when Swift attends the Billboard Music Awards with Harris. The supportive producer even shows some PDA after one of Swift's wins. (Goulding will later take credit for setting the pair up — possibly that night at the BRITs after-party?)
2015–22: 'Don't call it a fight when you know it's a war'
March 16, 2016: Asked about his past with Swift, Healy tells Q magazine that dating her would've been "emasculating." He explains, "If I had gone out with Taylor Swift I would've been, 'Fucking hell! I am NOT being Taylor Swift's boyfriend.' You know, 'FUCK. THAT.'" Healy also refers to their history as "a flirtation," effectively confirming there was some romance at the time. He also goes on to admit he doesn't understand Swift's fame. "It's not really anything to talk about, because if she wasn't Taylor Swift we wouldn't be talking about her," he says. "She wasn't a big impact on my life. It's just interesting to me how interested the world is about Taylor Swift."
March 18, 2016: After immediate and strong backlash to his quotes, Healy clarifies himself on Twitter. "Now I may admit to being an idiot on occasion, but I am not a misogynist," he writes. "This suggestion makes me really sad." He goes on to explain he was "being HONEST" about his feelings about being constantly associated with "the most famous woman on the planet." He also clarifies multiple times that he never dated Swift, but adds of her, "I found her to be one of the most gracious, hard-working, creatively gifted, and beautiful women that I have had the pleasure to meet. I personally have a lot of respect and admiration for her. Why would I not?" That same day, the Q writer, Laura Barton, defends Healy in a column for The Guardian. She writes that his comment was "an afterthought" that she did not expect to be controversial at the time. "Healy is an intelligent and liberal man, with a substantial and evolved insight into the world of women — he obviously adores them and wants to be adored by them, he has clearly had some fairly formidable female role models in his life," she writes. "And yet even he wrestles with these culturally entrenched views of gender roles."
April 29, 2016: Harris and Rihanna release "This Is What You Came For," which credits Swift as a co-writer under the pseudonym Nils Sjöberg.
October 2016: Following relationships with Harris and actor Tom Hiddleston, Swift begins dating British actor Joe Alwyn. (In a diary entry dated January 3, 2017 — which she will later release with her 2019 album, Lover — Swift will write that she's kept their relationship under wraps "for three months now," which places the beginning of their relationship around October 2016.)
September 23, 2019: Healy defends Swift to writer Neil Griffiths on his podcast, The Green Room. When Healy refers to musicians who "aren't really saying anything about the world about themselves, or about the world," Griffiths suggests Swift as a possible example. "I would never slag Taylor off, I think Taylor's amazing," Healy replies. He goes on to suggest an idea for Swift's next album that he'd discussed with Beats 1 host Zane Lowe: an "intimate" acoustic album in the vein of Bruce Springsteen's Nebraska. And Healy adds that he'd like to produce it. "Taylor, if you ever want someone to help you set up the mics for your acoustic record, just so you know, I'm there," he says.
February 12, 2020: Healy and Swift see each other for the first time "in years," as he will later say, when she makes a surprise appearance at the NME Awards. She wins Best Solo Act in the World, while the 1975 wins Best British Band, Band of the Decade, and the Innovation Award, on top of closing out the night with a five-song set.
February 13, 2020: Healy goes Instagram official with rumored girlfriend FKA Twigs, slipping a photo of her on his lap, backstage at none other than the NME Awards, into a post on the event.
February 20, 2020: Healy jokes about not mentioning that acoustic album to Swift at the NME Awards to Lowe on Beats. "It, unfortunately, wasn't the time for me to pitch my post-rock Joni Mitchell project," he says. "She'll do it," he adds. "She's smarter than both of us, mate. She knows what she's up to."
July 24, 2020: Swift releases folklore, a largely acoustic album she says she made "in isolation" during COVID-19 quarantine. Sound familiar? The album features two songs written by Alwyn under the pseudonym William Bowery.
2021: Feeling creatively stunted after his split with Twigs, on top of other factors, Healy starts talking with Jack Antonoff — at this point Swift's most regular collaborator — about producing the 1975's upcoming album.
August 28, 2022: As she accepts the award for Video of the Year at the VMAs, Swift announces her tenth album, Midnights. On social media, she calls it "the stories of 13 sleepless nights scattered throughout my life."
September 3, 2022: After a leaked Midnights track list shows the 1975 featured on a song called "In My Dreams," Healy tweets that the collaboration is "unfortunately FAKE NEWS :(." But, he does add, "I would love that!"
October 14, 2022: The 1975 release their fifth album, Being Funny in a Foreign Language, co-produced entirely by Antonoff. "Jack doesn't get enlisted by a lot of the best artists because he's some go-to guy — Jack's good," Healy previously told Pitchfork of their collaboration.
October 21, 2022: Swift releases Midnights, her first album entirely co-produced by Antonoff. On multiple songs, she expresses trepidations about marriage. "All they keep askin' me / Is if I'm gonna be your bride," she sings on opening track "Lavender Haze." "The only kind of girl they see / Is a one-night or a wife." Indeed, the press has been speculating about a possible Swift-Alwyn engagement a lot by this point. Earlier that year, in May, Alwyn sidestepped the question, telling New York, "If the answer was yes, I wouldn't say. If the answer is no, I wouldn't say." The Sun reported on June 30 that the couple was engaged and had told friends, even quoting a friend saying Swift wears a ring "behind closed doors"; a few weeks after that report, a ring-free Swift and Alwyn stepped out for a walk.
November 29, 2022: Explaining his previous tweet, Healy reveals the 1975 "actually worked a bit on" Midnights, but their song would not be on the final track list. "It was for reasons not to be criticized," he tells KROQ hosts Kevin Klein and Ally Johnson. He also calls Swift "amazing."
2023: 'If you wanna find love, then you know where the city is'
January 12, 2023: Swift surprises the audience at the 1975's concert at the O2 Arena in London. She covers one of her favorite 1975 songs, "The City," on acoustic guitar, and also debuts her single "Anti-Hero." "I'm not kissing anybody in front of Taylor Swift, have some respect," Healy jokes to the audience, after regularly making out with fans on tour. "In front of the queen? That's not happening." Swift also meets Healy's mom, the broadcaster Denise Welch, backstage, and Welch posts a picture together to Instagram.
February 9, 2023: Healy appears on The Adam Friedland Show, where he's part of a racist discussion about the rapper Ice Spice. After Healy mentions an attempt to DM Ice Spice, the hosts attempt to guess her heritage and mock the accents of different ethnic groups. Healy laughs at the hosts' accents on the podcast and encourages them. At another point in the podcast, Friedland mentions a friend walking in on Healy watching "Ghetto Gaggers" porn (which has been criticized as racist and misogynist) after a party. Healy confirms and expands upon the story, saying it was a video of "somebody just getting, like, brutalized."
March 17, 2023: Swift begins the Eras tour, her first tour since 2018. Alwyn does not attend.
April 6, 2023: The Healy episode of The Adam Friedland Show gets removed from Apple and Spotify without comment.
April 8, 2023: Swift and Alwyn have broken up, Entertainment Tonight confirms. A source tells the outlet the couple split weeks before, after six years of dating. "It's why [Alwyn] hasn't been spotted at any shows," the source says.
April 21, 2023: During a concert in Auckland, New Zealand, Healy apologizes to Ice Spice over the podcast. "It's not because I'm annoyed that me joking got misconstrued," he says. "It's because I don't want Ice Spice to think I'm a dick." He goes on, "I am genuinely sorry if I upset her, because I fucking love her."
May 3, 2023: The Sun reports that Swift is dating Healy — and puts fans on high alert with a source saying he'll appear at her Nashville tour stops that weekend, after the Asian leg of the 1975's tour ends. The source says they "are madly in love" and "it feels right." And the source draws a contrast with Alwyn, adding, "They are both massively proud and excited about this relationship and, unlike Taylor's last one — which was very much kept out of the spotlight, deliberately — she wants to 'own' this romance, and not hide it away." That same day, performing in Manila, Healy mouths the words, "This one is about you. You know who you are. I love you," before singing the 1975's song "About You."
May 5, 2023: Healy does attend the first Nashville stop of Swift's Eras tour, spotted watching from the VIP section. Before performing "cardigan," Swift mouths the same words Healy did days prior. Also at the show, Swift announces her rerecorded Speak Now (Taylor's Version), out July 7.
May 6, 2023: Once again, Healy attends the Eras tour, this time accompanying his friend and collaborator Phoebe Bridgers on guitar during her opening set. He watches Swift's set with a few of her friends, including Lily Aldridge — who previously fangirled at a 1975 show with Swift in 2014.
May 7, 2023: After the second Nashville show, the Daily Mail obtains photos of Swift and Healy being driven back to Swift's Nashville condo. Later, a rainstorm doesn't keep Healy from watching Swift's third Nashville show, where he appears to be wearing another 1989 shirt.
May 8, 2023: "Jack Antonoff reconnected them," a source tells Entertainment Tonight of Swift and Healy.
May 11, 2023: Swift and Healy hold hands and reportedly kiss on a date at the members-only Casa Cipriani in New York. A source tells "Page Six" they were "cuddling and kissing" while sitting next to each other, while photos show them holding hands. Antonoff is there too. Also that day, Swift's friend Ryan Reynolds posts a selfie to his Instagram Story, soundtracked to "Chocolate," by the 1975.
May 13, 2023: Healy performs with Bridgers again at one of Swift's Eras tour shows in Philadelphia. Afterward, he watches Swift's set from a box with her father, Scott. Swift, who is from Pennsylvania, has said she considered the Philadelphia dates to be her "hometown shows."
May 15, 2023: Swift and Healy leave Electric Lady Studios, Antonoff's go-to recording studio in New York, together. They're joined by Antonoff and his fiancée Margaret Qualley, along with Swift's past collaborator Kendrick Lamar and Florence Welch (who's worked with Antonoff), People reports. Fans also claim to have seen Swift's Midnights collaborator Zoe Kravitz, her boyfriend Channing Tatum, Swift's tour opener Gracie Abrams, and Maggie Rogers there.
May 17, 2023: A group of Swifties circulate an open letter urging other fans to #SpeakUpNow over Swift's relationship with Healy. "He has been involved in acts and controversies that deeply trouble us," they write, detailing his past offenses. Short of asking Swift and Healy to break up, the fans continue, "We urge you to reflect on the impact of your own and your associates' behavior and engage in genuine self-reflection."
May 18, 2023: Swifties aren't the only ones who are mad about Swift dating Healy. Alwyn "feels slighted and is distraught" over Swift's new relationship, a source tells the Daily Mail. The source adds that Alwyn knew Swift was working with Healy and they were friends, but confirms past reporting that Swift didn't begin dating Healy until after her breakup with Alwyn.
May 20, 2023: "I've just never been this happy in my life, in all aspects of my life, ever before," Swift tells the crowd at a show in Foxborough, Massachusetts. "And I just want to thank you for being a part of that. It's not just the tour. I just sort of feel like my life finally feels like it makes sense." She then plays "Question …?" off Midnights as a surprise song.
May 22, 2023: The Sun — which, remember, broke the news of this relationship — reports that Swift and Healy are working on music together, days after that studio spotting. "It's been decided he will help her pen songs and he might even provide some vocals," a source says, adding that Healy would only feature on a song if his whole band were involved.
May 24, 2023: Swift announces a remix of "Karma" with Ice Spice, part of a larger "Til Dawn Edition" of Midnights. "I'm a massive fan of this brilliant artist and after getting to know her I can confirm: she is THE ONE to watch," Swift says on social media. Many see this as its own form of karma for Healy's comments about the rapper. That night, Swift and Healy kiss at the members-only club Zero Bond in New York, during a night out with Antonoff, Qualley, and Kravitz.
May 25, 2023: Swift and Healy don't just kiss at exclusive New York venues, a source tells Us Weekly — "when he's backstage, they'll kiss if she has time."
May 26, 2023: Swift and Ice Spice release their "Karma" remix. "Watch her put ya ops on a throne," Ice Spice raps on the song. Swift tells Spotify that Ice Spice's team first reached out to her, and she then offered the remix. At her Eras tour show in East Rutherford, New Jersey, that night, Swift brings out Ice Spice to perform the song and debuts the music video. Healy is not in attendance.
May 27, 2023: Healy seems to publicly allude to his relationship with Swift for the first time, performing with the 1975 at Radio 1's Big Weekend in Dundee, Scotland. "Is it all a bit? Is it sincere? Will he ever address it?" he says at the beginning of the set. "All of these questions and more will be ignored in the next hour." Meanwhile, the U.S. Sun reports he's shipped a bunch of music equipment to New York to work with Swift. "He will work on his parts for their collaboration while she is on tour and has scheduled time to attend select shows to gather inspiration for her next album."
May 29, 2023: Healy tells The New Yorker that his podcast controversy "doesn't actually matter," in an interview conducted sometime mid-March. Of fans who do care, he says, "You're either lying that you are hurt, or you're a bit mental for being hurt." Healy adds that he wanted to goad fans "a little bit" with the appearance. "It's just people going, 'Oh, there's a bad thing over there, let me get as close to it as possible so you can see how good I am,'" he explains. "And I kind of want them to do that, because they're demonstrating something so base level." Healy doesn't speak about his relationship with Swift in the profile, which concludes, "Neither of their representatives would comment on the record, but I kept getting texts from people who knew them, and who insisted: this time, it's real."
May 30, 2023: Swift and Healy's relationship goes Azealia Banks's Instagram official, with the rapper warning Swift about dating Healy in a series of Story posts. "Taylor , this guy is gonna give you scabies," she writes. Banks suggests that Swift date Shins singer James Mercer instead, because he's "honestly one of the best lyricists ever."
June 2, 2023: Healy kisses a security guard during the 1975's set at Northside Festival in Denmark.
June 5, 2023: TMZ reports Swift and Healy have broken up, according to a friend who says Swift is now "single." A source further tells Entertainment Tonight that Swift and Healy "broke up," explaining, "They are both extremely busy and realized they're not really compatible with each other." The news comes in the middle of the 1975's European tour, with Swift and Healy last seen together on May 25. Minutes before the TMZ report, Swift reveals the tracklist of Speak Now (Taylor's Version).
This post has been updated.