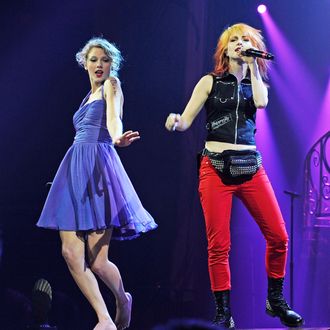 Blast from the past.
Photo: Frederick Breedon IV/WireImage
Even Taylor Swift had a pop-punk phase. Now, like the rest of us, she's returning to it — on Speak Now (Taylor's Version), that is. Swift's self-written 2010 album contains some of her punkiest music, such as "The Story of Us" and "Better Than Revenge." And now she has tapped some of her pop-punk heroes to help with the rerecorded version. Both Hayley Williams of Paramore and Fall Out Boy feature on new "From the Vault" tracks for the album, "Castles Crumbling" and "Electric Touch," respectively. "Since Speak Now was all about my songwriting, I decided to go to the artists who I feel influenced me most powerfully as a lyricist at that time and ask them to sing on the album," Swift wrote when she unveiled the track list on social media, including six total "Vault" songs. She wasn't shy about her love of either artist at the time, performing with Williams and covering Fall Out Boy on the Speak Now tour. And Williams herself recently seemed to tease her appearance on the album, telling a fan who gave her a Swift bracelet, "This is coming at a very interesting time." Get ready to lay on the purple eyeliner come July 7.