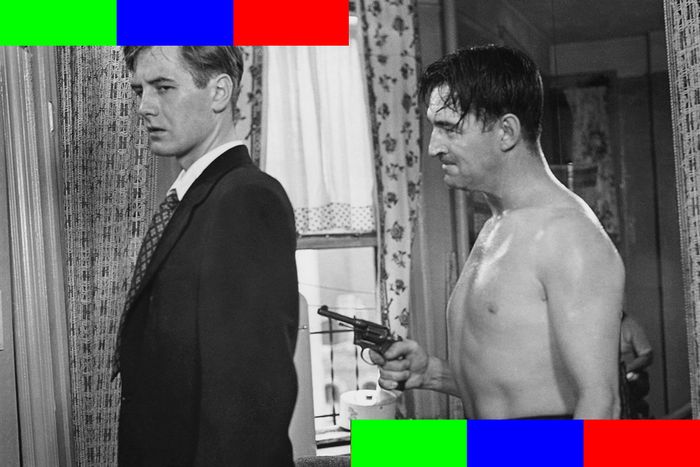 The 1948 film
The Naked City
, a regular in TCM's rotation.
Photo: Janus Films
It seems somehow appropriate that the company whose TV library includes Dallas is now being run by someone who often seems to be channeling the ghost of J.R. Ewing. Okay, maybe that's not fair: J.R. was a villain audiences loved to hate, while many in Hollywood (at least those on social media) don't feel any love at all toward Warner Bros. Discovery CEO David Zaslav. That became clear again this week when the latest round of layoffs at WBD took out pretty much the entire senior leadership of Turner Classic Movies, one of the company's most beloved brands.
Officially, nothing has changed about TCM's on-air offering. There are no announced plans to shutter the network or to fire all the on-air hosts who film introductions. And Warner Bros. Discovery execs are still issuing memos saying how important the brand is to the company. "I want to assure you that we remain fully committed to this business, the TCM brand, and its purpose to protect and celebrate culture-defining movies," Kathleen Finch, chief content officer for WBD's U.S. TV networks group, told staffers at the company Tuesday in a note announcing the departure of TCM general manager Pola Changnon. Problem is, after a year of cost-cutting and brand-eroding moves by Zaslav during his first year in charge, it's hard to believe Finch's words will match reality as the full impact of this week's firings is felt over the next few months.
For one thing, what Finch didn't mention in her memo (which doubled as a press release for the showbiz trades) was that she hadn't just parted ways with one senior exec. As The Wrap would later report (and other outlets confirm), WBD also let go TCM's program chief, its head of production, its head of events, and its marketing chief. Or, as one industry insider I spoke to this week told me upon hearing the news, the folks who were fired are "the people who've been the architect of the brand for decades."
Networks go through creative shuffles all the time, and it is possible for even the most storied of brands to survive a regime change. HBO, after all, has launched some of its biggest hits ever in the years since longtime boss Richard Plepler stepped down and Casey Bloys took over much of his role. But what's happening at TCM isn't just a changing of the guard. Instead, it feels a lot like what Zaslav has been doing with his company's youth and animation brands (Cartoon Network, Adult Swim) or what Paramount Global execs have done with MTV and Comedy Central. It feels like the beginning of the end. As the industry vet lamented to me, "They've completely dismantled the networks so that they don't have their own identity anymore. They had these passion brands they managed, which had rabid fan bases. It's gone."
If and when Zalsav ever addresses what's been happening at his networks, he will likely argue he's simply been reacting to a vastly changed TV universe. And look, things are different: In barely a decade, cord-cutting has basically halved the number of people in the cable-TV ecosystem, sending overall penetration rates from roughly 90 percent to about 50 percent. With new forecasts suggesting just 37 percent of U.S. homes will still pay for a traditional TV bundle in three years, there is no doubt cable as we've known it well on its way to collapsing. This is why FX now premieres most of its new content on Hulu and not the FX cable channel (which isn't even run anymore by FX Networks boss John Landgraf), and it's also the reason Zaslav's predecessors at WarnerMedia basically took TBS and TNT out of the scripted TV business a few years ago. The fact that Showtime will soon become a tier on Paramount+ is also the result of similar business realities.
But TCM, in theory at least, is the sort of network that should be able to ride out the cable apocalypse for quite a few more years. For one thing, unlike some other recently downsized channels, TCM has never been a place that spends hundreds of millions on splashy first-run series (scripted or otherwise). Instead, it has always been a monetization engine for its owners: It takes long-ago produced content (much of it owned by WBD), smartly packages it with context and curation, and then rakes in millions in subscription fees from cable operators. Aren't execs like Zaslav always going on about their precious IP and how much they want to reboot, reimagine, and otherwise exploit it?
TCM obviously isn't Harry Potter or DC, and it has never printed cash the way much riskier investments like HBO have. And yes, whatever revenue it generates now is likely much less than it was five years ago. But that doesn't mean it no longer has value for WBD. In fact, with HBO now focused on streaming, and TBS and TNT shells of their former selves, TCM should arguably take on greater importance as WBD tries to manage cable's demise. It's one of the few outlets WBD has whose vibe and content aren't currently available without a cable subscription. (You can get a taste of TCM on Max, but it's nowhere near what's available on linear.) Plus, while there are no doubt plenty of younger TCM superfans, the network's target demo is the sort of over-45 consumer who's still paying for cable (certainly in greater numbers than millennials and Gen Z). It feels like the kind of brand a company like WBD should be working overtime to keep strong, even as it makes some budget adjustments to account for the lower universe of subscribers.
What's also sad is that TCM's now-canned leadership team has spent years working to pivot beyond the cable bundle. Events such as the TCM Film Festival and TCM-themed cruises were, at least in part, designed to serve as a buffer against declining cable subscriber numbers. TCM hasn't said it plans to end those brand extensions, but since it just got rid of the exec who oversees them, it's hard not to wonder how much time these events have left. Even if they do somehow survive, if you stop promoting and marketing and nurturing the main channel's offering — and that seems likely with a much smaller staff and budget — it's going to get a lot harder to find people to pay for those cruises and festivals.
Getting rid of so many experienced hands will also make it much more difficult to pull off any transition of TCM to the streaming era. Earlier I noted how Disney has radically downsized the ambitions of the FX cable channel. And yet the company, no doubt prodded by Landgraf, hasn't starved the FX brand. There's still a whole team of execs who work under Landgraf developing shows, plotting marketing strategies, and figuring out publicity plans. No doubt it's smaller than it was five years ago, and I'm sure FX wasn't totally spared in Disney's own recent staff bloodletting. But FX still matters to Disney, not just in memos sent to staff but in actual deeds. In some ways, the brand feels more vital and accessible than ever because younger viewers are finding its shows more easily on Hulu than they ever did on cable. That doesn't seem to be the case with TCM, whose hub on the new Max app is a lot less prominent and far less curated than it had been on the old HBO Max. Nobody expects TCM to be as prominent on Max as FX is on Hulu — the latter spends billions on content and is a major driver of new sign-ups — but it should at least not feel like an afterthought squeezed in between Magnolia Network and Adult Swim.
In researching this story, I came across one more example of how WBD seems to be moving on from TCM, its words aside. Buffering has learned that there have been serious conversations at TCM in recent weeks about ending the practice of producing outros for its feature presentations as soon as next month. Introductions to movies wouldn't be impacted, but the network would no longer regularly tape new segments to air following the conclusion of a film, according to three people familiar with the talks. The good news is that, apparently, that plan is no longer happening: A source familiar with the situation says that while the idea was discussed, there are no plans to move forward with the cutback.
TCM killing outros would have prompted loud howls of protest from the network's many supporters, particularly given the backlash to this week's layoffs, which was so intense, it resulted in Zaslav talking to directors Steven Spielberg, Martin Scorsese, and Paul Thomas Anderson.  After that meeting, the trio of directors released a statement Wednesday saying they were "heartened and encouraged by the conversations" they've had with the WBD chief. "We have each spent time talking to David, separately and together, and it's clear that TCM and classic cinema are very important to him," the statement said. "Our primary aim is to ensure that TCM's programming is untouched and protected."
A WBD rep had no comment on the apparently now-dead discussions about killing outros. But the fact that any such plan was under consideration at all makes me wary of any statements by WBD brass — or famous directors — declaring there are no plans to further downsize TCM. It's also yet another sign of the company's warped priorities these days. I don't know how much TCM spends on taping outros each year, but it seems hard to believe it's more than the many millions Zaslav spent last month for his Cannes coming-out party, or the money he's budgeted for the ongoing work to revamp the WB commissary into something "cooler." But unlike those two Zaslav passion projects, TCM — along with all the network staffers laid off this week — actually provides real value to Warner Bros. Discovery customers.