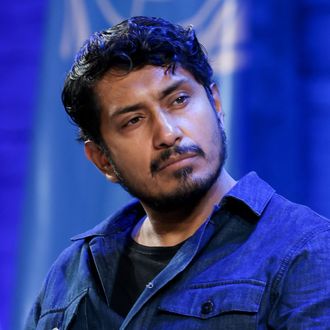 Tenoch Huerta.
Photo: Pierre Suu/Getty Images
Update June 21: Tenoch Huerta has exited the Netflix film Fiesta en la Madriguera after being accused of sexual misconduct. In a statement obtained by Deadline, Huerta called the claims against him "false" and explicitly cited them as the reason for his exit. "It is with great sadness that I do this, but I cannot allow her actions to harm not only me, but also the work of dozens of talented and hard-working people involved in the project," he said. "My focus now is simple: continue the process of restoring my reputation."
Original story follows.
A saxophonist and activist accused Black Panther: Wakanda Forever actor Tenoch Huerta of sexual misconduct over the weekend, calling him a "predator" in multiple tweets. "It is very difficult to talk about the emotional abuse and abuse of power of a sexual predator who is loved in the world for playing a character in a movie like @TenochHuerta," María Elena Ríos wrote in Spanish. When a Twitter user asked if Huerta assaulted her, she replied in the affirmative. The actor, who had a career-changing turn as Namor in the Marvel Cinematic Universe, denied the allegations on June 12. He claimed the accusation is "false and completely unsubstantiated" in a statement posted to his Instagram Stories. "About a year ago, I dated Elena for several months," Huerta wrote. "It was entirely consensual at all times … after it ended, however, Elena began to misrepresent our interactions both privately and in front of groups of mutual friends." He added that he had "engaged a legal team" to protect his reputation "a few months ago."
Ríos came forward with the allegation while accusing activist organization Poder Prieto of protecting Huerta amid her battle with the organization over withheld payments. She claimed the organization charged with protecting actors in the entertainment industry stiffed her after she participated in a podcast. In her tweets, she preemptively responded to questions over why she didn't report the assault earlier — Ríos said that "justice" is unattainable in a "machista" country, adding she doesn't want to be famous nor need money because she has a job.