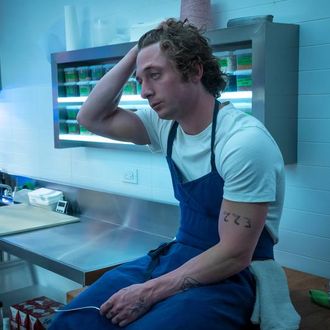 Jeremy Allen White as Carmy.
Photo: Chuck Hodes/FX
Planning to devour FX's new serving of The Bear this weekend? The owner of the real-life restaurant that inspired the show can't relate. Chris Zucchero, who owns Chicago's Italian beef shop Mr. Beef, told Variety that he hasn't even seen the first season. "It's more embarrassment for me," he explained. "I just feel weird. Food people are not the same as actors or musicians. You know what I mean? That's the same reason why I don't really promote anything with The Bear. I don't want to be the guy that's like, 'Look at me. I'm the fucking Bear guy.'" We guess that's Jeremy Allen White's job.
Zucchero, who made a cameo in the show's pilot as Carmy's meat dealer, is a childhood friend of show creator Christopher Storer. All of the dining-room scenes in The Bear's pilot were shot at Mr. Beef, and Zucchero said his restaurant was later replicated "down to the stains on the wall" in a studio set built for the show. But film crews still shot part of the second season outside and in the front of the real Mr. Beef, which has now become a photo op for fans. For his part, Zucchero displays only one promotional Bear poster "way in the corner" of his shop. "I try to distance myself from it, because somebody's got to wake up the next day and make beef," he said. "I try to just keep everything and myself the same. It's what I've known my whole life. The only thing I've ever known in my life is that restaurant." So would Zucchero ever try to turn his restaurant into the kind of Michelin-starred, upscale establishment that Ayo Edebiri's Sydney dreams of? "Abso-fucking-lutely not," he said. Heard, chef.