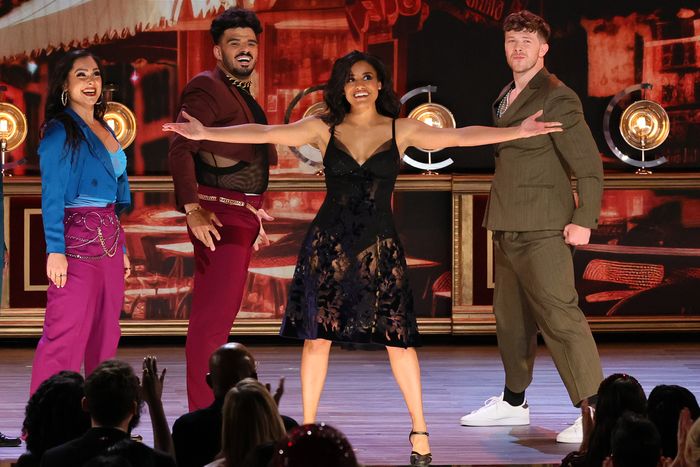 No words.
Photo: Getty Images for Tony Awards Pro
The Tony Awards, as you may have heard at least a dozen times tonight from various ad-libbing hosts and presenters, aired scriptlessly owing to the WGA strike. In true "the show must go on" fashion, the ceremony managed to make the most of the situation. The producers' solution, all around, was to lean hard on the Tonys' innate advantages: the musical numbers, the theater-kid enthusiasm of all involved, and precut clips from the nominated shows — an innovation CBS should really keep around. Theater people know how to carry on, and they all did. Amid lots of energy and sometimes little coherence, here were the highs and lows from the evening.
High: The "Act One" Pluto TV preshow put an emphasis on the craftspeople. If we're going to have to split this thing in two to get the length down for TV, at least it's nice that the streaming-only side of the ceremony really does try to emphasize how important the visual designers, composers, and other not-allowed-in-prime-time players are. Winners could go long and tell an anecdote or two. (Beowulf Boritt, for instance, took the time to remind everyone there is no video wall in New York, New York.) There were many shout-outs to the state of New Jersey. The energy in the room resembled a high-school drama club celebrating at Denny's after wrapping a production of Oliver!, with everyone a little buzzed on Mountain Dew and earnestness.
Low: That part is, of course, not actually broadcast. Oh, well!
Low: The awkward improv before each category. The hosts winged their way through the setups during Act One, leading to such gems from Skylar Astin and Julianne Hough (hosts of the Pluto TV portion) as "Nothing brings out a score like orchestrations," "Can we just give it up for all the theater educators, and all the teachers in the world?" and "So let's just keep this thing moving, shall we?" You've made your point, WGA.
High: A few moments when the improv was so awkward it became funny. At one point, Hough gave up and started praising the plasterwork: "Maybe we should all look around and look at this gorgeous theater … and on that note, let's hear it for this next award, which is Best Scenic Design of a Play." After that, she gave up on any sort of connection with the categories at all, shimmying a little bit and proposing that everyone take a little "mid-show shake" before announcing Lighting Design of a Play. Best of all may have been Annaleigh Ashford's arrival to introduce Jerry Mitchell: "I'm Annaleigh Ashford, and … hi …"
Low: John Kander and Joel Grey's Lifetime Achievement remarks didn't make the main telecast either. Kander, age 96, gave a lovely speech, concluding by thanking music itself, which, he said, "has promised to stick with me to the very end." Grey, 91, looked sprightly as ever, walking out in tails and launching into a bit of "Willkommen," seemingly ready to headline a Cabaret revival if anyone wants it. "It's a strange feeling to go from being the eager kid, which I was just yesterday," Grey said, "to being honored with my great friend and collaborator, John Kander, who is even slightly elder than I am." They're both titans and deserve every bit of the honor; the CBS half of the show dedicated just enough time for Hough and DeBose to dance a "Hot Honey Rag," followed by a wave from the two honorees. Let the legends speak! People love it!
High: Jennifer Grey's introduction of her father. "Hi, friends of my dad." Good joke, Jennifer. Hope no one wrote it for you.
Low: The 15-minute lag between Act One on Pluto TV and Act Two on Paramount+. Astin and Hough kept the show so brisk — partly because they clearly used up every bit of improv they had — that the Pluto TV portion of the show ended 15 minutes early, giving us all more than enough time to figure out how to switch apps and ruminate on how silly it is that we live in a universe where you have to do so halfway through a major awards show. Real life is but an Other Two joke. The upside: generous bathroom and/or snack break.
High: Host Ariana DeBose's wordless jukebox opening number on the main telecast. DeBose's way to "do the thing" in the absence of a written script — a fact immediately telegraphed as the camera showed a blank script at the top of the telecast — was a wordless dance number, performed by DeBose and more than a dozen other dancers, full of quotes from Broadway shows, including West Side Story and, of course, In the Heights. It's a bonkers concept, but DeBose is both our most overcommitting celebrity and an incredible dancer. She threw herself down the stairs of the theater, where someone caught her. She danced around a saxophonist and a pianist. She was visibly out of breath for the next several minutes. To that we say [mimes an elaborate spin and a kick that means "good job"].
Whoa: Ariana DeBose's many silly voices. Once DeBose started talking, she did her best to explain the agreed-upon format and pump up the audience. In doing so, she fell back on nearly every actor's go-to approach to punching up thin dialogue: emphasizing random words with elaborate accents and sudden shifts of volume. She did "a full-throated 'thank youuuuu'" to the WGA. She put a lot of emphasis on the importance of wrapping up when the teleprompter tells you to. Then, finally, she shifted into a Valley Girl voice to go, "To those of you that thought last year was a bit unhinged, to you I say, 'Darlings, buckle up!'" A bold gambit to audition for Legally Blonde and Kiss of the Spider Woman while hosting an awards show, but Ariana, both parts are yours.
High: Clips from the plays. Perhaps just because there was extra time without written banter, the broadcast included brief clips from each performance during the acting-category introductions, something that CBS had cut in the past few years. The musicals get to do their numbers onstage, but the plays have always been hard to bring into the telecast. This is a simple and effective fix. Keep doing it next year, (presumably) after the strike is over.
Whoa: The music-less clips from the musicals. There are costs to licensing songs for television, which is perhaps why the performance clips for actors in musicals didn't show them singing. That led to some peculiar and wild selections, especially for Sweeney Todd, a show that is almost entirely sung through. All we got of Ruthie Ann Miles's Beggar Woman was a moment when she walks around in a circle ominously saying a few threats. Ruthie Ann Miles, in the audience, looked as confused as everyone else.
Low: CBS decides Michael Arden can't say the F-word. Arden, winning Best Director of a Musical, said that growing up he was called "an F-word" more times than he could count. Then he delivered a line that brought the house down but was bleeped by the network. That line was "now all I can say is that I'm a faggot with a Tony," which is (a) funny and (b) arguably fit for broadcast. It's Pride! This is the Tonys! Ben Platt loved it!
Low: Showcasing & Juliet's "Roar." Of all the Max Martin hits in the show that are great, why go with that snooze? And what's worse: no Betsy Wolfe!
Whoa: DeBose doing her best to come up with some ad hoc banter, zooming over to Lin-Manuel Miranda and Lea Michele's general area and saying, "This is a fun aisle!" That's also how I sound after I take an edible on a plane flight.
High: A visit from Milky White. Into the Woods' cow, puppeteered by Kennedy Kanagawa, was showcased alongside Sara Bareilles and Brian d'Arcy James in "It Takes Two." A major star of the evening.
High: Alex Newell's emotional acceptance speech for Shucked. "I should not be up here as a queer, nonbinary, fat, Black little baby from Massachusetts," Newell said. "And to anyone who thinks they can't do it, I'm going to look you dead in your face that you can do anything you put your mind to." Newell's speech was sweet and powerful, and also right to the point. Later on, J. Harrison Ghee would go on to win Best Actor in a Musical, meaning that there were no acting awards for cis men in musicals this year. Further proof of the obsolescence of gendered categories.
High: Denée Benton called Ron DeSantis the "Grand Wizard" of Florida. The network never would have approved such a line in the script. But there was no script.
Low: Let us see Mrs. Lovett! Sweeney Todd decided to showcase "The Ballad of Sweeney Todd" during the ceremony, which, yes, makes sense from a "say the name of the show as many times as possible so people at home remember it" approach, but meant that the performance only included Josh Groban and had none of Annaleigh Ashford's go-for-broke Mrs. Lovett. Too bad: That performance needs to be preserved for future generations and shared with youths across America.
Low: A "Sweet Caroline" sing-along at the theater-awards show. Okay, fine, we did sing along, but A Beautiful Noise wasn't even nominated. Don't bring that here. Leave it to sports!
Low: Playing off Jason Robert Brown during Parade's acceptance speeches for Best Revival of a Musical. It would be great to hear from the songwriter whose show was revived to such acclaim, but instead we got the blare of "All the Wasted Time" and a cutaway quickly to an "In Memoriam" themed around Phantom of the Opera. Speaking of which …
Low: Theming the "In Memoriam" segment around The Phantom of the Opera. Yes, the closing of a show after 35 years is a significant moment worth commemorating, but knitting together the closure of a commercial musical with a tribute to theater artists who have died is tacky. It was hard to focus on any of the names in the montage while distracted by the Phantom-themed video set dressing, complete with giant candelabra. Like the Opera Ghost himself, we have notes.
High: Kimberly Akimbo's "Anagram." Most of the time, producers go for the loudest, showiest number in each musical (see Some Like It Hot doing "Some Like It Hot" or New York, New York doing "New York, New York") or try to stuff together a medley (as Camelot and Shucked did, with mixed success). Kimberly Akimbo counterprogrammed with "Anagram," in which Victoria Clark's character starts falling for Justin Cooley's nerd — and Cooley's so good at playing a sweet nerd — as he teaches her how to reorder her name. It's a lovely, understated number that displays the heart of the show and also its incredible verbal dexterity. Will it sell tickets? Hard to say, but we're charmed.
High: Tom Stoppard, politely and Britishly airing his grievances. Stoppard won Best Play for Leopoldstadt and, while betraying no significant crankiness on the surface, said he was "teeming with emotions a chatbot wouldn't understand." Then he added that after winning his first Tony back in 1968, "I've seen the theater writer get devalued in the food chain. It's just something I thought I'd mention." Fair point, sir.
High: Lea Michele's giggle in the middle of "Don't Rain on My Parade." She has spent 10,000 hours of her life singing this song. She is great at it, and she knows it, and she's even already done it at the Tonys. But it's nice, even in the middle, for her to seem like she's having fun, giving off a faintly proud/sinister/joyous hint of humanity. It's a live performance, and occasionally we even get to see it.
High: LaChanze got Tonys for two different shows on the same night. She was a producer of both Topdog/Underdog and Kimberly Akimbo, which means she took home trophies for Best Revival of a Play and Best Musical. Congratulations to the winners; double congratulations to her.