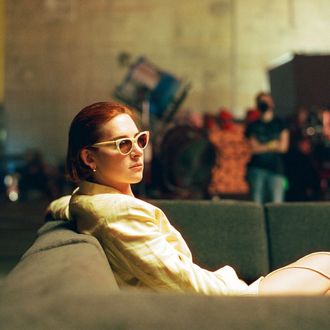 A star journalist is born.
Photo: Eddy Chen/HBO
A common refrain about the first episode of The Idol is that there were too many characters and it was impossible to track of anyone's job. But that does not apply to the instantly iconic journalist played by Hari Nef, whose name and title were repeated ad infinitum: She's Vanity Fair reporter Talia Hirsch, one of the great pop-culture writers.
Talia shows up as an unwelcome interloper — her sit-down with titular pop star Jocelyn (Lily-Rose Depp) adding yet another complication for Jocelyn's team to navigate amid a leaked-photo scandal. As our recapper Choire Sicha put it, Nef nails the demeanor of a glossy-mag journo on a prestigious assignment: "perfectly condescending while hunting manipulatively for gross emotional truths while also probably actually caring." Opinions, um, vary on the rest of the show, but when it comes to Talia, we cannot get enough.
Thankfully, we managed to get our hands on a leaked draft of her Jocelyn profile, excerpts of which we present to you below.
Jocelyn From the Ashes
By Talia Hirsch
Jocelyn still lives in the house.
The house, a $70 million Bel-Air mansion, was originally home to Jocelyn and her mother. Then came the cancer. The morphine, the tests, holding her mother's hand every day until, suddenly, she was gone. You know what happened next — or at least you think you do. Jocelyn canceled her globe-spanning tour, in what has been erroneously reported as a mental breakdown. In truth, she was simply exhausted — and grieving. Who wouldn't be? (In solidarity with fans, Jocelyn refunded all the tickets.)
What kind of strength does it take to live through the lowest moment of your life and keep going? What kind of focus? What kind of fortitude? As we talk about her comeback, I'll learn that Jocelyn is not just a pop star. She's a phoenix.
"Who among us has not had come on their face?" Jocelyn's label exec asks.
It's a rhetorical question, I think, but there's no time for clarification. Because this morning is the morning of the nasty surprise, when an unknown paramore leaks a revenge-porn shot of the pop star to Reddit, which means it's all hands on deck for Team Jocelyn.
The exec, an anti-woke Gen-Xer I'll later overhear comparing me to Chairman Mao, is inclined to brush off the photo: "Wasn't that a hot date years ago? I'm just saying." This opinion is not universally shared. Jocelyn's managers, Chaim and Destiny, are irate. So is her publicist, who's so stressed out he can't even bother to do up the buttons of his double-breasted suit. "What's disgusting is that people aren't looking at her as the victim in all this," he says. A few minutes later, Live Nation honcho Andrew Finkelstein will arrive for an impromptu strategy session. The new tour is a bold statement of purpose, Jocelyn stepping emphatically into her power, and a lot is riding on it being a success.
What does Jocelyn herself think about all of this? Though nobody will admit this directly, it soon becomes clear that Team Jocelyn has not yet informed the woman in the photograph that she's currently Twitter's No. 1 trending topic. It seems Jocelyn's best friend turned assistant, an anxious 20-something named Leia, has hidden her phone, allowing the singer to run through the choreo of her latest single, "World Class Sinner," without distraction.
"She is prioritizing wellness, which I think is a really important thing," the publicist tells me as we watch from the balcony of the house where Jocelyn's mother breathed her last breath.
"C'mon, focus, Joss!"
The routine for "World Class Sinner" turns out to be very referential. Think Britney with the snake at the 2001 VMAs. But on the first run-through, the vibe is more like Britney at the 2007 VMAs. She's a half-beat behind every step. Maybe she's not ready to come back after all. No one would blame her.
Eventually, the choreographer puts Jocelyn in time-out, making her watch as a backup dancer named Dyanne executes the moves flawlessly. Jocelyn, who's wearing a black miniskirt over an envy-inducing black bikini, watches and lights a cigarette. Then she gets back to work. "Let's do this." Maybe it's inspiration, maybe it's jealousy — all I know is that, this time, she's locked in. She's serving face, serving body, serving a word I can't print in this magazine. This is the girl we all grew up watching on Rock House.
"She's one of the greatest stars to ever live," says Chaim. In that moment, no one would disagree.
The next day, Jocelyn and I are catching up poolside. If yesterday's drama left any mark, it doesn't show. She's all effortless serenity. I ask her if it hurt to be betrayed by a man she thought she could trust.
"Of course. But what am I supposed to do?"
She could fuck the guy up. Name and shame him in the pages of Vanity Fair. I tell her she'd be an inspiration to a generation of young women who are sick to death of being nice. Her response shakes me to my core.
"Revenge is empowerment?"
"It's human," I say. But Jocelyn has been famous since she was 6 years old. She is understandably wary of adding more fuel to the media firestorm.
"Five years ago, when people would tell me it was important to comment on something publicly, I would buy into it. But now, I just know that I'm being hustled."
I try to demur, but she looks me dead in the eye. "Don't worry," she says. "We all have to answer to somebody."
"Who do you answer to?"
"God."
She smiles.