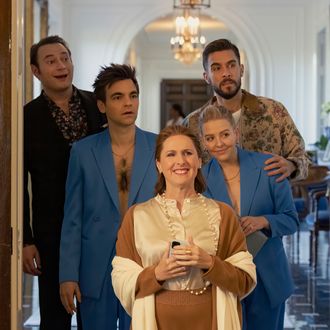 Bye, gaybies and fam.
Photo: Greg Endries/MAX
My show is gay, and that's okay … but it's also over. The Other Two, a.k.a. TV's sole version of gay life that seems like it's about actual gay people (sorry, Love, Victor) is over, according to The Hollywood Reporter. The series will end with the season-three finale airing June 29. The Other Two began life on Comedy Central, before being picked up Max (née HBO Max) for its second and third seasons. It starred Heléne Yorke and Drew Tarver as siblings Brooke and Cary Dubek, wayward souls whose younger brother Chase Dubek (Case Walker) becomes a singing sensation named Chase Dreams. The series also starred Josh Segarra as Brooke's often shirtless himbo boyfriend Lance, Molly Shannon, Wanda Sykes, and Ken Marino. We think we'll miss Segarra's nips most of all (that's a lie; we'll miss the idea of Curtis's Survivor nights with former hookups the most).
The end of the show comes amid HR complaints from members of the staff, THR additionally reported. The allegations include complaints that series co-creator Chris Kelly verbally abused writers and crew members and that his co-creator Sarah Schneider allowed it to happen. "Other writers tell stories about The Other Two writers' rooms like other people tell ghost stories," a source from the show told THR. "As a team, they've been very destructive, but Chris is also mean to Sarah," another source reportedly said. The HR complaints reportedly have nothing to do with the show's ending. Does this sound like the plot of an episode of the show? Uh … you decide.