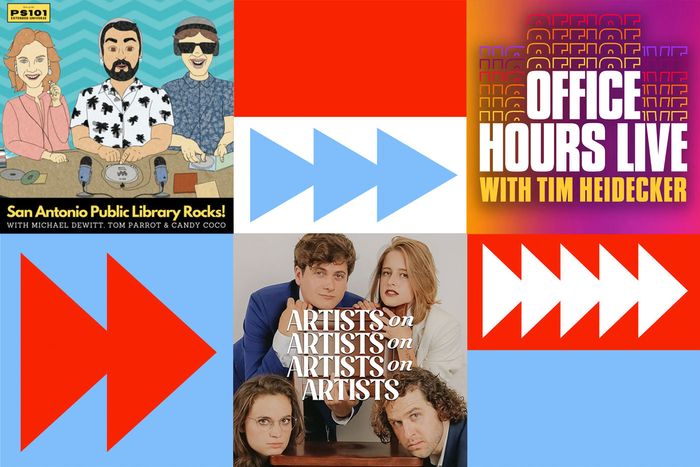 Photo-Illustration: Vulture
The comedy-podcast universe is ever expanding, not unlike the universe universe. We're here to make it a bit smaller, a bit more manageable. There are a lot of great shows and each one has a lot of great episodes, so we want to highlight the exceptional and the noteworthy. Each month, our crack team of podcast enthusiasts and specialists and especially enthusiastic people will pick its favorites. We hope to have your ears permanently plugged with the best in aural comedy. You can also keep up with all our comedy-podcast recommendations in Vulture's newsletter 1.5x Speed, and don't forget we have podcasts too: Check out Good One, Into It, and Switched on Pop.
Office Hours Live — Abby Martin, Eric Wareheim, Tim Deletes His Twitter
This might be one of those "you had to have been there to appreciate it" episodes. Some things are just more exciting when they're unfolding in real time. But I'll still be revisiting this monumental episode of Office Hours Live, which features a smart conversation with Media Roots Radio founder Abby Martin and a new segment from Eric Wareheim, who Zoomed in to give an impassioned report about an ice-cream cone he bought and threw away (the guy hates those newfangled round sprinkles. Eric is, like, particular-particular about food). But all of this is leading up to the big moment, in which Tim Heidecker deletes his Twitter account in real time, because he's had just about enough of Tim Pool fans spewing bigoted nonsense in his mentions. He shares his screen so viewers at home can follow along with the painless procedure. The lesson? It gets better, even for the most serial posters of us all. Get out while you can. —Rebecca Alter
Listen: Spotify | Apple | Website
Mega — The Rise & Fall of Twin Hills: Stick
Mega, a super sharp, completely improvised satire about a fictional megachurch and longstanding favorite here at Vulture, feels like a breath of fresh air this month. After nearly 250 episodes, hosts Holly Laurent and Greg Hess have produced an equally strong investigative miniseries about the mysterious lead pastor of Twin Hills Community Church, Steve Judson. Contained to five episodes, "The Rise & Fall of Twin Hills" begins when struggling food blogger Grant Hesch comes to town to review the local Chick-fil-A and instead stumbles onto the Judson's scandals. True to form, the series perfectly straddles the line between the strange and sound, resulting in an absolutely absurd but believable tale about "power, popularity, secrets, sex, money, and delicious chicken nuggets." The perfectly paced miniseries is peppered with hilarious characters who pull you further and further into the investigation, building anticipation each week until it culminates in the discovery "that the truth belongs to God." Fret not: Without any spoilers, we can safely say it's a silly and satisfying conclusion to the saga. —Becca James
Listen: Spotify | Apple | Website
The Best Show With Tom Scharpling - KESHA! PHILLY BOY ROY! MARY BRONSTEIN! HAPPY BIRTHDAY GRIMACE!
It took a mere few hours for Tom Scharpling's take-no-prisoners interview with Kesha to temporarily break the internet earlier this month, courtesy of a little reminiscence about her experience being savagely hug-snubbed by Gary Jerry Seinfeld. But lost in that tabloid shuffle were the other potent reminders this insta-classic episode offered of Scharpling's unique role as one of our great cultural connectors. Only Scharpling's show could introduce an international rockstar like Kesha to Kurt Vile in one minute, then receive a call-in from filmmaker Mary Bronstein about her landmark micro-budget drama Yeast the next. The Best Show has always criss-crossed the worlds of indie music, indie cinema, and indie comedy ever since its days on independent New Jersey radio station WFMU — a factor, perhaps, in its perpetual lack of recognition in the mainstream versions of those worlds. But let's call a spade a spade: If an energizing appearance by fan-favorite Newbridge resident Philly Boy Roy (a.k.a. Jon Wurster) and Scharpling's seemingly unquenchable curiosity — which more challenging than it looks in an episode that runs over three hours — together still aren't enough to grab your attention, you deserve to be steamrolled like all those other chumps. —Sean Malin
Listen: Patreon | Apple  | Website
Artists on Artists on Artists on Artists — Netflix Reality Stars Tell All
Before cracking down on password sharing, Netflix was best known for constantly canceling its most popular scripted shows and hosting the most complex reality-television ecosystem this side of Paradise. The sheer scope of premises, rules, and tropes to keep track of is daunting, but lends itself to a lovingly crafted episode of Artists on Artists on Artists on Artists, an improvised roundtable of usually deluded show-business insiders featuring comedians Kylie Brakeman, Jeremy Culhane, Angela Giarratana, and Patrick McDonald, with occasional guests including Carl Tart, Zac Oyama, and Bridger Winegar. Straightforward alternate-universe versions of Netflix shows like Are You the One? stand-in Absence Makes the Heart? and the one-note blind gimmick in Love Is Postpartum make way for pages and pages of printer-busting contracts the stars can't keep straight. Nurses vs. Waiters vs. White House: Dating skewers the arbitrary divisions shows like Survivor lean on to keep it fresh. Soon enough, everyone is either winning or losing points and cash for finding love or being there for the wrong reasons with Joey from The Circle. AoAoAoA is a must in the rotation of high-level Hollywood satire. —Noah Jacobs
Listen: Spotify | Apple | Website
San Antonio Public Library Rocks! — Erasure, Cal Tjader, and Lloyd Price
A novel podcast cocktail of improv comedy and eclectic music, San Antonio Public Library Rocks! is served with a whimsical twist of alternate reality. Hosted by the quirky trio of Michael (Richard Feliciano), Tom (Jay Light), and Candy (Lily Holleman), the show's charm lies both in the near-normal reviews of their favorite monthly CD rentals from the library and their tangential flights of fancy on the way to getting to the point. The third episode is a comedic symphony of their insights on tracks from albums by Erasure, Cal Tjader, and Lloyd Price. Their rambling discourse, fueled by the music and the musicians, leaves you with the feeling you may have learned something. Their song choices, while idiosyncratic, are thought-provoking and evocative, a testament to their distinctly individual musical palates. This show hits an odd sweet spot in a Venn diagram of improv-comedy lovers and eclectic music enthusiasts. Although only three episodes in so far, the podcast already exhibits a unique appeal — a blend of humor, outlandish commentary, and engaging music analysis. While their musical trivia may not prepare you for Jeopardy, it certainly ensures an enjoyable wild ride (likely not sanctioned by the actual San Antonio Public Library). —Marc Hershon