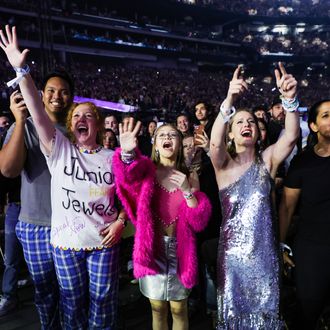 Cure fans?
Photo: Ethan Miller/TAS23/Getty Images
Swifties, your mastermind did nothing. Let us give thanks to our gothic king. Ticketmaster has done the bare minimum by eliminating surprise and unclear "junk fees" for concert-ticket transactions, the New York Times reports, following months of public pressure from the Biden administration. Live Nation Entertainment, which owns Ticketmaster, confirmed on June 15 that a new "all-in pricing" model will be rolled out in September for concertgoers in pursuit of "honest and transparent pricing." However, these fees won't be permanently removed as much as cleverly reformatted: They will still be included in the total cost of the "all-in pricing," as opposed to an unexpected extra cost in the checkout cart. SeatGeek, a prominent ticket-reseller website, will also be utilizing a similar model. "Today's voluntary actions demonstrate that companies both big and small recognize the importance of providing consumers with honest, up-front, all-in pricing, rather than tricking them with surprise fees at the end of checkout," the White House stated. "It is also just a first step toward addressing junk fees in the economy."
Two different yet powerful fan bases created a seismic shift for Ticketmaster's unscrupulous business ethics over the past few months. The disastrous rollout for Taylor Swift's Eras tour fueled an antitrust bill that was introduced by the Senate in April, during which it was argued that families "shouldn't have to worry about being surprised by hidden fees that suddenly raise the final cost of tickets well over the advertised price." Robert Smith, the Cure's front man, meanwhile waged a war directly with Ticketmaster over the "sickening" fees that were forced upon fans for the band's American tour. His viral tweet storm led to an unprecedented act of good faith from their end, which resulted in certain buyers getting small refunds "as a gesture of goodwill." Now do something about the bots next.