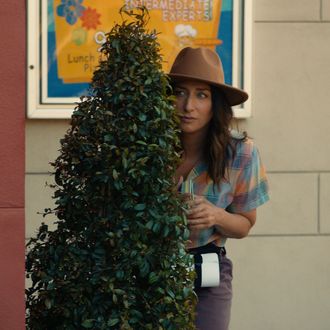 A female directing for the first time.
Photo: Jonathan Furmanski
Tribeca Festival dropped "film" from its official title a few years back, but that doesn't mean it's no longer a film market. While everyone is still nursing a Cannes-induced hangover, the industry must rally for the festival Robert De Niro co-founded — an 11-day smorgasbord of debuts from actors turned directors, an unusual amount of music documentaries, and new indie fares bowing at an AMC just north of Tribeca in the Flatiron District, hopefully prefaced by that famous Nicole Kidman spot.
Be on the lookout for which distributors will pick up buzzy films like the Michael Shannon–directed Eric LaRue, starring Judy Greer and Alexander Skarsgård, or the Nick Jonas–led family drama The Good Half, both of which earned acclaim following their world premieres in Manhattan. First Time Female Director, directed by first-time female director Chelsea Peretti of Brooklyn Nine-Nine fame, is now basking as the first big title sold at Tribeca. Below, the full list, updating throughout the festival.
First Time Female Director (director: Chelsea Peretti)
Distributor: Roku
This comedy follows a playwright who must helm the production of a local play after the theater's director is fired over inappropriate conduct. Peretti, Megan Mullally, Blake Anderson, Megan Stalter, and Kate Berlant star.
Price: Undisclosed
This is a developing story.