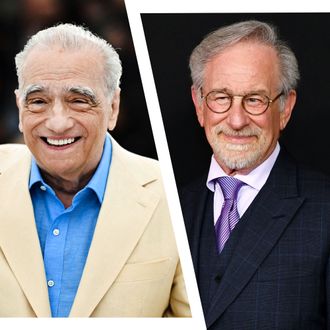 Martin Scorsese and Steven Spielberg.
Photo-Illustration: Vulture. Photos: Getty Images
Update, June 28, 2023: TCM is saved! After Warner Bros. placed itself in the center of a PR firestorm over layoffs and restructuring at the beloved film network, major film lovers Martin Scorsese, Steven Spielberg, and Paul Thomas Anderson put their hats in the ring to fight against the changes. Now, it appears that the 25-year veteran Turner Classic Movies executive Charles Tabesh will remain at his post, reporting to film chiefs Mike De Luca and Pam Abdy, per Variety. In addition, Warner Bros. made a deal with Scorsese, Spielberg, and P.T.A. to curate content at the network. A win-win scenario, if you ask any TCM fan!
"We have already begun working on ideas with Mike and Pam, both true film enthusiasts who share a passion and reverence for classic cinema that is the hallmark of the TCM community," Scorsese, Spielberg, and Anderson said in a joint statement on June 28. "This unique arrangement, initiated by David Zaslav, reflects his commitment to honoring the TCM legacy while also involving us on curation and programming. We are thrilled that longtime programmer Charlie Tabesh will be staying with TCM and gratified to know that the team is focused on preserving TCM's mission of celebrating our rich movie history while at the same time ensuring that future generations of filmmakers and film lovers have TCM as a valuable resource." In the new structure, De Luca and Abdy will curate content and oversee content across the channel together with the three directors.
"This year, TCM's content investment has grown by 30% and we plan to build on that in future years," a Warner Bros. Discovery spokesperson said in a statement on June 28, per Variety. "That said, TCM is not immune to the very real pressure on the entire linear ecosystem, but we have taken steps to ensure that we stay true to the mission of the network — bringing more titles to the air, driving content investment, and preserving and protecting the culture of cinema. Part of this is the creation of a more sustainable structure behind the screen, one that benefits from the vast resources and promotional engine of WBD's formidable networks group, so TCM is set up for long term success."
The original story, published June 22, 2023, follows:
Turner Classic Movies, get behind Martin Scorsese, Steven Spielberg, and Paul Thomas Anderson — they'll protect you. The group isn't letting the network crumble under the weight of recently announced layoffs, Deadline reports. The stalwart supporters of cinema set an emergency meeting with Warner Bros. CEO David Zaslav, the same guy who oversaw the baffling streaming service Max's launch, to lobby for the future of the network — which programs all sorts of film classics, ranging from retrospectives of precode geniuses like Barbara Stanwyck to weekly slots for rich documentaries and silent cinema. "Turner Classic Movies has always been more than just a channel," the trio wrote in a joint statement on June 22. "It is truly a precious resource of cinema, open 24 hours a day seven days a week. And while it has never been a financial juggernaut, it has always been a profitable endeavor since its inception … We have each spent time talking to David, separately and together, and it's clear that TCM and classic cinema are very important to him. Our primary aim is to ensure that TCM's programming is untouched and protected."
Their support for the channel is unsurprising — Scorsese has long stewarded projects to restore, safeguard, and exhibit cinema from all over the world, while Spielberg and Anderson sit on the board of Scorsese's Film Foundation, a nonprofit working to preserve film. "We are heartened and encouraged by the conversations we've had thus far, and we are committed to working together to ensure the continuation of this cultural touchstone that we all treasure," they wrote. How could anyone say no to that? They asked so nicely.