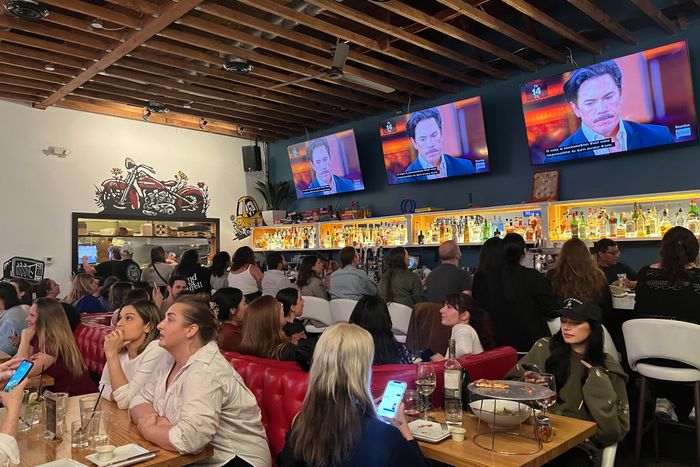 "Is this all for Vanderpump? What's going on?"
Despite the Vanderpump Rules reunion being one of the biggest entertainment events of late, there are only a few options for communal viewing experiences at ground zero, a.k.a. Los Angeles. I end up at Junkyard Dog, a vegan sports bar in Silver Lake, because I want to get the communal fan viewing experience for Scandoval's final installment. There's an official viewing party at SUR just six and a half miles away, but it's $75 per plate and some cast members will be there. Would football be as fun to watch if the opposing team were watching with you? (I also chose this one because it's the building where Elliott Smith shot the album cover for Figure 8 — the layers of dark-sided Hollywood bullshit are too much to resist.)
I expect a big turnout, but even I'm stunned by the size and devotion of the crowd. There is a borderline religious tone to the proceedings, what with the sacrament of white wine and the line of devotees patiently waiting to get in for their turn at communion. We've all come here for that most Young Life, youth-pastor-y of feelings: fellowship.
"Yeah, this is all for the reunion," I tell the would-be patron of this bar. "The line is superlong, and isn't moving, I'm sorry."
"Do you work here? You look official," she says, referring (I think) to the fact that I'm in all black. I only realized when I went out the door what Vanderpump villain I'd accidentally dressed as tonight, sans white nails.
"No, I'm a reporter. This is my Tom Sandoval cosplay."
"Okay, wow, now I'm scared of you."
There is no room for camp appreciation of Tom Sandoval's fashion choices at Junkyard Dog tonight. This is a Team Ariana affair. I spy three "Send it to Darrell" hoodies, a shirt that says "Never Trust a Tom," and one girl in a Vanderpump Dogs hat and Bravocon crop top. This is a die-hards only zone.
"Pretty much everyone I interact with on a daily basis is a Vanderpump fan," Riley Hamilton tells me. His Vanderpump Rules–centric podcast, Turtle Time, is unofficially sponsoring the event. The pod's producer was the first to suggest the watch party for the first reunion ep. It was a smaller affair, in the bar's back patio. "Intimate," is how one person described it to me. The next week, the bar reached capacity. Tonight, there is a line down the block, and the bar sells out of White Claw by 8:40, 20 minutes before the reunion starts.
"I was just doing this for Riley," says Junkyard Dog's Thomas Hobbs. "He said he'd bring in like 30 people." Hobbs looks around at the mass of Bravo fans in his bar and exclaims a somewhat overwhelmed "Bro." He says this set of watch parties is the first reality-TV programming the bar has put on. Given the turnout, it probably won't be the bar's last.
Not to rain on his parade, but the furor surrounding Scandoval feels one in a million. Somehow a cheating scandal on a Housewives spinoff has captured a nation. Vanderpump stars Ariana Madix, Lala Kent, and Lisa Vanderpump went to the White House Correspondents' dinner, for Peter's sake. I spoke to a couple in line who have been watching the show since the first big cheating scandal in season two. "It's hard to explain to other people," the boyfriend says. "They're like, 'They cheat all the time. Why is this different?' But it does feel different this time." When pressed, he says what makes Scandoval special is the extent to which, in the words of James Kennedy, Sandoval's a liar. "The guy is so conniving. Everyone else is so dumb, they get caught immediately. And now that he's caught, all his transgressions are coming out."
His girlfriend calls it a "perfect storm of events."
I'm seated next to a mother-daughter duo who've come up from Long Beach for the spectacle. The mom is a patron of Turtle Time, and she DM'd Riley about when to come. "That's how I got a seat at all," she says. "To be honest, I wish I'd come sooner."
These people are longstanding VPR fans, and Mom has even met Tom Sandoval. I ask her to confirm or deny that he smells bad, a rumor that's been circulating on TikTok since Scandoval broke. She says he smelled normal. "I told him, 'You're my favorite … couple,'" she says. That's the whole scandal in a nutshell, isn't it? Sandoval thought people loved him, but really they loved Ariana and supported her choice to stay with him.
When the reunion begins, the bar cranks the sound system so loudly that the speaker closest to me keeps shorting out. Andy Cohen speaks in an echo, as each TV is timed just slightly off. But the entire bar is immediately locked in. The crowd yells in support of Scheana in her restraining order trailer. They boo Tom Sandoval and Raquel Leviss. Someone yells "Liar!" after the first thing Raquel says.
Certain moments have been replayed in trailers and TikToks so much that they take on Rocky Horror Picture Show levels of audience participation. When Ariana calls Raquel "subhuman," people shout the line along with her. And when the Uber One "Good As Gold" ad comes on, the whole place is awake with song. It's a tent revival during the Great Awakening. We are the ones who are Good As Gold.
Raquel's seeming dissociation during the entire reunion does not go unnoticed. "She's gotta be on beta-blockers," the woman next to me speculates. There's very little compassion for Raquel to be found in the bar or on the screen – even in Lisa Vanderpump, who defended the Toms in previous parts of the reunion. "Welcome, Lisa, where have you been?" the same woman says when Lisa calls out Raquel's conversation with Ariana about her and Sandoval's sex life.
"I mean, Lisa's never going to miss an opportunity to criticize a woman," I retort.
"Okay, good point."
This is that fellowship I was looking for. We hash out what we've just seen during commercial breaks, pausing only to applaud Ariana's Bic razor commercial. (One woman is the first to notice the ad, looking up at the screen as if she had a vision of a saint.) The whole bar is yelling, and clapping back at Sandoval. When Madix finally breaks down and cries, the audience looks at her with the overwhelmed and mournful faces of teen girls swooning at the Beatles. When the show cuts back to Ken Todd's now infamous pot-stirring, the entire bar goes wild.
The people who had been waiting in line are now lined up on the sidewalk, watching the show like that scene in every old superhero movie when people huddle in front of TVs in a department-store window to learn what nonsense the Joker has gotten up to this time. A bartender finally takes pity on the outside crowd and serves drinks to those who are within the outdoor-dining zone on the sidewalk.
By the time we get to the "big twist" in the last five minutes, everyone is exhausted. Everyone except one woman, who is having a personal conversation with Raquel through the TV. She is sitting, but she is heated. "Just say it!" she hollers at Rachel, begging her to tell the truth for once. The last five minutes of the episode consist of Raquel's final talking-head interview — maybe of season ten; maybe ever. She breaks away from Sandoval's coaching and gives what she says is a fully honest timeline of the relationship.
"I knew it!" the woman yells, with the verve of someone moved by the spirit, as she stands up and pumps her fist. "I fucking knew it. Yes!"
The crowd disperses. Some people stay for Lala's appearance on Watch What Happens Live, while others close out of their tabs. People hug good-bye, either to the people they came with or new friends they made along the way. I walk down Sunset Boulevard, still vibrating with the collective energy of the vegan bar turned live theater experience for a night. The big twist promised by producers was neither big nor particularly twisty, but it still felt great to bask in the vindication of my fellow Pumpheads. We all fucking knew it. But doesn't it feel good to be fucking right?