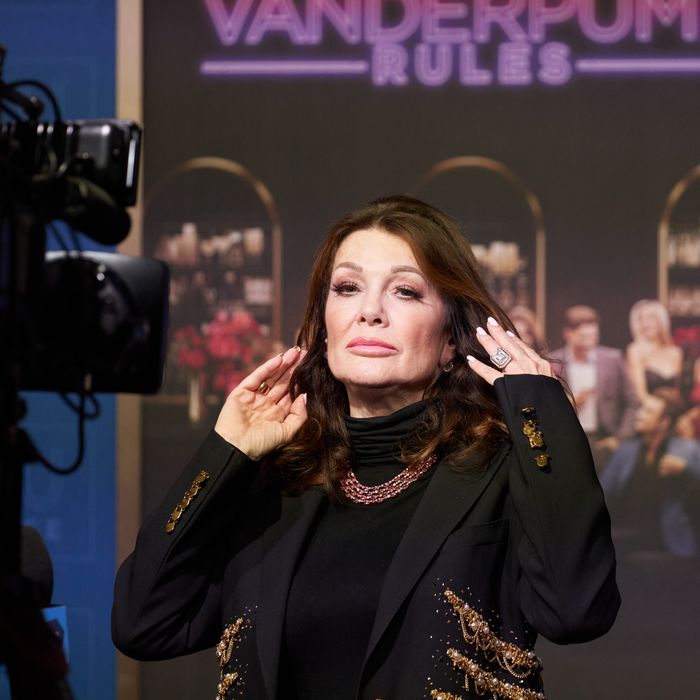 Photo: Allison Dinner/Variety via Getty Images
Trailers for the climactic part three of the Vanderpump Rules season 10 reunion claimed the last five minutes of the episode "will change everything." That tease sent fans across the globe, as well as on TikTok and Reddit, into a weeks-long tizzy. What more information could possibly be left to reveal? What could "change everything" more than the original news of Scandoval breaking? News that OG cast member Tom Sandoval was cheating on his girlfriend of 9 years, Ariana Madix, with "Bambi-eyed bitch" Raquel Leviss already took the show to another level. It was a reality-shifting event — dissolving a friend group overnight, bringing the show record levels of attention, sending VPR cast members to the freaking White House Correspondents' Dinner, and even bringing Kristen Doute back into the Bravo fold. Truly, what could shake the ground of Valley Village harder than Kristen Doute's slides as they came into camera view again?
Normally at this time of year, Vanderpump Rules would be filming their annual Pride episode. But that isn't happening, because behind the scenes it's all happening. In an interview with Variety, VPR producer Alex Baskin said the reunion contained information that not everyone in the cast knew, and that the show needed to pause before renegotiating contracts and resuming filming. "There are revelations, and they are revelations that not all of them know now. So we need a little space." Theories, rumors, and wild conjecture are swirling through SUR like vodka in a Pumptini. What will the big twist be? How will it affect season 11? And whither Jax Taylor? Let's break down all the theories surrounding the future of Vanderpump Rules.
Reddit Suspected a Hot Mic Moment
A lot of the speculation about the nature of this big twist centers on the weirdness of who knows. Allegedly not everyone in the cast knew the revelation, and that they found out with the rest of the world when the reunion dropped. Many suspect someone let something slip in a hot mic moment, à la RHOSLC's Lisa Barlow (or Robert Durst, if you're nasty). "There was that clip earlier in the season where Lala is talking to the cameraman and they explained that both camera people AND sound can hear what the mics picks up, and she was shocked by that," Reddit user fem_bot wrote in the VPR sub. Why else would they put that in?"
We now know that the big twist came not during a hot mic moment, but during Raquel Leviss's last confessional taping. Filmed six days after the reunion taped, Raquel asserted a new relationship timeline for her and Tom Sandoval. But that still leaves in question what people on the sidelines of Scandoval knew before the story broke.
Who Knew What, When?
And where? And how? And why? Fans suspect a lot of people of knowing more about Scandoval than they let on. Tom Schwartz, obviously has been a patsy in this. But to what extent was he being used by Sandoval? On Jax Taylor and Brittany Cartwright's podcast, Schwartz explained that he had very little bandwidth to pay attention to/question Sandoval. On top of his divorce, his father had a brain bleed last year. One of his brothers was undergoing chemotherapy for testicular cancer, and another was in rehab. So he may have just gone with the flow rather than intentionally aided Sandoval in deception.
Folks suspect production (and Lisa Vanderpump specifically) of knowing of a lil' something something, pointing to the now memetic Ken Todd line "I can't believe that Tom Sandoval had Raquel over when Ariana's away," as a sign of a worked shoot. That scene got screentime during part three of the reunion, but not to reveal that it was all producer-driven.
The producers of Vanderpump Rules have a weird relationship with the cast, having worked with them for more than a decade at this point. We can see how that relationship works in the final minutes of the reunion, where a. producer goads Raquel into telling the truth. Still, if production did have an inkling that Raquel and Sandoval were stepping out, wouldn't they feel the documentarian's dilemma of how much to get involved? On the other hand, if cast members felt they were getting snowed by execs, it could definitely give pause before signing up for more seasons. For what it's worth, Lisa has denied knowing anything on Twitter.
Some suspected Scheana of knowing more than she let on, but her performance in part 2 of the reunion mostly put those rumors to bed. That was a girlie whose heart was breaking. But that brings up another rumor, that Raquel and Scheana's husband Brock maybe hooked up.
Raquel: Pregnant? Hooking Up With More Cast Members? Not Returning?
The most salacious rumor to spring forth from the Pump Rules fandom should be one of the more easy to disprove. Is Raquel pregnant? Wait nine months, and there's your answer. Of course, Raquel has been squired away in some sort of mental health facility since mid-April. We do not have eyes on Rachel, and people are filling that void of information with all sorts of ideas.
Another rumor bandied about is that Leviss also hooked up with Scheana's husband, Brock Davies. Scheana told Andy Cohen on WWHL that she did ask Brock about it, but believes his denial. Folks also speculate that Tom Schwartz and Leviss did more than just kiss on-camera in Mexico, something that was confirmed in part three of the reunion. Or that the Sandoval/Leviss fling has been going longer than anyone thought.
Were Sandoval and Leviss a Thing Before Her Breakup With James Kennedy?
This is a very popular theory, that Raquel and Tom were hooking up behind both their partners' backs. Fans speculate that Sandoval and Raquel might have been becoming romantic all the way back in the days of Rachella. They point to Sandoval's seeming lack of shock when James announced the breakup of him and Raquel at the season 9 reunion.
If that was revealed in the reunion, it could definitely have affected James Kennedy's desire to return. Instead, we merely got confirmation that Raquel and Sandoval had been intimate in Mexico, and were seeing each other during filming.
But even if none of the more scandalous Scandoval theories turn out to be true, it's hard to figure out what the future of Vanderpump Rules will be.
SUR Spinoff Showcase
Some fans think the reunion's big twist centers on a major change in the production of the show. The closure of Pump has some wondering whether SUR is next. The SUR alley was closed off with construction stuff during WeHo Pride this weekend, furthering speculation. Lisa Vanderpump has been expanding her Las Vegas properties throughout Caesars-held casinos like Paris and Caesars Palace, which made some fans think the show could move to Las Vegas. Is that what Oliver Saunders (Garcelle's son who hooked up with Raquel) was doing at Vanderpump à Paris this season? Other fans think the show's focus will move to Tom Tom and Schwartz & Sandy's, which would be a problem for anyone who refuses to film with the titular Schwartz and Sandy. Could the show be split into dueling programs, one about the boys and another with a little Something About Her?
Lastly, people suspect some former cast mates might make a return to the show. Jax Taylor has been teasing some big reveal in the offing. Will he try to reclaim Number One Guy in the Group status? Kristen Doute already returned for one scene in the season 10 finale. Could she be back as a "friend of," like Kristina Kelly? As Jax once said, we'll just have to "stay tuned" to find out.
This post has been updated.