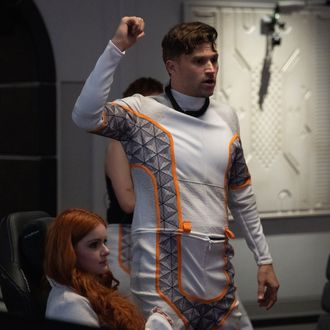 The best reality TV brings a feeling I can only describe as "brain-smoothing." When Scheana Shay explains that she couldn't possibly make a fist because of her acrylic nails, I feel my brain getting the wrinkles ironed out of it. No more worries, no more thoughts, just spectacle. Since Scandoval broke, the best brain-smoothing on TV has been Vanderpump Rules. Frankly, that show has been leading the world in thought-obliterating technology since 2013, but this season really elevated the art. And with season ten coming to its dramatic conclusion on June 7, many are feeling separation anxiety. It was all we could talk about, and now it's gone. What will smooth our brains now? Enter Stars on Mars.
Stars on Mars can best be described as "Battle of the Network Stars … in space!" Or that postapocalyptic "reality" show The Colony, but with Tinashe. Twelve celebs isolate on "Mars" (Australia) and simulate running a space colony there. Led by William Shatner (whom Ariel Winter calls "Shaddy Daddy" in the first ep) and a snarky Hal-like AI, the stars endure the hardships of life on the final frontier. They have a bio-dome with mini olive trees, a fully equipped gym to keep themselves fit in the Martian microgravity, and a kitchen with no air fryer. Most importantly, they have each other. And even more importantly for us Vanderpump addicts, they have Tom Schwartz.
In the first episode of Stars on Mars, Schwartz says he went on the show in part to get away from the "reality" of his life. This is really his first time trying a public brand without Tom Sandoval, and he's kinda doing it! He explains VPR to Christopher Mintz-Plasse, of Superbad fame. "Our show is actually kind of a derivative of the Housewives," he says. "It's like people work and have sex with each other." He vows not to call him McLovin' because he assumes that must be really annoying to live with for more than a decade. And he doesn't crumble under the pressure of their first challenge. This is not the Tom Schwartz that had a panic attack about bartending at Pump. This is a Tom Schwartz that has either (a) grown or (b) lost the ability to feel anything, including anxiety. Either way, he makes Tallulah Willis proud. New episodes of Stars on Mars premiere Mondays on Fox, with next-day streaming on Hulu.