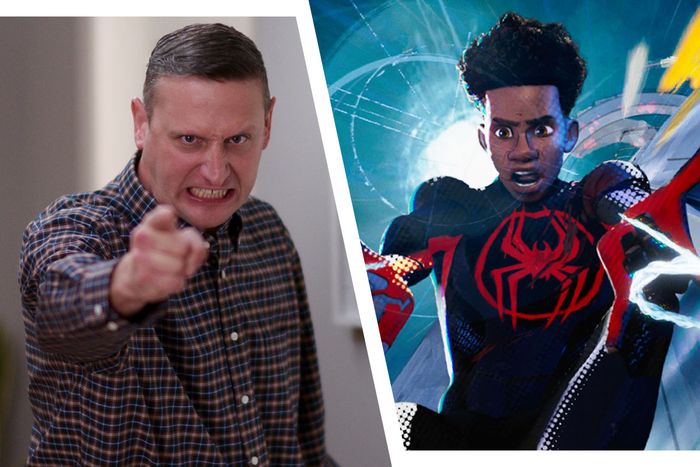 I Think You Should Leave
;
Spider-Man: Across the Spider-Verse.
Photo-Illustration: Vulture. Photos: Netflix; Sony
School's (most likely) out, the sun is peeking through, and big blockbusters are rolling in. It's summer, baby! And to celebrate, Sony Pictures Animation has a sequel to Into the Spider-Verse that's absolutely dazzling and even bigger than you could've expected. Then there's a whole franchise of adventures to be excavated on Disney+, a whole new season of I Think You Should Leave, and um, he's (Sam Levinson's The Idol) there (on Max). Say hello to the best movies and TV out this weekend. —Savannah Salazar
Featured Presentations
.

Spider-Man: Across the Spider-Verse
Is the first Spider-Verse the best superhero movie of the past decade? Absolutely. Is it the best animated movie of the past decade? Probably! Is it one of the best movies of the past decade? More and more are saying it! The sequel — which by all accounts is very much a "part one of two," so don't expect a tidy ending — builds on the visually stunning and emotionally deft Spidey tale, bringing back Miles Morales, Spider-Gwen, and Instant Dad Icon Peter B. Parker, pitting them against Jason Schwartzman's villain, the Spot. —James Grebey
➽ I cannot believe that the same company that makes Spider-Verse movies also made Morbius.
.

I Think You Should Leave season three
Grill some sloppy steaks, don your best Dan Flashes shirt, and long on to calicocutpants.com, because it's time again for Tim Robinson's wildly funny sketch-comedy series. You gotta watch — and you gotta give. —Jen Chaney 
.

Reality
A hauntingly sparse telling of intelligence leaker Reality Winner's interrogation by the FBI, featuring a tremendous performance by Sydney Sweeney. The film, an adaptation of the stage play This Is a Room, is essentially a verbatim reading of the actual interrogation transcript, and it doesn't need much adornment to make Winner's gradual realization that her idealism was woefully misguided feel like a punch in the gut. —J.G.
.

Sanctuary
Margaret Qualley and Christopher Abbott star in this deliciously dark thriller/comedy about a guy trying to end things with his secret dominatrix, Rebecca. The night quickly devolves into a tricky game of cat-and-mouse as the two vie for control, power, and love. Sanctuary could probably be a good, twisted double feature with Before Sunrise. —S.S. 
.

The Boogeyman
They found another Stephen King story to adapt (it's not hard, he's written a gazillion of 'em). The Boogeyman, starring Yellowjackets' Sophie Thatcher and the great Chris Messina, looks fittingly eerie. As long as we're not talking about, like, The Dark Tower, it's pretty hard to say no to a solid Stephen King adaptation. —J.G.
➽ When will they make an adaptation of King's best short story, "The Jaunt"? (It's a short story but real fans know it's "longer than you think"!)
She Looks Absolutely Beautiful …
Criterion's "Starring Marilyn Monroe" Collection
Some like to go outside in the summer, some like to stay in and watch movies, and Some Like It Hot. Why not kick off your summer with a Marilyn Monroe marathon? From The Seven Year Itch, to Gentlemen Prefer Blondes and All About Eve (no Blonde, thank God), there's plenty of Marilyn's brilliance to see on the Criterion Channel. —S.S.
… and He's There
The Idol
The latest offering from Euphoria creator Sam Levinson — starring Lily-Rose Depp as a pop star and the Weeknd as her sleazy Svengali — went "wildly, disgustingly off the rails" during production, according to Rolling Stone. Now, we'll finally get to judge for ourselves. —J.C.
Quintuple Feature
Your Indiana Jones 5 Syllabus
My mom brought me up on Steven Spielberg, so when I was a kid we had the triple-feature Indiana Jones box set — a collection that now resides in Mom's garage because VHS is useless and because my dog did pee on it a little (long story). In the streaming age, the series has been rolled on and off Paramount+, though it's made its latest home at the House of Mouse. The four Indy movies* and The Young Indiana Jones Chronicles are finally on Disney+ ahead of Harrison Ford's last romp as the hot adventuring professor with a phobia of snakes in The Dial of Destiny. —S.S.
➽ *Including Temple of Doom, feat. future Oscar winner Short Round.
Coming Soon
The Righteous Gemstones season three
Succession's not actually over, y'all. —J.G.
Web Ephemera
Hot Ones Burns Elaine
The You Hurt My Feelings star is not having, let's say, a "great" time eating super spicy wings on Hot Ones, but Julia Louis-Dreyfus is nothing if not a pro. —J.G.
Autocomplete Grills Luke
Come for Mark Hamill's Star Wars memories of confusing George Lucas for Brian De Palma's assistant, stay for the delightful middle portion of the interview, around six minutes in, where he talks about all of his animated voice roles that are not the Joker. —Eric Vilas-Boas
This Week on TikTok
Kendall Roy x Taylor Swift Eras Tour, a sick It's Always Sunny in Philadelphia fanzine, and give us one margarita.
Want more? Read our recommendations from the weekend of May 26.