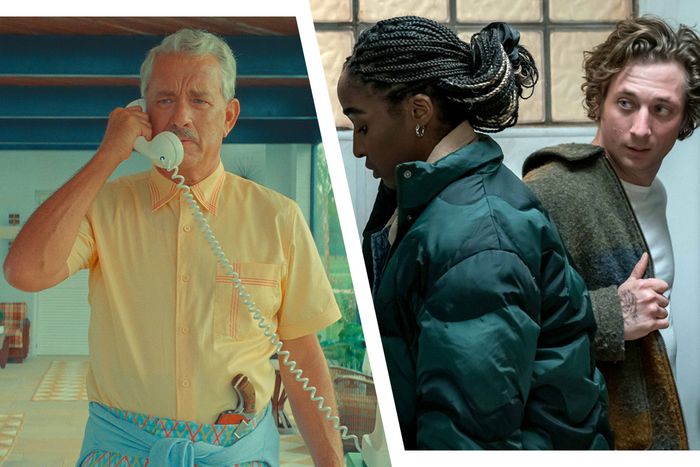 Asteroid City; The Bear.
Photo-Illustration: Vulture. Photos: Focus Features; FX
This week's theme is hot. The dry-heat aesthetic dominates Asteroid City, the hotties of The Bear are back, and Paul Mescal's Gladiator 2 training video has burned its way into our brains as we binge our TV shows and flee to air-conditioned movie theaters. We're also getting a Boots Riley series with 13 feet of Jharrel Jerome. What a way to spend a sweltering weekend. —Savannah Salazar
Featured Presentations
.

Asteroid City
Freight train, freight train … Asteroid City is finally arriving in theaters nationwide. Jason Schwartzman stars as a grieving widower who finds himself and his four kids in the titular city during a stargazing conference amongst a large cast of characters from Wes Anderson vets like Tilda Swinton, Jeff Goldblum, and Jeffrey Wright to newbies like Tom Hanks and Margot Robbie. With great reviews out of Cannes, Asteroid City is shaping up to be a terrific return from Anderson. —S.S. 
.

The Bear season two
The series that made "Yes, chef" last summer's catchphrase returns for a second season in which Carmy (Jeremy Allen White) and his colleagues try to launch a more upscale restaurant after closing his family's beef joint. Expect to feel more stress owing to tense moments in the kitchen, hunger brought on by all those close-ups of delicious food, and intense thirst caused by White's entire vibe. —Jen Chaney
➽ Twitter is already thirsting over Will Poulter's hot baker. Thank God for this show.
.

No Hard Feelings
Jennifer Lawrence in a raunchy comedy just feels right. In No Hard Feelings, she plays a down-on-her-luck woman who answers a parents' ad asking for someone to date their socially awkward 19-year old son (Andrew Feldman). Perfect premise for shit to hit the fan. —S.S.
.

And Just Like That … season two
I couldn't help but wonder if watching another season of the manic Sex and the City reboot(?) sequel(?) series would be worth it? But it is, actually. One cannot get enough of these ladies and their new and old companions. (Hello, Aidan! And … Samantha?) And Just Like That … is messy, but damn, it's nice to have around. —S.S.
.

I'm a Virgo 
Rapper, writer, and director Boots Riley showed a fantastical flair in his debut feature, Sorry to Bother You, and he leans all the way in for this dark comedy. Jharrel Jerome stars as a 13-foot-tall young Black man coming of age in Oakland who becomes a public figure fetishized and fought over by artists, tech giants, and political activists. Riley's strong grasp of the absurd coupled with his incisive view of leftist politics could make I'm a Virgo the most offbeat series of the summer. —Roxana Hadadi
Genre Corner
Secret Invasion 
Created by Kyle Bradstreet (of Mr. Robot), Marvel's first series of the year Secret Invasion follows Nick Fury (Samuel L. Jackson) and Talos (Ben Mendelsohn) as they investigate an impending threat as a faction of Skrulls (led by Kingsley Ben-Adir) infiltrate Earth. That's a lot of Marvel jargon, sure, but it's shaping up to be a spy thriller where you don't know exactly who you can trust. Plus, the cast is pretty phenomenal. Joining Jackson, Mendelsohn and Ben-Adir are Olivia Colman, Cobie Smulders, and Emilia Clarke. Hopefully this doesn't let them (or us) down. —S.S. 
➽ The first episode was actually pretty promising, despite the whole AI intro. (Sigh.)
Reality Bites
Downey's Dream Cars
Does Jeremy Renner know this show exists? We do know the OG Avengers have a group chat. Someone put Robert Downey, Jr. in the same support group Renner's friends want him to join, because both actors have an expensive car-buying problem — or maybe that's just how rich people are. Call us when the Downey's Dream Cars/Rennervations MCU-style crossover happens, so the duo can make ecofriendly buses for non-profit organizations. That does not sound like a real sentence. —S.S. 
Make It a Double Feature
My Big Fat Greek Wedding
Between And Just Like That …, XO Kitty, and a third My Big Fat Greek Wedding movie, it's the year of John Corbett. Sure, there's a dozen Sex and the City episodes where you can see Corbett and Sarah Jessica Parker flirt, fall in love, awkwardly break up, and repeat, but the original My Big Fat Greek Wedding is a good ol' classic feature-length romcom worth revisiting. Nia Vardalos and Corbett play Toula and Ian, a couple are trying to navigate their relationship through Toula's Greek family's expectations. —S.S.
Coming Soon
Challengers
Bless director Luca Guadagnino for consistently making our hottest young stars even hotter. —S.S.
➽ Plus, a new Coen brother movie and Aaron Taylor-Johnson bites a guy's … ear? eye? … off in the Kraven the Hunter trailer.
Web Ephemera
James Cameron on the Titan
The week has been consumed by talk of the Titan submersible, the doomed OceanGate Expeditions tour of the Titanic. Few people on Earth have as much intimate knowledge of submersibles and the Titanic as James Cameron, who explains what went wrong here with maritime archaeologist Bob Ballard. —S.S.
Jennifer Lawrence Tests Her Heat Tolerance
J.Law sobbing over hot wings is me sobbing over literally anything. —S.S.
Paul Mescal Training for Gladiator 2
Let's take a minute to bask in this. —S.S.
The Barbie Dreamhouse Tour
This video is worth watching a million times. All the details in Barbie's Dreamhouse are sending this Libra into orbit. —S.S.
This Week on TikTok
We met Yogi the million dollar cat and Harry's house of minions. —S.S.
Want more? Read our recommendations from the weekend of June 16.