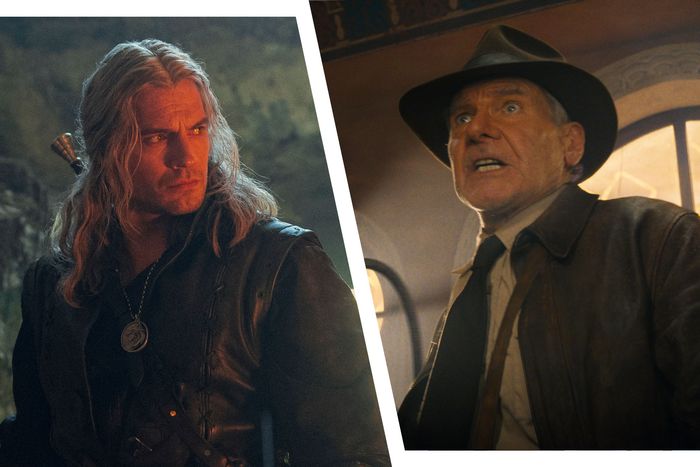 Good night, sweet princes.
Photo-Illustration: Vulture. Photos: Netflix; Lucasfilm
Getting to the end of this week has felt like outrunning a giant boulder, Indiana Jones style, so it's fitting that there's a new Indiana Jones movie waiting for us this weekend. (Sorry to any readers who got impaled, Alfred Molina style, before Friday rolled around.) But Indy's not the only new movie or show we're jonesin' for this weekend. We've finally got the release of a much-anticipated animated movie that seemed like it would never happen, a new batch of roses to hand out on The Bachelorette, and the last go-around of the role Henry Cavill's leaving after this season so he can play Superman agai— [Finger to earpiece.] Say what now? What's a "corn sweet?" —James Grebey
Featured Presentations
.

Indiana Jones and the Dial of Destiny
Harrison Ford returns in his second-most-iconic role with James Mangold taking over directing duties from Steven Spielberg. Perhaps to compensate for the star's age, this one has less swinging from trees and more car–truck–tuk-tuk horse–train chases. Maybe not as imaginative as earlier entries, but it's too entertaining to dismiss. —Bilge Ebiri
➽ If you're wondering what happened to Mutt, Dial of Destiny has an answer for you.
.

The Witcher season three
The countdown to the end of Henry Cavill's time on the Game of Thrones prequel begins. The actor leaves the series, and the role of Geralt of Rivia, at this season's end. (Maybe he got tired of the silvery wig and yellow contact lenses? Neither seems particularly comfortable!) The five episodes that comprise this "part one" continue to adapt elements of Andrzej Sapkowski's novel Time of Contempt with war on the horizon. —Roxana Hadadi
➽ Toss a coin to poor Henry Cavill.
.

Nimona
The behind-the-scenes journey of Nimona almost rivals that of the movie's titular shape-shifting heroine. Based on an acclaimed all-ages graphic novel by ND Stevenson, the movie was originally supposed to be from the studio behind Ice Age, but when Disney acquired them in the Fox merger they got cold feet and dumped it, in part because of the story's strong LGBTQ+ themes. Annapurna Pictures saved the day, though, and now we can finally watch one of the year's best animated movies on Netflix. It follows Nimona (voiced by Chloë Grace Moretz) as she attempts to exonerate a knight who has been accused of a horrible crime in a techno-medieval society. —J.G.
.

Warrior
Although my beloved Steven Soderbergh series The Knick is no more, another acclaimed series that originally streamed on Cinemax has survived. Season three of Warrior, a martial-arts crime drama set in San Francisco's Chinatown in the 1870s that's based on an original idea from the late great Bruce Lee, kicks its way onto Max this weekend. —J.G.
.

Hijack
Last year, Idris Elba fought a lion in the creature feature Beast. This year, in a new thriller series, he's taking the action to the sky, where he's a passenger aboard a plane that gets hijacked for unknown reasons. It's up to Elba to fight back and make sure the 200 passengers all get to their final destination safely. My last flight didn't get hijacked, but we were delayed by two hours and then had to spend another two hours just sitting on the tarmac waiting for our gate to open once we landed eight hours later, so I get what he's going through. —J.G.
Reality Bites
The Bachelorette season 20
If we're being real, shows like Love Is Blind probably eat The Bachelor series for breakfast by now for some, but for how long the latter has been on air, it's still hard to quit it. In its 20th(!) season, The Bachelorette is now Charity, a woman from Zach's season of The Bachelor (that title's 27th season, lord). By all reports from our recapper Emily Palmer Heller, she's "GOOD AT THIS," so maybe now more than ever is the time to jump back into the old school reality show. —S.S.
Grand (Animated) Finales
Mobile Suit Gundam: The Witch From Mercury 
My beloved Suletta Sundays are coming to an end. This week wraps up The Witch From Mercury, the latest installment in the long-running Mobile Suit Gundam anime franchise. At its best, Witch offered up post-human body horror, a blossoming queer relationship between its leads Suletta and Miorine, and staged deliriously paced giant robot fight sequences. Hopefully this week's finale gives us closure, because it may be the last great Gundam show we get for a while. —Eric Vilas-Boas
➽ Another animation closer this week: Genndy Tartakovsky's visionary, action-packed Unicorn: Warriors Eternal takes its season-one bow.
By Popular (on) Demand
Are You There God? It's Me, Margaret
Rachel McAdams's Barbara is actually the coolest of moms in this year's already grossly underrated Are You There God? It's Me, Margaret. Adapted from Judy Blume's beloved novel of the same name, director Kelly Fremon Craig beautifully translates Margaret's transition to her pre-tweens with hilarity, awkwardness, and a big heart. It's one of the sweetest comedies of the year with great turns from Kathy Bates, Abby Ryder Fortson, and Benny Safdie. —S.S.
Destroy Watch All Monsters
Godzilla (and Much More) on Pluto
Pluto, which already ruled, rules even harder now because they've launched a channel that plays nothing but Godzilla movies and TV shows (and, yeah, three Mothra movie spinoffs) 24/7. In addition to just being a great thing to throw on whenever you've got streaming paralysis, Pluto's new offerings also make some previously hard-to-watch Godzilla films available. The movies from the '50s through '70s got a swanky Criterion Collection set and are on Max, but Pluto's making some '90s Godzilla movies that have been basically impossible to watch in the US for decades — like Godzilla vs. King Ghidorah and Godzilla vs. Biollante — viewable once more. This is the greatest thing that's ever happened to me. —J.G.
➽ King Kong found dead in a ditch. (But not on Pluto, as neither the Monsterverse movies nor, oddly, the '60s King Kong vs. Godzilla are part of the otherwise kaiju-size lineup.)
Make It a Double Feature
Solo: A Star Wars Story
Alden Ehrenreich's Han Solo is good! And so is Solo! Sure, it's not great, but it's more fun than you would've expected, and it's definitely way better than The Rise of Skywalker (RIP). Opposite of Ehrenreich's Han Solo is Phoebe Waller-Bridge, who plays a feminist droid who basically becomes the Millennium Falcon, so it's perfect for before or after you watch Indiana Jones and the Dial of Destiny, a movie where Harrison Ford (also Han Solo) plays opposite of Phoebe Waller-Bridge — not a droid in that one though. —S.S.
Web Ephemera
Tom Cruise, Broken But Undeterred
It rules to see Tom Cruise yeet himself off a cliff on a motorcycle, defying death for our entertainment. It's also very funny so see a decent-looking edit of those same stunts where he eats shit instead. I'm a simple man. —J.G.
These Barbies Can Make Their Own Barbies
It's ten glorious minutes of Kate McKinnon stealing the show from the other Barbies. Issa Rae and Hari Nef have some great Barbie ideas — like a superhero named Period and a noir glam Met Gala look from Nef — but then McKinnon whips out Sandwich Girl, a Barbie who walks around in an oversized trench coat with bags full of sandwiches, and the laughter just doesn't stop. —S.S.
This Week on TikTok
The people want a second season of Severance (and a fair contract), it's time to figure out your Barbie-Oppenheimer double-feature order, and the Nemo Submarine ride at Disneyland hits different now.
Want more? Read our recommendations from the weekend of June 23.