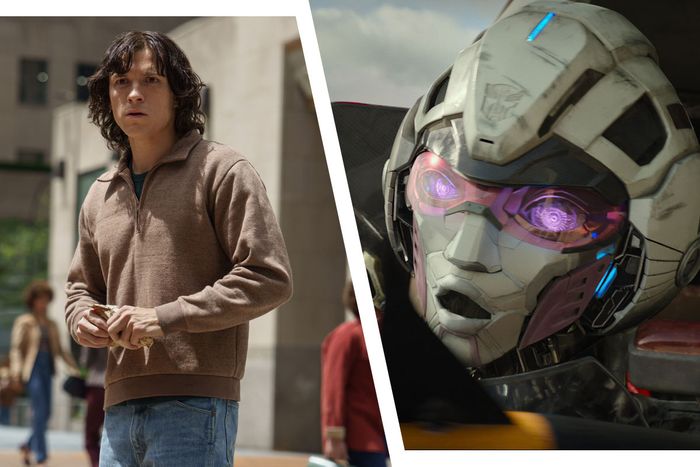 The Crowded Room
;
Transformers: Rise of the Beasts
.
Photo-Illustration: Vulture. Photos: Apple TV+; Paramount Pictures
Wipe that Cheeto dust off your hands and get ready, because the beasts are rising and the room's getting crowded. There's a surprisingly full slate of new movie and TV premieres this weekend, and Sunday's also the one night of year when ~the theater~ graces our metaphorical stage. We've got a special effects–driven blockbuster, another attempt for Spider-Man to have a hit in something where he's not playing Spider-Man, a record-breaking sitcom, one of the best movies of the year, and Real Housewives. We also have Avatar: The Way of Water making its third appearance in this column now that it's streaming. Big Jim's power. —James Grebey
Featured Presentations
.

The Crowded Room
Tom Holland's youthful face has been a contradictory boon as the actor has tiptoed into more mature roles. He stars in this miniseries as the suspect in a series of disappearances, set in New York City in 1979. The push-pull dynamic between Holland and Amanda Seyfried's investigator reveals the story by twists and turns. —Roxana Hadadi
.

Transformers: Rise of the Beasts
Hot on the heels of Dungeons & Dragons: Honor Among Thieves, the Hasbro Cinematic Universe continues to expand as the seventh Transformers movie rolls out into theaters. This one is based on the Beast Wars storyline ('90s kids remember) and it features a robot who is also a gorilla. —J.G.
➽ It also features a car who is Pete Davidson.
.

The 76th Annual Tony Awards
The show will go on! (With the forbearance of the striking Writers Guild, anyway.) The best of Broadway, including shows like Sweeney Todd, Kimberly Akimbo, Leopoldstadt, and Shucked will compete at the Tonys, which you can watch at home without having to venture anywhere near Times Square. —J.G.
.

It's Always Sunny in Philadelphia season 16
It's pretty wild that you can read something like "It's Always Sunny in Philadelphia season 16" and go "oh, yeah, huh," because it's actually wild that this show has been on for 16 years, setting a record as the longest-running live-action American sitcom of all time. Despite having been busy inventing BlackBerries and co-owning a soccer team with Deadpool, the whole Paddy's Pub gang is back together and they're as mean-spirited and hilarious as ever. —J.G.
➽ Oh, speaking of, BlackBerry is available on VOD.
.

Past Lives
Finally rolling out to wider audiences, director Celine Song brings this lush romantic drama to the big screen. Greta Lee stars as Nora, a woman whose family emigrated from South Korea when she was young. Years later, Nora rekindles her connection with her childhood best friend (Teo Yoo) for a week, which leads the two to muse about life, destiny, and what could've been. —Savannah Salazar
.

Based on a True Story
Kaley Cuoco and Chris Messina star as Ava and Nathan, a couple who start a true-crime podcast about the murderer in their neighborhood. How very Only Murders in the Building of them! Do we need another show about true-crime obsessives? Who knows, but with a cast including Cuoco, Messina, Tom Bateman, Natalia Dyer, and Li Jun Li, it might be worth a look. —S.S.
.

Flamin' Hot
Eva Longoria sits in the director's chair for the latest corporate-exec flick of the year. The Hulu (and Disney+) original Flamin' Hot depicts the (kinda-not-true) story of Frito-Lay janitor Richard Montanez (Jesse Garcia), who created the coveted high-school snack, the Flamin' Hot Cheeto. While the facts it's based on are questionable, Flamin' Hot has opened to solid reviews. —S.S.
➽ I'm more of a Hot Fries girlie.
Grand Finales
Never Have I Ever season four
Time to say good-bye to Devi, the self-absorbed lovestruck teen co-created by Mindy Kaling. (And in case that sounds too harsh: Who wasn't a tad self-absorbed in high school?) After three seasons, Never Have I Ever is closing out the series with Devi and her friends' senior year as she figures out college, her friendships, and that pesky will-they-won't-they thread between her and Ben — seeing as Paxton is college-age now, we can assume he's out of the running. —S.S.
Reality Bites
The Real Housewives of Orange County season 17
Season 16 of RHOC sucked. (That's my OPINION!!!!) Returning 'wife Heather "Fancy Pants" Dubrow seemed more concerned with promoting her family's other shows than in generating any interesting drama, and newbie Noella Bergener was too confusing to be compelling. But I'm holding out hope for a return to form in the latest season of the OG Real Housewives franchise, what with "pint-sized, baptized, and highly prized" Tamra Judge returning and Real Housewives of Beverly Hills alumna Taylor Armstrong switching parties, heading to the OC as a friend-of. Both ladies had strong showings on Ultimate Girls Trip and I'm excited to see them back in full form. (Tamra's tether, Vicki Gunvalson, is also returning as a friend-of. I'm … less excited about that.) —Emily Palmer Heller
TV Graveyard
I Love That for You
Vanessa Bayer's fun little comedy got the ax from Showtime a year after its first season premiered. Bayer starred as a woman who chases her dreams of being a home-shopping channel host by accidentally lying about her past leukemia diagnosis returning. With a supporting cast of Molly Shannon, Jenifer Lewis, and Matt Rogers, I Love That for You will be missed. At least it's being shopped around (pun unintended). —S.S.
Make It a Double Feature
The Dropout
Amanda Seyfried stars in The Crowded Room. Flamin' Hot is a dramatization about a bold new invention, except the "true story" behind the film might actually be a lie. The Dropout, Hulu's take on the recently jailed Elizabeth Holmes and the rise and fall of Theranos, stars Seyfried and is about a true story of a big lie. —J.G.
Let's Rehydrate
Avatar: The Way of Water
I made a joke in March about how the VOD release of Avatar: The Way of Water was a great way to see how your "home theater" compares to viewing the film in an IMAX theater with laser 3-D projection. Well, now the movie is streaming on Disney+ and Max, and the joke is still relevant so I'm just gonna make it again. Reduce, reuse, recycle — James Cameron would've wanted it this way. —J.G.
Coming Soon
Poor Things
We've got Emma Stone dancing around, slapping Mark Ruffalo and Ramy Youssef, and running around a ship with vibrant skies in Yorgos Lanthimos's latest — out in September. —S.S.
Web Ephemera
Lil Nas X on The Eric Andre Show
I've never seen Lil Nas X this speechless to be honest. —S.S.
Diego Luna and Hayden Christensen's "Actors on Actors" Interview
The boyfriends come together to talk Star Wars. —S.S.
This Week on TikTok
Is that Shakira or Sonic? And a nepo baby must answer for her father's mistakes.
Want more? Read our recommendations from the weekend of June 2.