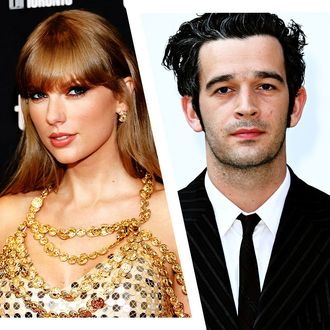 Just a few weeks ago, Taylor Swift seemed to be shimmering with joy about her relationship with Matty Healy. "She's happier than she's been in a long time," one insider told Us Weekly. Friends of Healy and Swift were texting a New Yorker writer who profiled Healy to say, off the record, that "this time, it's real." U.K. tabloids were reporting that the 1975 singer was collaborating with Swift, even moving to New York to be closer to her. And Swift herself told a crowd on May 20, "I've just never been this happy in my life, in all aspects of my life, ever before," adding that "it's not just the tour." Just weeks later, Swift and Healy's relationship is over, lasting just slightly longer than their first 2014 fling. So how did things go from sparks flying to their last kiss so quickly? Let's hear from the sources.
Shortly after TMZ first reported the breakup, without a reason, a source had more for Entertainment Tonight. "They are both extremely busy and realized they're not really compatible with each other," they said. That checks out — Healy had been off the road when their relationship went public, but the 1975 recently kicked off a marathon European tour set to last through July, leaving little time for their rendezvous between Swift's own Eras Tour dates.
But immediately, Swift's split looked and sounded like a bit of image rehabilitation given the multiple controversies following Healy. As more insider comments poured in post-split, a narrative seemed to form that their relationship was just a low-key rebound all along. "It was always casual," a source told People. "It was never serious," another told Us. And in an instantly memed quote, another insider told People, "They were never boyfriend-girlfriend or exclusive." If you read between the lines of the reporting during their relationship, though, this doesn't seem too far off. That source who told Us how much "happier" Swift was with Healy did go on to add, "It's hard to tell if they'll go the distance." And another seemed to tell People that Healy was just Swift's sidepiece while she was away from her main squeeze, the Eras Tour itself. "She's very focused on her tour but is enjoying hanging out with Matty when she is off," they said.
Sure, not all the insiders saw things that way. The source who initially confirmed their relationship to the The Sun said Swift and Healy were "madly in love" at the time. (Maybe they even said as much themselves.) Another had told Us that the couple was "moving fast," adding, "They really enjoy each other's company and want to spend as much time together as possible." And even we saw the public kissing, cuddling, and late nights at Swift's apartment.
Nearly every source who confirmed Swift's breakup added that she was just having "fun" with Healy. "She wasn't ready for another serious relationship just yet," a source told Us, after her previous split from six-year boyfriend Joe Alwyn. Crucially, that source added that her friends weren't surprised by the split, echoing a detail from that initial ET report. "Taylor's friends want what's best for her and aren't shocked that their relationship fizzled out," the ET source said.
So, the classic case of friends supporting a relationship in the moment even though they can already see the end. Take it from a "Page Six" source: "Everyone who really knows her has been saying all along that this was a fun, good-time thing that would last as long as it lasted and would be no big deal once it was done." That insider went on to call the relationship "a summertime thing," comparing it to her 2016 fling with Tom Hiddleston and assuring fans Swift "will not be writing albums about this one." "Jesus Christ," that source added, seemingly exasperated with the speculation. Swift "can't have a good time with anyone without the press marrying her off to them," they continued. "Then when she moves on, they have to basically have her file for divorce." To this unusually chatty and surprisingly profound insider, this wasn't even a proper breakup. "It's a natural evolution of a fun little thing whose moment is over," they said.
Or, at least, whose moment is over for now. As one of People's sources added after the split, "Who knows what could happen again."