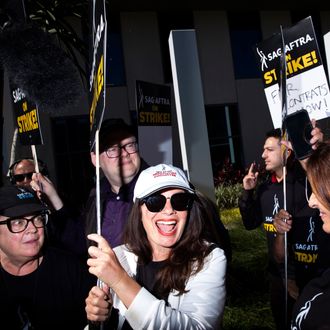 Photo: Jenna Schoenefeld/The New York Times/Redux
Welcome to Vulture's Strike Recap, or Strike-cap, if you will, a regular rundown of all the biggest news from the WGA picket lines.
We've got a double strike, people! Writers, actors, multi-hyphenates, and looky-loos alike were posted up late at night on Twitter July 12 into the early morning hours of the 13th, waiting to see if SAG-AFTRA would join WGA in striking against the AMPTP. And what a time it was to be alive and on Twitter dot com! "I havent refreshed twitter this feverishly since trump had covid," wrote Film Crit Hulk. Abbott Elementary's Sheryl Lee Ralph tweeted that the contract had expired, and since she's on the negotiating committee, many took it as tacit confirmation that a strike was on. Still others refreshed SAG-AFTRA's profile page until their thumbs bled.
In the days leading up to July 12, SAG strike captains got training on maintaining a picket from their WGA siblings. Picket signs were printed, and everyone girded their loins for an even more total shutdown of the entertainment industry. No SAG means no actor interviews and no Chicken Shop Dates. But it also means you'd have a good chance of running into a celeb on the picket line.
Then the moment of truth: Fran Drescher and Duncan Crabtree-Ireland held a press conference on July 13 officially announcing the strike and venting some of their frustrations with the AMPTP. Okay, a lot of their frustrations. "I cannot believe it, quite frankly, how far apart we are on so many things — how they plead poverty, that they're losing money left and right, while giving hundreds of millions of dollars to their CEOs. It is disgusting. Shame on them. They stand on the wrong side of history at this very moment," Drescher said with her whole Queens-born chest.
And the first day of the strike was star-studded! Vulture spoke with Rosario Dawson, Jon Daly, and Brian Huskey (and Grey's Anatomy star/Vulture Fest alum Adelaide Kane's mom) on the picket line. Meanwhile, Sean Gunn spoke eloquently on the broken revenue model of streaming, only for his remarks to get deleted by The Hollywood Reporter.
What's Up With Comic-Con?
The eternal promo confabulation known as San Diego Comic-Con is upon us, and writers don't know how to act. Not like how Keke Palmer's boyfriend didn't know how to act — more like they don't know what they can and can't do while at Comic-Con. Can they talk about their upcoming show? The strike? Can they eat a free sponcon falafel if it comes courtesy of a struck company? But now with SAG also striking, it's looking like Comic-Con might have to be about — gasp! — comic books again. Panels for Abbott Elementary, Dune: Part Two, and the 25th anniversary of That '70s Show were all canceled after the double strike announcement.
It seems probable that any studios that continue with their Comic-Con plans will involve celebrity-less pageantry like the bizarre Haunted Mansion premiere, where fictional Disney characters (portrayed by non-SAG actors) walked the red carpet instead of the movie's stars.
Ridiculousness Has Entered the Chat
The writers of Ridiculousness (a.k.a. the only show that MTV airs) have begun the process of unionizing. The next step is an election. This is potentially huge for all the unscripted content being put on by networks and streamers alike including reality, game shows, edutainment, and other fact-based comedy shows.
Who Brought Food?
Spike Jonze brought Shake Shack! Barbara Friend brought coffee! German beerhall the Red Lion gave a WGA discount in Los Angeles. And Drew Carey continues to Drew Carey.
PSA: July 9 Was Day 69 of the Strike
Nice. Normally picketers get Sunday off, but there just so happened to be a Barbie premiere that night, so Day 69 was observed in full.
Whither Content Creators?
TikTokers, influencers, and YouTubers are trying to figure out what does and does not constitute crossing a picket line or scabbing. Some have made the decision to step away from making anything about movies or TV, while others don't see what the big deal is. Look for this debate to take over TikTok and Twitter for the considerable future.
The Strike Main Character Award (Bad)
People were not stoked to see Bob Iger comment that the writers' demands were "not realistic" from the billionaire summer camp of Sun Valley after securing an extension on his Disney CEO contract that gave him a fat raise. According to CNBC, Iger's salary (with bonuses) could be 1,424 times that of the median Disney employee. Abigail Disney called Iger's compensation "insane," and many writers and actors agreed that the optics were pretty dire for the Disney CEO.
"I found them terribly repugnant and out of touch. Positively tone deaf," Fran Drescher said at the WB picket on Friday. "If I were that company, I would lock him behind doors and never let him talk to anybody about this, because it's so obvious that he has no clue as to what is really happening on the ground with hard-working people that don't make anywhere near the salary he is making. High seven figures, eight figures, this is crazy money that they make, and they don't care if they're land barons of a medieval time."
Incidentally, the Medieval Times in Buena Park (scant miles away from Disneyland) is now on strike. And just like the striking Disney animators of 1941, they brought a guillotine.
The Strike Main Character Award (Worse)
The anonymous producers who told Deadline the AMPTP's plan is to let writers become unhoused definitely take the cake. In the words of Waylon Smithers, they "crossed that line between everyday villainy and cartoonish supervillainy." A source said that "the endgame is to allow things to drag on until union members start losing their apartments and losing their houses," and another called the strategy "a cruel but necessary evil." It got so bad that the AMPTP made an official statement denouncing them.
What the anonymous producers fail to realize is that many writers are already broke, and that is why they are striking. "You did this to yourself," tweeted Jon Gabrus. "We all had to get podcasts, live shows, selling t-shirts, etsy stores, bartending gigs, temp jobs, real estate licenses, baked goods deliveries, selling shrooms, personal training, dog walking, house sitting, pottery, zines, just to stay alive."
The Strike Main Character Award (Good)
Ron Perlman is going to burn a studio exec's house down! JK, this is hyperbole for comedic effect. But Perlman's reaction to the anonymous studio exec who wants to make writers homeless has elevated him to folk-hero status.
Do you have a story tip or interesting writers-strike update to share? Drop us a line at tips@vulture.com.