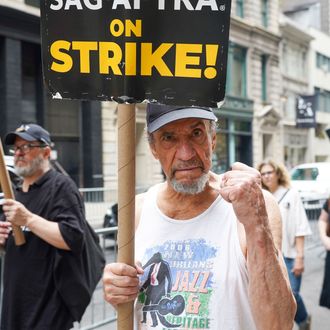 Photo: JNI/Star Max/GC Images
Welcome to Vulture's Strike Recap, or Strike-cap, if you will, a regular rundown of all the biggest news from the WGA and SAG picket lines.
One of the biggest issues both SAG-AFTRA and the WGA are working to address with this strike is the residuals plateau. Streaming residuals are the worst, according to striking writers and actors, but even network shows aren't bringing the lifetime security they once did. Mandy Moore shared that she has received residual checks for a penny for her role on This Is Us. Orange Is the New Black's Kimiko Glenn and Rutherford Falls' Jana Schmieding shared residual checks early last week that had the internet abuzz. Glenn mentioned that many actors on OITNB couldn't afford transportation to set on that show. It echoes what Sean Gunn said last week about his beef with the current residuals model. "Netflix doesn't pay residuals to the actors," Gunn said, "so there's no sharing in the success of a show with Netflix."
Abbott Elementary's William Stanford Davis shared a $0.03 check from a show he wouldn't name, and American Horror Story's Raeden Greer shared that somehow her appearances on Coven occasionally rack up negative residuals. This week, the actors brought receipts, the Bridgerton creators brought sno-cones, and Teamsters brought the noise.
Bethenny Frankel Has Been Radicalized
Bethenny Frankel feels it's high time reality TV unionizes. Frankel took to social media to discuss the labor practices of Bravo's Real Housewives franchise and urged any reality shows currently taping to shut down and demand residuals. Vanderpump Rules is currently filming, and while the cast did not go on strike, production did move to avoid a struck hotel — the Fairmont Miramar Hotel & Bungalows in Santa Monica.
Animation Staffers Said, "Hey, Wait, Us Too"
This summer continues to be so hot for labor. Sixty-six production staffers at Warner Bros. Animation and 22 at Cartoon Network filed a petition with the National Labor Relations Board on July 19 to request a union election in a bid to join the Animation Guild. They represent workers from shows like Harley Quinn and Titan Teens Go!, and according to a statement from Warner Bros. production manager Hannah Ferenc, they're seeking to earn "livable wages" and be "treated with the dignity and respect they deserve." Imagine!
Universal Studios Goes Full Once-ler
And not in a Tumblr Sexyman way. Universal Studios trimmed the trees picketers walk under, depriving strikers and pedestrians alike of shade. It's also a really bad time to trim trees for their own health. On July 17, comedian Chris Stephens brought Universal's Tree Crimes to light, which resulted in an investigation by the L.A. city controller. StreetsLA wound up fining Universal for $250, as it was its first offense in Tree Court. It also had to erect some tents to provide shade. Given how much shade was thrown its way by the internet, this was probably not a huge burden.
Who's Getting SAG Waivers?
SAG-AFTRA gave 39 independent productions waivers to keep shooting, according to Variety. Two of these projects are from A24, and one is a show about Jesus that airs on the CW. Really covering the spread.
Who's Not Even Asking for SAG Waivers? Bob Odenkirk.
Did you know you have rights? The Constitution says you do, and so does Bob Odenkirk. Those rights include the right to protest (a.k.a. the double strike), but they do not include the right to promote your work during a strike. Odenkirk and fellow dual striker Ike Barinholtz were asked by the Wrap about actors who want special permission to promote their work during the strike (something that Tom Cruise was rumored to be doing). "Don't," Odenkirk said. "It's a strike, be on strike." Odenkirk and Barinholtz added that if people try to start or promote projects right now, it hurts solidarity. Sometimes you gotta take one for the team, or, as Odenkirk put it, "Tough shit."
Who Brought Food?
It's hot out! So most of the free food is now in the form of cool treats. Law & Order: Criminal Intent showrunner René Balcer sent a juice truck to NBC Universal, and Bridgerton creator Chris Van Dusen joined Bridgerton author Julia Quinn in sending shaved ice to the Bridgerton-themed picket at Netflix.
Good Signs 'n' Shirts
Themed Pickets
A Bridgerton picket with full Regency costume (possibly in more period-accurate fabrics than the show)! A Shameless reunion at WB (with a free gun show from Jeremy Allen White)! And this week will see pickets from UCB alums at Netflix as well as a The Shield and Timeless reunion at Fox.
The Strike Main Character Award (Bad)
The Television Academy held the Los Angeles Area Emmy Awards July 22 at the Beverly Wilshire hotel. Amazingly, this event crossed not one, not two, but three picket lines. A new record! Besides the WGA and SAG-AFTRA strikes, workers at the Beverly Wilshire are on strike waiting for a new contract. Unite Here Local 11 managed to get Scabby the inflatable rat for a rare West Coast appearance, which was nice.
The Strike Main Character Award (Good)
While the UPS Teamsters appear to have narrowly avoided having to strike, many union leaders have been getting picket-line practice with SAG and the WGA. Teamster general president Sean O'Brien gave a stirring speech at Amazon Studios July 20 on how all these strikes are connected. "I'm proud to be here today. I'm proud of the fact that we're able to organize, strategize, and most importantly, pulverize corporate America," he said. O'Brien may have created his own stan army that morning. What will the members call themselves?
Do you have a story tip or interesting writers-strike update to share? Drop us a line at tips@vulture.com.