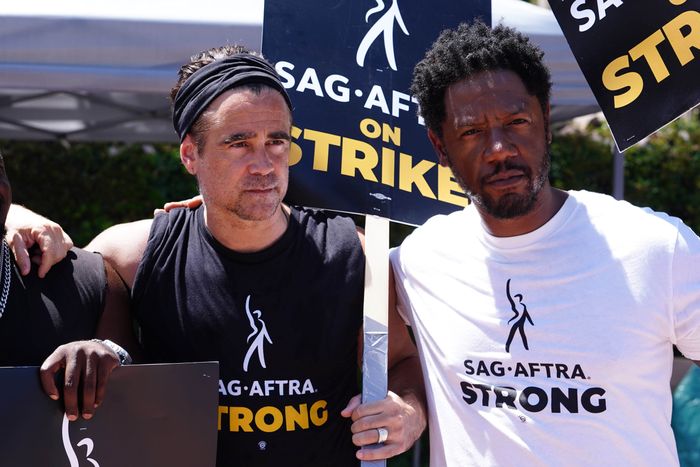 Photo: Hollywood To You/Star Max/GC Images
Welcome to Vulture's Strike Recap, or Strike-cap, if you will, a regular rundown of all the biggest news from the WGA and SAG picket lines.
Mike Massa literally stunted on these hoes (studios) on July 24 at a Georgia SAG-AFTRA rally. Massa, a stunt performer for Harrison Ford and other actors, set himself on fire for 18 seconds "to make a point," he told the Washington Post. "Which is, look at the risk an individual took just to stand onstage and go, 'Hey, look, we're fighting for our rights, and we want you to pay attention to us and believe in us.'" Massa wasn't the only stunt performer on the frontlines this week, as stunt drivers rallied in front of Warner Bros. in Burbank. Attaching signs to their motorcycles, the performers looked to be about two dozen in number.
The strike has been heating up, literally and figuratively. Confusion still abounds about what does and does not count as crossing the picket line, publicity-wise. SAG-AFTRA and the WGA have different rules about what members are allowed to do while on strike. WGA members can do things like post to Twitter and do interviews, as long as they aren't being asked to by the studio. SAG-AFTRA is asking members not to discuss any work from a struck company. This has made some people confused and others frustrated. There has also been spirited debate on what counts as independent production and the problem of soap operas. The few soaps that remain in existence are starting to get nonunion writers to write scripts. Soap actors are in a different part of the union, which is not currently striking. "Starting next week, the show will be penned exclusively by scab writers which is heartbreaking," wrote General Hospital writer Shannon Peace in a since-deleted IG post. "We hate to see our characters and storylines handed over to 'writers' who cross the picket line. But we're also keenly aware that stopping production could spell the demise of soap operas."
More on SAG waivers, pettiness in solidarity, and Jason Momoa's water company below.
Viola Davis Waives Her SAG Waiver
Despite receiving a waiver from SAG-AFTRA to complete filming (like A24's Mother Mary did earlier this month), Viola Davis decided to step back from G20. "I love this movie, but I do not feel that it would be appropriate for this production to move forward during the strike," Davis told Deadline. The film is being made by non-AMPTP company MRC, but has a distribution deal with Amazon Studios, a struck company.
5,000 New IATSE Members
Stand With Production successfully unionized with IATSE on July 25. The new union is composed of TV commercial workers, including production assistants. Production assistants often do the grunt work on sets, clocking in long hours because they are the most junior folks on set. "While "crew" positions like production designers/art directors, camera operators, hair and makeup artists, script supervisors, grips, lighting, props, and paint have historically been represented on TV commercial sets by IATSE, workers in the production department historically have not," IATSE said in a statement. "IATSE has announced it plans to charter a new national Local Union for these workers."
The Boys Are Back in Town
Sorry to the Prime Video series, but when the internet discussed "the boys" last week, it was talking about Colin Farrell and Shea Whigham. Longtime offscreen pals, the pair have been picketing together with SAG-AFTRA. Watch the video below of Farrell giving his pro-labor statements with his arm around bestie.
Radford Heats Up (Then Finally Cools Down)
Radford Studios, reportedly the hottest picket line in Los Angeles (temperature-wise), came under fire for its picketing conditions this week. When Radford was CBS Radford in 2007, strikers picketed on shady Radford Avenue. This time, the studio declared the Radford entrance a neutral gate and made picketers march on Colfax Ave. The sidewalk is narrow, the traffic is intense, and the percentage of shade is zero. Writers brought up their concerns following Universal's TreeGate situation and threatened to call the National Labor Relations Board again. Radford Studios quickly bent to the pressure and switched its neutral and studio gates.
Where'd the Emmys Go?
The 2023 Emmys are getting pushed back due to the double strike. Until when? Unclear! The TV Academy is looking at November, while Fox wants to push all the way back to January. Regardless, votes need to be in by August 28. An Emmys without campaigning, in January? That's going to be a weird one to host.
Who Brought Food?
More importantly, who brought water? Heat has been almost as big an enemy of this strike as the AMPTP (see above), so hats off to Jason Momoa for donating pallets of his water brand. Water from Aquaman, what a concept! And in petty solidarity news, Rocco's Neighborhood Pizza in L.A. has reportedly not only been donating food to the strike, but they've also been refusing orders from the studios.
Reunions and Themed Pickets
A mini School of Rock reunion at Paramount! UCB alums picketed Netflix right down the road from the shuttered husk of the teaching facility! Gritty at Fox! Norman Lear's 101st bday at TV City! And we're not sure if Zach Braff and Donald Faison count as a Scrubs reunion since it seems like those guys already do everything together, but hey, nice to see ya fellas.
The Strike Main Character Award (Rich)
Stunt performer Mike Massa was definitely the strike's main character in the "On Fire" category, but Dwayne "The Rock" Johnson put his Teremana money where his mouth is. The Jungle Cruise actor made a seven-figure donation to the SAG-AFTRA Foundation's relief fund, according to SAG-AFTRA Foundation President Courtney B. Vance. Variety reported that Johnson's donation will cover "7,000 to 10,000 members" who apply for relief.
Do you have a story tip or interesting writers-strike update to share? Drop us a line at tips@vulture.com.