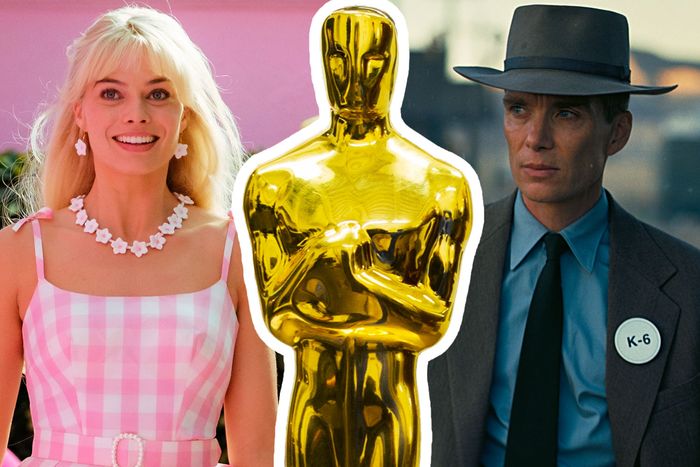 I am become Oscar, destroyer of nerds.
Photo-Illustration: Vulture
In July's Barbenheimer explosion, the world witnessed something it had never seen before: A movie meme actually lived up to the hype. The simultaneous release of Greta Gerwig's Barbie and Christopher Nolan's Oppenheimer didn't just make for a record-breaking weekend at the box office; both films were well-received by audiences and critics alike. (With some exceptions.)
Now it's time to wonder just how far this thing can go. Like, say, next spring? There's a lot that can happen in the next eight months, but still, it's worth asking: What are the odds both Barbie and Oppenheimer score with Oscar?
You do not need to be a brilliant theoretical physicist to see that Oppenheimer looks especially primed to be a major player at next year's Oscars. A work of epic scope and impeccable craft, the film contains some of the most show-stopping work of Nolan's career — most notably in the one-two punch of the overwhelming Trinity explosion and the subsequent crowd scene where Oppenheimer reckons with the impact of his "gadget" for the first time. On the back of rave reviews and an opening weekend that was twice as big as experts predicted, the prospect of Nolan repeating the Picture/Director nods he earned for Dunkirk seems likely. Given how skillfully the film condenses seemingly every page of its source material, the Pulitzer Prize–winning biography American Prometheus, an Adapted Screenplay nom could be in the cards, too.
Who else? Cillian Murphy, whose haunted stare is the film's second-most-impressive special effect, looks on track for his first career nomination; the character may be gaunt, but the role has heft. Over in Supporting Actor, Robert Downey Jr. could be rewarded in his return to serious acting for his slimy turn as Oppenheimer's nemesis Lewis Strauss. Emily Blunt's martini-mad Kitty Oppenheimer is a more polarizing performance, but Supporting Actress always has room for a historical wife.
Nolan's prestige blockbusters traditionally perform well in the craft categories, where Oppenheimer might run the table on nomination morning. Ludwig Göransson's propulsive score and Jennifer Lame's nonlinear editing are all but earmarked for recognition, and the film's Trinity test scene alone could garner nominations for Sound and Visual Effects. A Cinematography nod for Hoyte van Hoytema, returning to the desert landscapes for which he was unjustly snubbed for Nope, feels equally promising. Recognition in Costume Design, Production Design, and Makeup and Hairstyling is less assured, but Oppenheimer boasts at least a puncher's chance in those categories as well.
Add it all up, and Oppenheimer may very well lead the field in total nominations. But could it win the big prize? That's a question that will have to wait until later in the year, but among all the hosannas I'll add a note of caution. Though Oppenheimer seems like the quintessential Oscar movie on paper — it's got World War II, dramatic monologues, and Gary Oldman in makeup — perhaps it's time to update our priors. Cerebral period pieces from major auteurs haven't taken home many trophies lately. Think of The Irishman, The Power of the Dog, and The Fabelmans: All of them came into the season with as much hype as Oppenheimer, and none of them could go the distance with the Academy. Their shadows will loom large over this campaign.
But here's where the #Barbenheimer phenomenon could help. Not only has the internet hoopla helped make Oppenheimer an astounding theatrical success story, something none of the films above could boast, it also adds a sorely needed injection of humor into what's admittedly a pretty dour film. (No one was strolling into their local AMC dressed as Jimmy Hoffa.) Could the meme make voting for Oppenheimer seem … fun?
Still, if films like Oppenheimer don't win Best Picture anymore, what does? Judging by the past two years, it's offbeat, heartfelt comedies that nobody considers an Oscar frontrunner upon release, but turn out to inspire a passionate fanbase. Maybe I'm crazy, but doesn't that sound a little like Barbie?
It will take a smart campaign, certainly. Many voters will have trouble getting past the doll factor. The closest comparison may be The Lego Movie, another critically acclaimed adaptation of an iconic toy, which was snubbed in Best Animated Feature in 2015. More so than Oppenheimer, there is a chance Barbie simply could be written off as "not an Oscar movie."
But The Lego Movie was nine seasons and a whole bunch of new voters ago. Barbie's feminist-studies-by-way-of-Toys-R-Us aesthetic could make it the favored choice of the Academy's growing slice of younger members. And if, as seems plausible, Barbie becomes the type of movie that fans head to theaters to watch multiple times, their enthusiasm could help Warner Bros. make the case for the film not as a skillful bit of IP mining, but a genuine piece of cinema with something to say.
Helpfully, the people behind Barbie are not Academy interlopers; they have already been welcomed into the club. Margot Robbie and Ryan Gosling have each been nominated for two acting Oscars. Greta Gerwig has a directing nomination already, and both she and co-writer Noah Baumbach have a pair of Screenplay nods, too. Those gold-plated resumes should go some way toward convincing voters Barbie is not "just" a blockbuster.
Provided Barbie manages the prestige pivot as savvily as Everything Everywhere All at Once did last year, Robbie and Gosling's fantastically plastic performances could both be recognized. (And as Jamie Lee Curtis's Supporting Actress trophy proves, a comedic performance still can win these days.) Gerwig and Baumbach seem set to compete with Nolan in Adapted Screenplay — a nom they deserve purely for the line about controlling the railways — and considering the totality of her all-pink-everything vision, a Director nod for Gerwig is in play.
On the craft side, Sarah Greenwood's blown-up-miniature production design and Jacqueline Durran's instantly iconic costumes will be the early frontrunners in their categories. The Makeup and Hairstyling category usually prioritizes drastic physical transformations, but with five nominees, there could be room for the film's picture-perfect coifs. And if there's any justice in this world, "I'm Just Ken" will earn a nomination for Original Song.
Whether a summer movie can score with Oscar usually depends on what happens in the fall. That's even more true this year, as Hollywood's writers and actors strike for a fairer share of the fruits of their labor. Of the two films, I suspect the Barbie campaign would be more hampered by the work stoppage dragging deep into the season: It's likely to rely on a charm offensive from Gerwig, Gosling, and Robbie, whereas Oppenheimer can just play a clip of the explosion over and over again. But the strike going long also raises the possibility that more fall contenders will delay their release dates, leaving Barbie and Oppenheimer as the biggest films standing. Maybe we should bring in a theoretical physicist: When it comes to this Oscar season, Heisenberg's isn't the only uncertainty principle.