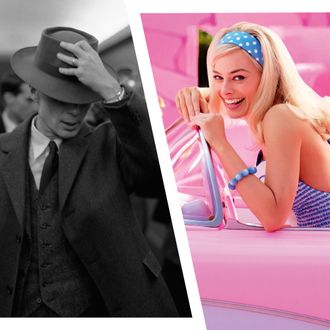 Photo-Illustration: Vulture. Photos: Universal; Warner Bros.
If you're a Barbie or Ken who wants to support actors and writers, the fact that the WGA and SAG-AFTRA are both currently on strike doesn't have to drop a bomb on your Barbenheimer plans. Currently, neither of the striking unions has called for a consumer boycott of content from the Associated Alliance of Motion Picture and Television Producers. So even though Margot Robbie is standing in solidarity and skipping press, going to a theater to watch her arched feet step out of her heels doesn't mean your feet are stepping over a picket line. You don't have to avoid Oppenheimer the way Cillian Murphy avoided wigs.
In fact, some creatives have actually suggested that it could be harmful if audiences stopped supporting content that has already been made. "It helps immensely to show the studios the value of the work that writers and actors do," writer and comedian Ben Paddon said in a Tumblr post reblogged by writer Neil Gaiman. "If you don't go, it hurts writers and actors. Studios can say, 'Well, actually, Barbie only made $X dollars, Oppenheimer only made $Y dollars, only so many thousands of people watched Good Omens 2, obviously there isn't enough money to go around. Sadface emoji.'" Writer, producer, and actress Franchesca Ramsey also tweeted that a streaming boycott would realistically need to be a global coordinated effort to have a "measurable impact," and that shows and movies created before the strike "still deserve your support." At the end of the day, of course, no one can make you watch anything if you don't want to. It's also possible that union guidance on boycotting could change in the future. But if you're worried about doing a Barbie and Oppenheimer double feature at this particular point in the double strike, feel free to relax. Just remember, there is a correct order to watching Barbenheimer, so choose wisely.